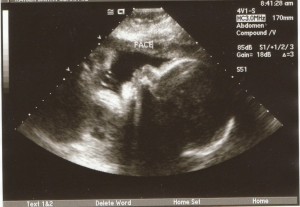 Considering calling this baby stoney, just because I've had SO many test. Of course, we could also call her glucose — but stoney somehow seems more feminine. 🙂
This morning I went in for my ultrasound, and while they couldn't tell me anything of use — she did scan the baby. She said she'd put MONEY on the fact that this one is a girl. She did get a pretty good look, if I do say so myself. Pictures are really fun at this stage (32 weeks'ish). Look at that profile. Looks just like her adorable mom. Oh, and watch her cut-off my bile duct just for fun. Kidding, we didn't get a picture of that. 🙂 Can't believe how big her feet were! I'm used to tiny little 18 week feet. I havne't seen her on the big screen for a while. The tech was nice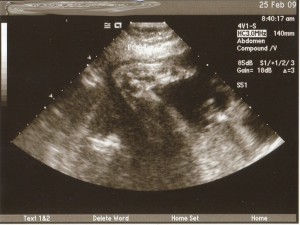 enough to print out some photos. Nice of her.
So, I finally got hold of my doctor. The initial radiology report says no stones, or blockage. However, because of the pains I do have they've put me on disability. I just informed Drew that meant that I was entirely done. No cooking, no cleaning, no work from me. I'm a couch girl from now on. He didn't find it particularly amusing. Go figure. So, that's me now — hopefully I don't lose my mind being here every day, day and day out… for weeks. Wish me luck. 🙂
Just thought I'd mention there is no cure for galstones when you're pregnant. The normal curative procedure is surgery, but it's too hard to get to with the baby in the way, squishing everything. Part of me wonders if it does have something to do with my liver, and perhaps the bile duct not draining well — but I'm not sure we'l ever know.