The blog has been lacking, and I'm fully aware. We've been "off" all week, and it's been SO nice to be at home and get some stuff done. Sadly, I'm not sure my kids or my husband feel the same way about it. What we've done:
1. Drew cleaned out the gutters. Poor guy, he hadn't done them since we moved in. He got them all draining beautifully now though, and I think he'll be doing it more often from now on.
2. We planted seedlings. Now, I know I SWORE I wasn't gonna do seedlings again this year, but it is a fun process and it's a great learning experience for the kids. Also, I wanted to try some of the fancy heirloom tomato seeds that are on the market. Please say a little prayer for our seeds. This time we went to a real nursery to buy our seeds, and I'm glad I did. They were so helpful! I think I'll be going there again soon. The prices weren't much different, and for the added help I really appreciated it. Plus, they had some very pretty flowers.
3. We cleaned our carpets. We got the little machine from home depot (it's only 15 bucks when you get it for only 6 hours). It did an amazingly good job and I think it'll be on our winter break list from now on. It did take FOREVER for it to dry. Oh, I once had a friend tell me that if you do the
intial
run with the cleaner, and then do another run with vinegar, it helps rinse out any detergent you leave behind. We did this, and I think it really helped — and it also helped us suck out some of the other dirt. You know how I enjoy sucked-out dirt. 🙂
4. Trip to
IKEA
to find a
dresser
for the baby. Kids were awful, but we found one that will work. I had looked on craig's list, but since we had specific dimensions we had to fit I went with the 60 dollar dresser from Ikea. Sadly, she has much more clothes space then the boys, I think. 🙂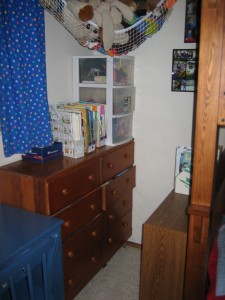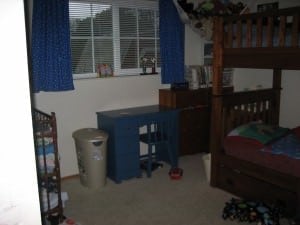 5. We re-arranged the kids room. Since all 3 are going in one room, I wanted to at least get the furniture in a position we can drop the crib in when the time comes. This was really a hard thing for me, we have a desk, a small bookshelf, a dresser (baby's is going to go in the closet), their bunk beds and a changing table (yes, I am
adamant
about the changing table — it just makes life easier when they're little), plus the crib. And their room is not that large. Initially I'd drawn-out one sketch, but when the furniture was positioned I didn't like it — so I came-up with a new one. We used to have this giant bucket for a hamper, so we replaced that with a sleeker version (that hopefully will hold a lot of clothes). Also, I have been worried about the kids each having their own "space" even with all 3 of them in there. They don't play much in their room but I still think it's important that they feel they have a few inches of their "own". We bought the boys some magnetic boards to put alongside their bed to hang whatever is important to them. In the picture, you'll see that I chose to bunch the bookshelf, and the dresser over in the corner. I figure they don't spend that much time with either of those, and it leaves more room for playing. The crib will go to the left as you enter the room. Wish us luck with this little change. 🙂
So, hopefully all of you had a nice week, and it will be even nicer to get back to our regular routine.