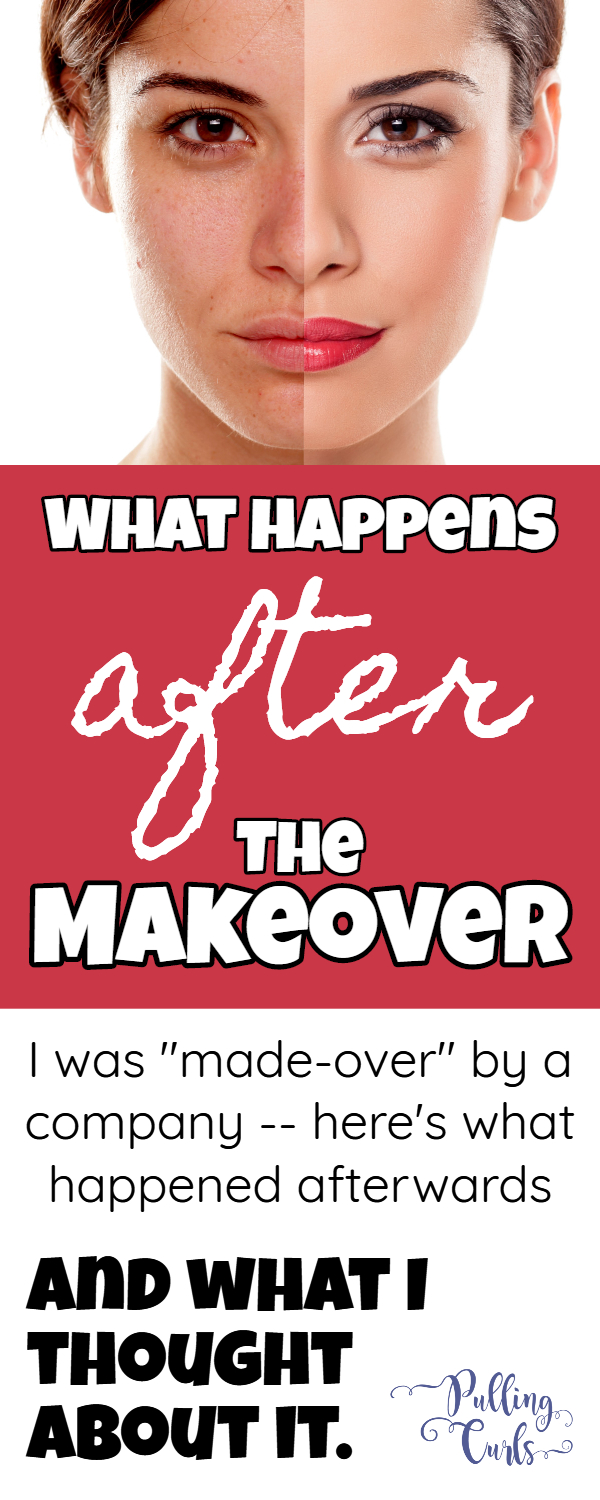 I see these amazing makeovers (here's mine!) and just wonder how the people take them home and use them.
What happens when they're home?
Well, now it's time for the truth.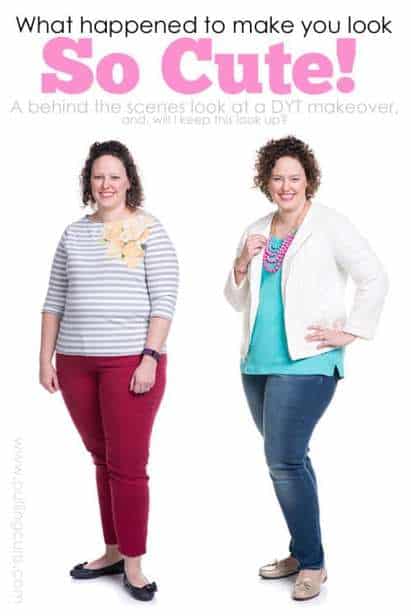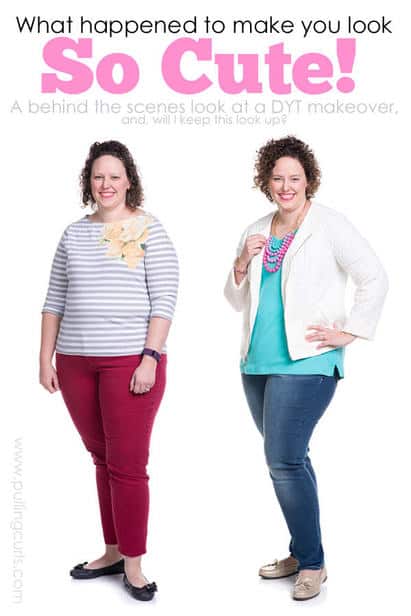 ---
Check out my makeover video here! Or, you can see my Dressing Your Truth 30 day Transformation (which I did on my own) here.
**Dressing your truth has changed their program. You can still get a free before & after and try their style kit — but I actually recommend trying a subscription box with the colors you get from them in the before & after. I am also working on a minimalist wardrobe.
It is a fun way to try new things (that post has plus size and regular size subscription boxes). My two favorites are
Ok — back to my makeover:
The Clothes:
I love-l-o-v-e the jeggings. They are from Maurice's and holy guacamole they just feel so nice and soft. They also stay put when I bend over. I like them a LOT.
I still can't bring myself to wear the white jacket. I went to Vegas a few weeks ago and I really wanted to bring it, but the idea of wearing it on a trip was too scary. White still scares me. (BTW, could I have said "yup" or "scares me" any more during that makeover?). I swear I'm going to wear it out soon though. The jacket is from Chiccos.
The scary truth of a makeover is that turquoise shirt is like 2 sizes too big on top because it lays well on my hips (and looked good for the photos). I'm all butt and hips and it makes shirts hard to fit. Hence, the turquoise shirt drowns my small boobs, I couldn't wear it without something over the top. That one was from the DYT store (ETA, I just bought it in the right size, it's a nice shirt).
The shoes are the bomb diggity. I still love them. Don't you? They're from Clark's.
---
The Hair:
I just can not get it so big. But I am working on it. I had a friend mention to try dry wax at my roots to boost the volume, so I'll have to try it. I saw there's a DYT root fix. Hmm….
They were good enough to give me all the hair products they had used. I really, REALLY like them. They're better than the stuff I had used at home.
Emily taught me to use mousse on the top of my hair and then gel scrunched into all the rest of it. She even combed mousse into the top section to make sure all of those hairs got a little. It think it has helped the body of the top of my hair. Good stuff.
Emily spent so much time dying my hair…. the same color. I can barely see a difference. They said they warmed it up, but I rarely see it. I do like the little highlights, but I doubt I'll keep them up (mainly due to cost). I think they're fun though.
If you have a Lifestyle subscription, they have a great post about getting volume with curly hair which has really helped!
ETA on 3/28/16 It's time for a new haircut and I'm headed back to Emily. I guess I liked the cut a lot (and I just happen to also be in Utah).
---
The Makeup:
Woah. That makeover had a LOT of makeup on. MUCH more than I usually wear (keeping in mind that there is extra due to the lights of the show).
That was the FIRST time I'd had powder on my eyebrows and I am vowing to try it again. I have heard the Elf eyebrow powder is good. I'll have to grab some next time I see it. What do you think of the eyebrows? Worthwhile?
I really like their bright blue eyeliner. I might need to buy that. I use a darker navy color. But I like the bright blue, with the darker right on the lash line. She used a liquid liner. I am not great with liquid liner.
I like the light eyes. I have always done a smokey eye. But I like how they did it. I already had some of the product that they use. She mentioned using eye primer and I already do that. Huge fan of that. She also used Navy mascara. I'm not sure I noticed that it wasn't black, but I might have to give navy a try.
The lips were a bubblegum pink. I tend to veer berry, but I liked the bubblegum. They went well with the necklace.
It was a lot of makeup. Check out how I turned into avatar when I took it off (or am I crying blue tears because I'm sad the day is over).

I'm a Type 1℠, I'm bright and animated. And Blue. 🙂
A few questions from the crowd:
Do you get to keep the outfit? Of course I do. They're so good to me. I love them. They even gave me hair product to keep trying it at home!
How long is the day? It started about 10 am and lasted until about 4. I think. Here's how it kind of unfolds–
Pick out my "after" look and get that all ready (so they can steam it for the makeover)
Do the "pre" photo shoot
Do facebook live with Carol and my own Periscope (you can see those on my first post)
Then the "pre" video
The 2nd "pre" video where we then review the outfit
Then it's off to face and hair with the amazing Emily. That takes about 3 hours. They even bought me lunch which was uber tasty.
Get in my "after" outfit
Fill the "after" segment with Carol
Do my "after" photo shoot
Cry because it's over
Is there just one possible outfit? Heck no — Sarah's amazing and had 3 outfits ready and then we picked an entirely different outfit. Crazy, no?
And my favorite photo from the whole shoot. Really shows everyone's personalities and how much work it takes to create my silly little video. Again, a huge thanks to everyone pictured. The DYT team is so amazing. THANK YOU EVERYONE!!!! Their team is so great. It's a great company to work with. 🙂
And be sure to check out all my other DYT posts:
[pt_view id="3af53e4ded"]