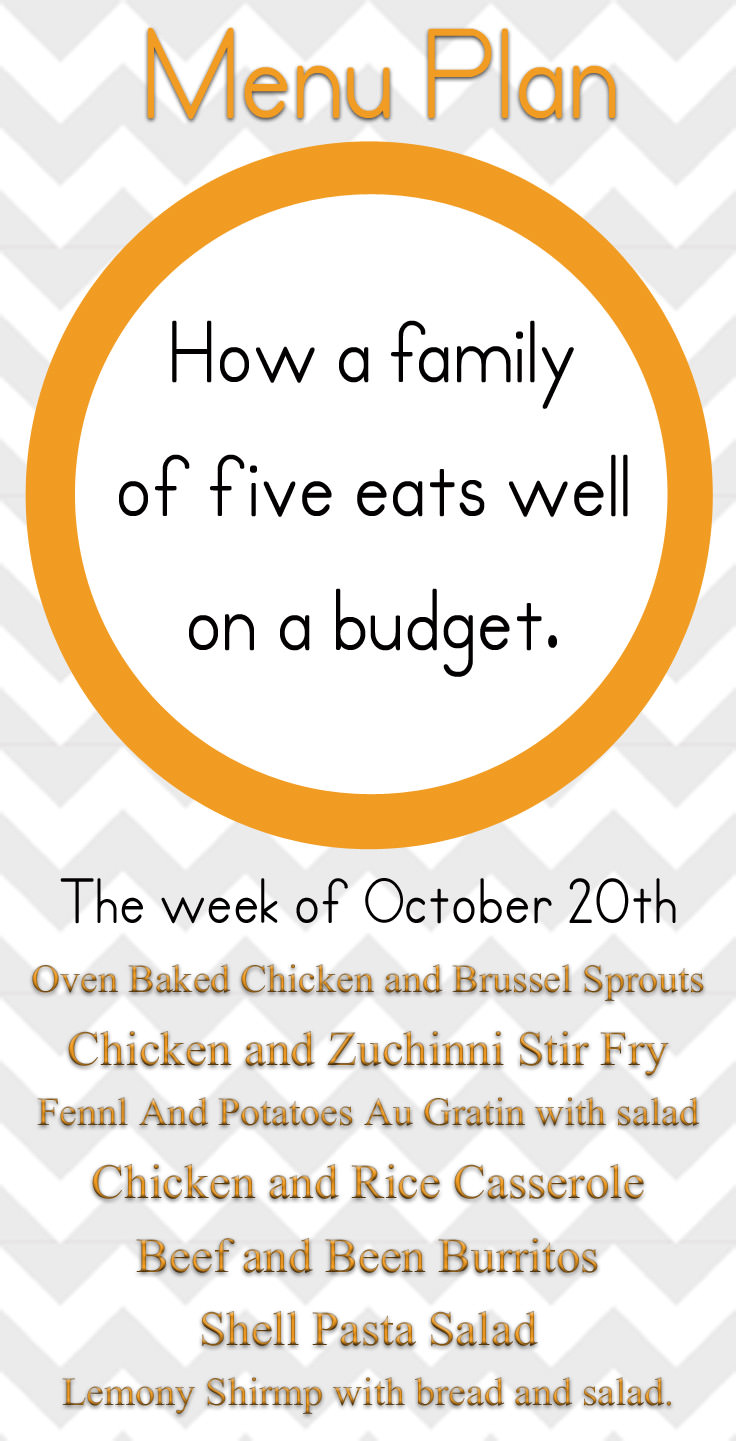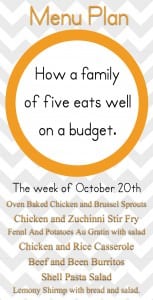 Here's my meal plan for the dinners coming up:
**First off, I should say that we have started doing bountiful baskets again, as a way to get me to jam more veggies into our meals. We only do it every other week, which I think allows me to make sure I use what we get, and also supplement with stuff our family loves. Anyway, this week's menu plan will reflect this:
**Also, some people have been marking my menu plans as spam on pinterest — I guess because it's a link that links to a lot of links. While that is true, I make a conscious effort to NOT put the recipes on my blog. Not only is it WAY easier for me, but the people who intitially created the recipes deserve your click. Also, it might give you some other ideas on where to look for recipes for YOUR family.
Bisquik Oven baked chicken and roasted Brussel sprouts — brussel sprouts are actually one of the things my kids love. I quarter them, add a little olive oil, some parmesean cheese salt, peppper and a few sprinkles of pre-cooked bacon (the package from Costco is a STAPLE at our house) and roast it. I may add a little garlic this time. I cook it on 400 (or whatever temp the chicken requires for this meal) until they are browned. My kids love the leaves that fall off and get all crispy.
Chicken and Zuchinni Italian Stir Fry — we got yellow squash in our box. My kids love when I sautee it in some olive oil and tomatoes. I am just going to add some chicken to the mix to make it a complete meal. Probably throw some rolls on the table too.
Fennel and Potaotes Gratin with a butter lettuce salad. Fennel is something I wouldn't buy except for Bountiful Baskets, but I really like showing my kids a variety of fruits and veggies. This recipe for Matha Stewart looks pretty darn tasty. I have never tried it, so I'll let you know. Be on the lookout for an instagram of it! I like to go meatless at LEAST a meal plan, and this will be the one for it. The cream and the cheese in the dish should more than make up for it
Creamy Shell Pasta Salad — we got some fresh broccoli in the basket, and I thought this would be a good way to include it in the meal. My kids don't mind fresh broccoli at all (most of the time).
Beef and Bean Burritos — for a night when I really need a cop-out. Just brown some hamburger, add a can of refried beans, perhaps some mexican seasoning. Add it to a tortilla with cheese, lettuce and sour cream, and EAT. 🙂
Lemony Shrimp with bread — My kids LOVE this dish, and we have a ton of limes from bountiful baskets, I'm hoping they love it as much with lime juice (although I plan to use lime as the acid in any salad dressings I make this week also).
Chicken and Rice Casserole — I have some leftover jalapenos I need to use up. This seemed to fit the bill and I love having a Casserole at some point during the week that I can make and forget about.