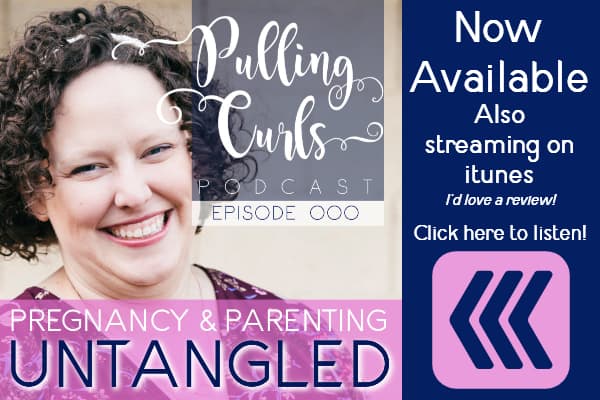 You'll bleed for 4 to 6 weeks after your baby, during the postpartum period.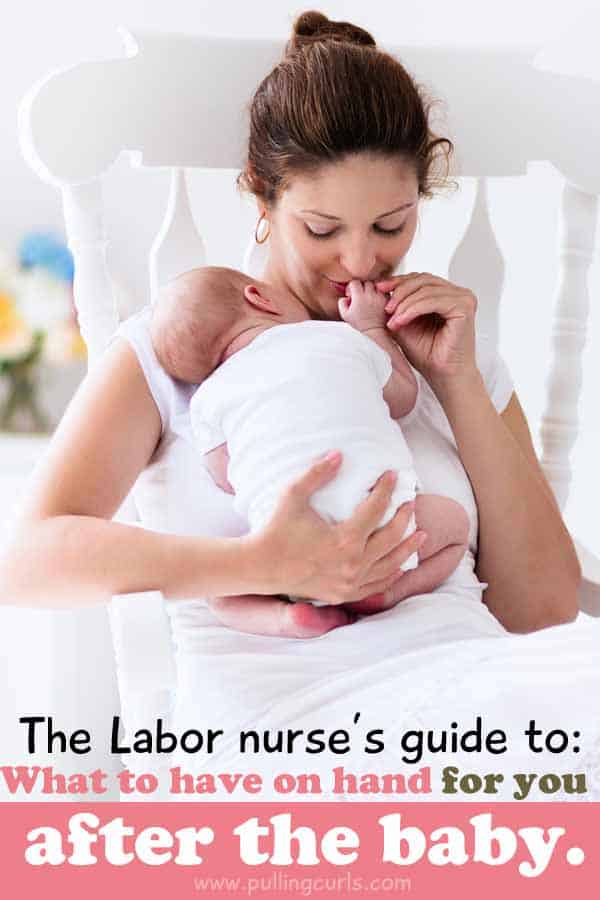 Postpartum just means after the baby comes out.  You'll find that your body is truly recuperating from what you put it through during the postpartum period.

What happens during the postpartum period?
During your pregnancy, your body shifts a lot of things to make sure you and the baby stay healthy — but once you no longer have a giant uterus, your body heads back to normal.  Things it does during this time:
 You'll bleed, as your uterus cramps back down.
Those cramps will hurt like a son of a gun.
 You'll pee and sweat a lot as you get rid of the extra fluid your body stored
 Your emotions will be all over the place.
I have a post about postpartum comforts and also about postpartum recovery & medical things to watch for that covers a lot of it.
Today, I want to talk about what to have on hand so when you get home you'll be prepared for what will occur.
You might wonder why I can speak like an authority — and that is because I am an L&D nurse as my "day job" since 2001.  I love helping new moms adjust to life with a baby.  Be sure to check out my online prenatal class — or the free beginning version.
Postpartum Bleeding
The average bleeding time on your first baby is probably in the ballpark of 4 weeks.
Some women bleed more, and some bleed less.  Keep in mind that each baby the length of this bleeding increases as your uterus is getting older/more used/ tired.
For this bleeding:
Initially, I'd have some depends.  I'd just buy a small pack (you'll only need them for 3-5 days), but it is just nice to have it all there for you to change into each time you use the restroom.
After you're done with that pack, I'd switch to some overnight pads.  If you're bleeding a lot (epsecially at night) these leak-proof undies might be helpful.  That way you only have to wash the underwear and not your sheets (if you're buying them during pregnancy be sure to size up from your regular size).
After that, you'll probably just want some regular pads.  I find that I have spotting for about a week that I need a pad for, but nothing major.
**Make sure you change your pad each time you pee — you want that area to be as clean as possible since you probably have some areas still healing in your vagina**
I came up with a whole postpartum pack with the Dollar Maxi Pad Store — just for my readers (and anyone else who wants a happy bottom).  Their pads are the SOFTEST I've ever found.  Combine that with my reader's favorite bum spray — and you've got a winner!

Also, remember that they recommend vaginal rest for at least 6 weeks (and for a lot of women, it's longer than that).  Might want to let your partner know about that one. 😉   That also means no tampons during this time!
At six weeks you'll have your checkup with your provider to make sure that everything is healed (C-sections will have their checkup at about 2 weeks).
Keep in mind your bleeding is coming from your uterus — so, even if you have a cesarean section you will still bleed.  If you tore during delivery you may have a small amount of bleeding from that, but most of it is coming from the placenta-sized scab on your uterus.
Pro Tip:  Postpartum hair loss is really normal, and really annoying — that post has a lot of tips on how to deal with it!
Cramping pain
As your uterus goes back to its regular size, it cramps down.
Very similar to cramps before you had a baby.
Each baby these cramps get more and more intense (sometimes, for a few brief minutes, I wanted my epidural after the baby as much as during labor).
Most often ibuprofen (also known by Advil or Motrin) is what they recommend for these cramps.  Make sure to take it with food as it can really hurt your stomach lining without something in there.
If you have pain from stitches, etc.  They might prescribe something stronger.  Be sure to follow any instructions they give you with that medication, including not driving while you're taking it.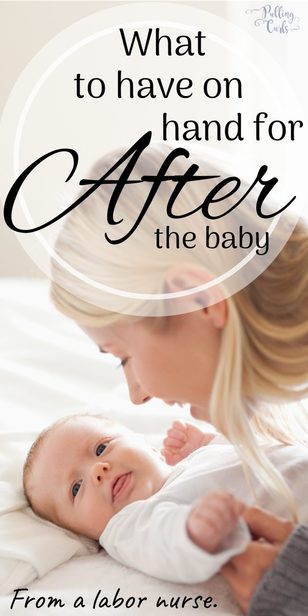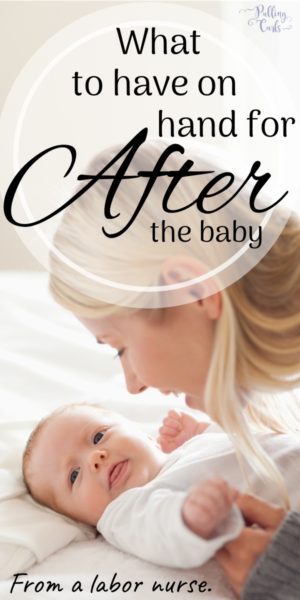 "Bottom Pain"
In the hospital, we provide dermoplast if you have stitches or wounds in your perineal area.  If you'd prefer something more natural there are plenty online.  We also give tucks for swelling & hemorrhoids.
I used to keep my tucks in the fridge — but I just saw these on Amazon and I think they're genius!  Coolness feels great on your tender parts.  You could also make padcicles of your own.
The hospital will also give you a spray bottle to help wash off the area (as wiping won't feel so great — be sure to just blot after you spray).
Related Post:  Split Pelvis in Pregnancy
Some actual food.
I think it's important to have some actual food when you get home.  It's easy to live on a diet of fast food and whatever chocolate you can find — but it's really important as your body heals that you get great vitamin and mineral intake.  Some options are:
Prepare freezer meals in advance
Have friends/family plan to bring a dish over
Buy fruit and veggie trays that are easy to snack from
Also, make sure that you're drinking plenty of water, even if you're not breastfeeding as it will help replenish any fluids you're losing from bleeding and help flush all those extra hormones out of your system.
So, that's what I recommend to have on hand during your postpartum period.
Also, at some point, your actual period will come back.  It's likely to take a while if you're exclusively breastfeeding, but sometimes you get a surprise along the way.  That first period is often a bit more heavy and painful too — so be sure to have a few of the supplies above on hand for that one too.
You may also start to lose a lot of hair — so check out this post on postpartum hair loss, so you're not caught off guard.
Get some rest, drink plenty of fluids and I know you'll make it through one day at a time.
If you had a c-section be sure to check out my post all about c-sections (you'll just have more healing on top of this, but less/no bottom pain, hopefully).
Want to get this info straight to your inbox — grab it here — and be sure to check out my other postpartum posts below that: