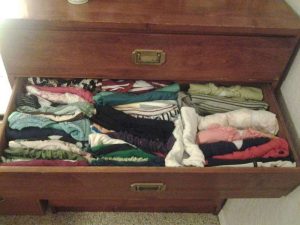 I've had a few friends talk about T-shirt filing that I talked about in my Wednesday cleaning schedule.
a. it's life changing. You can put SO many more shirts in and have quick access to all of them.
b. it's so pretty. I literally just ran upstairs with my tablet and snapped this photo. No pre-arranging. It just makes life easy.
Anyway, I learned about it from my organizational guru Alejandra.
I adore her.
The end.
Looking for more tips — check out my organized home page!
Here's some more info: