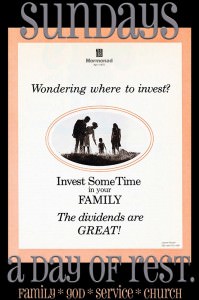 Sundays is my "day off" — at least from cleaning.
This isn't anything new for the LDS readers of my blog, but for others I know that often Sunday is your big work day at your house.
And I'd ask you to stop.
I think it is SO refreshing to have a day off. I will confess that I do a 10 minute tidy, if not I find Mondays overwhelming, and I try to do a 5 minute one before bed also (or, Drew does — he's pretty darn good at that!). But, there's no organizing, there's no worrying that things aren't perfect.
Because Sunday is about God and family for me, and I like to keep it that way.
If you feel overwhelmed by your life, I'd suggest you consider making Sunday a time to relax and really re-connect with your family. Take that time to play a game or watch a movie together. You'll be glad you did.
*My hope is that this weekly cleaning schedule might inspire you to make your own. I know my own OCD schedule won't work for everyone, but I really think that cleaning schedules helps you stay on top of your life without being overwhelmed with all of you have to do. You can read more about weekly cleaning here.