You know I love Carol Tuttle and her Dressing your Truth® Program, but soon after I learned about my own energy type I decided I needed to know more about my kid's energy type as well.
The youngest and the middle were pretty easy to peg, but it was the oldest, a teenager, that gave me real issues.
But, why would I care, you might ask?
Well, I'm a woman of a one size fits all type personality. I figure if one thing worked with one kid, I will transfer that to all kids and it should work just fine. I mean, a part in a system is just a part. As long as the SYSTEM works it's fine.
Turns out, kids aren't a system. They're all different, and often even different from me. I read the 4 Love Languages for kids guide and that helped me consider it a bit, but The Child Whisperer takes it even further.
Let's take Princess P. She's a Type 1℠. She's bouncy and impulsive, she is loving and always wants to have fun and color rainbows. Then there's Mister Middle who is seriously confident in who he is and what he has to share with the world. Why on EARTH would one parenting tactic work on both kids? And the reality is, they just don't. I need to consider the child and their needs before I go barrelling down that road.
So, for Princess P it doesn't help to put her in time out. That actually hurts her. It doesn't make her situation better. For Mister Middle, he needs to be alone to regroup. It does work for him.
Anyway, that's just one example, but it works like that for many things.
I actually also thought that The Child Whisperer was more clear cut on how to pick your energy type than any of the other books I read. Perhaps because you see it more clearly in children who haven't had their energy stifled yet (at least, not much). It made me even see more clear in myself that I am a Type 1. I would, however, do the energy profiling class before I read the book. It's nice to have the visuals to go along with the words you read in The Child Whisperer. If you've done the energy typing and can't decide your type — get this book. It will help you!
Carol goes REALLY in depth for each of the energy types. Talks about behavior, physical characteristics and also common things you'll find during developmental milestones. I have kids in varying ages, and it was helpful for EACH age (although I REALLY wish I had this book when my kids were smaller).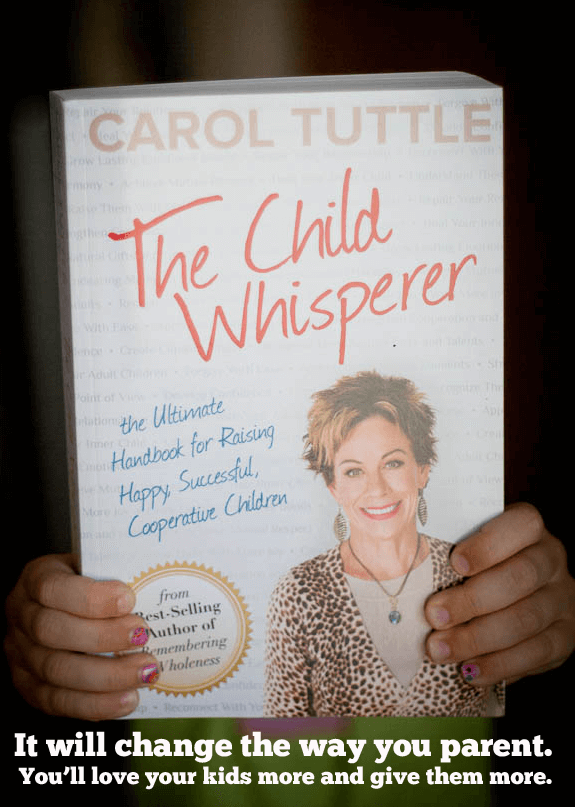 I think my favorite part of the book is when she goes through common parenting areas. Things like time out, sharing, tantrums and how to deal with the education systems for each type.
**Before you get worried that you can NOT put each child in 4 different groups, I totally agree. But, I do believe (as does Carol) that each child leads with one particular type and then is supported by their secondary and other types.
A few things I really liked in the book
Carol helps you to even type your baby. I have no idea how you'd do it, but I guess you can. I should pay more attention when my friends have babies. What GREAT info to have from the very start!
She talks about things to watch for as your child develops within each energy type. I found that really helpful.
She talks about common areas like potty training or issues at school within each energy type.
I found it to be a REALLY helpful parenting book. I'd totally recommend it to get to know your kids better, and discovering your Energy Type first with the free online class:

You can also read more on Carol's Child Whisperer blog.
Also, if you are a Carol Tuttle lover, or would just like to learn more about her. She is going on TOUR! I plan to be to at the one in Phoenix and I'd love to see you there. Frankly, she's so intense I really want to see it in person. Don't you?
Now, I bought the book on Kindle to start with, but REALLY wanted it in paper form (which they were nice enough to send me so I could photograph it for this post — they are NOT paying me to write this post, but I did get the book for free). The generous people at Carol Tuttle have offered to give away THREE copies to the winners of my contest below. Note: You must be 18 or older to enter, and they will only ship inside the US.