I spent a lot of time wearing clothes that I thought I should like. I thought that the colors suited my skin tones, or it was cold so I should love a giant puffy sweater, or I'm a woman so flowy should work for me. Then, I got the Dressing Your Truth® course and found out there is a reason I like crisp, bright colors that pop when you see me.
That is me.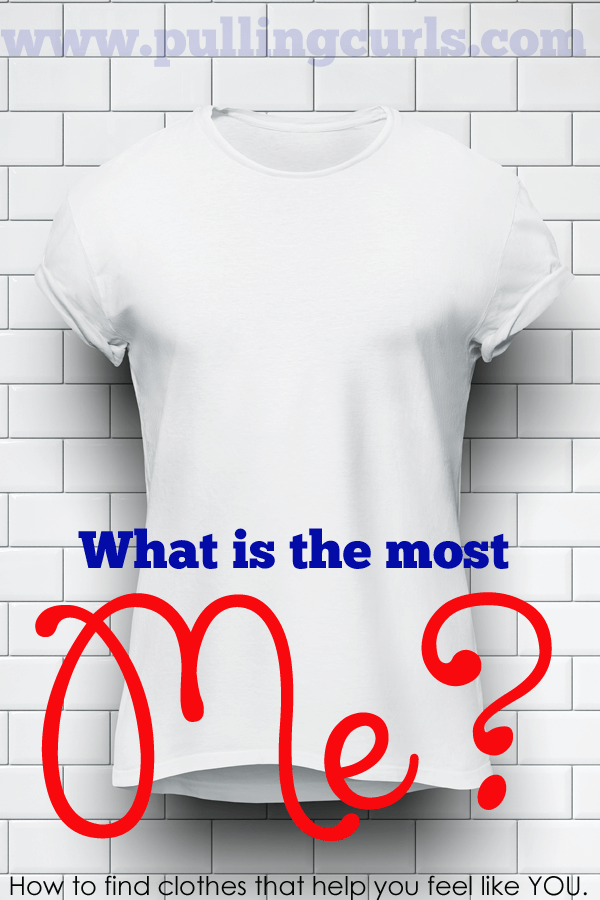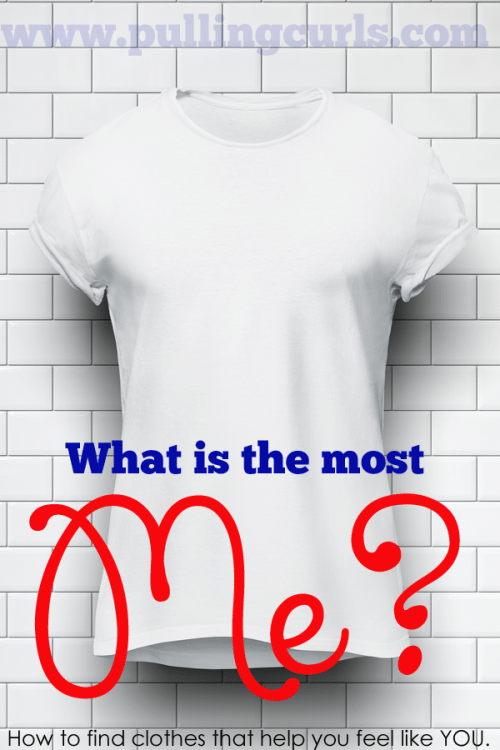 In my Dressing Your Truth Journey I spent the first 30 days just wearing clothes that fit my type — you can read about my Dressing Your Truth Journey in my 30 day transformation.
Dressing Your Truth has changed formats now allows you to get a FREE Before & After!
Interested in dressing to look more like YOU would like to look — check out my 5 tips to getting the wardrobe YOU want, totally free and straight to your inbox!

After that I've given myself some leeway. I still own clothes that aren't Type 1℠. Mainly a few black items. I still sometimes think I'll wear them, but I put black on and I feel "down" — which I'm aware, it doesn't make any sense.
But it's true.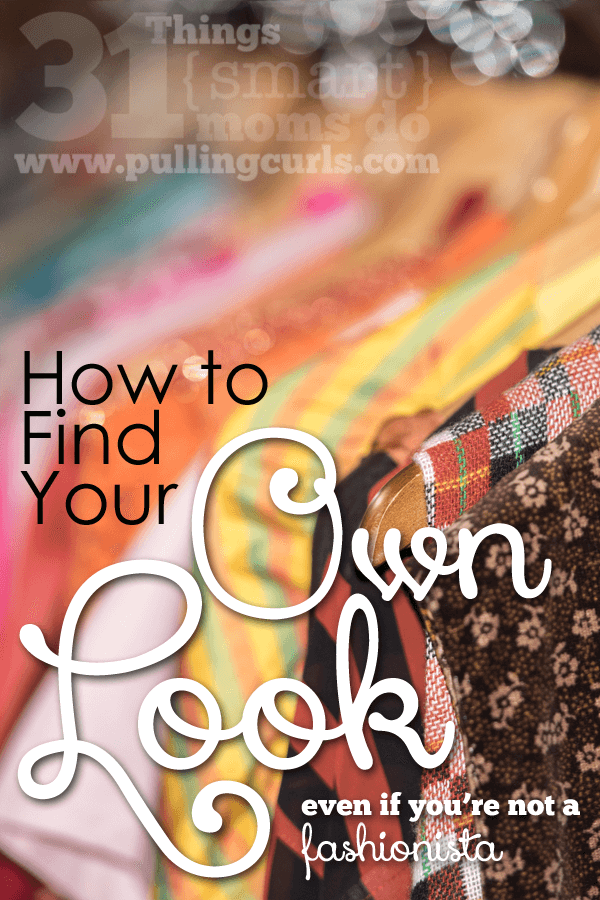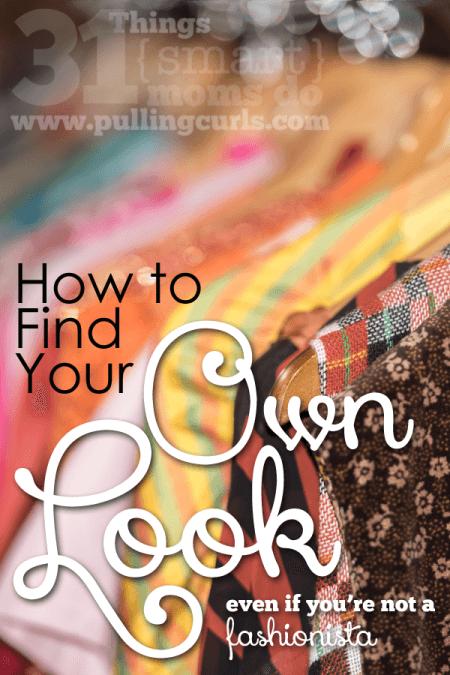 I have really started to enjoy wearing bright colors. They are me. It reminds me to be a happy, fun, random mom which is who I am. It's when I am happiest. Dang it, I'm starting to like yellow!
So, on my recent trip to utah I went to the Dressing Your Truth Store in Lehi, UT. Thanks to readers being willing to sign up through my posts I had some reward dollars to find some new items.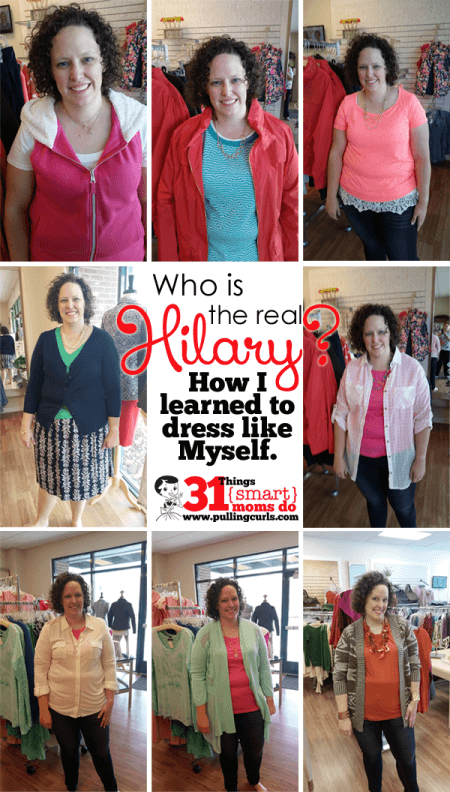 The store is pretty small. It doesn't have the selection of the online store. BUT, the staff there are trained by Carol into energy types and they really know their stuff. Plus, they're great about finding items that match and were even willing to tell me when stuff doesn't look good on me.
First off, Jaime picked me out a Type 3 outfit. I love that rust color but in trying it on it weighted me down. My mom thought I looked great in it, but I felt heavy. The sweater was too much, the necklace drove me crazy, and the bracelets pushed me right to the edge. Do I look alright? I think so. I just wasn't me. If you'll remember, I started out thinking I was a Type 3. I was wrong. #fail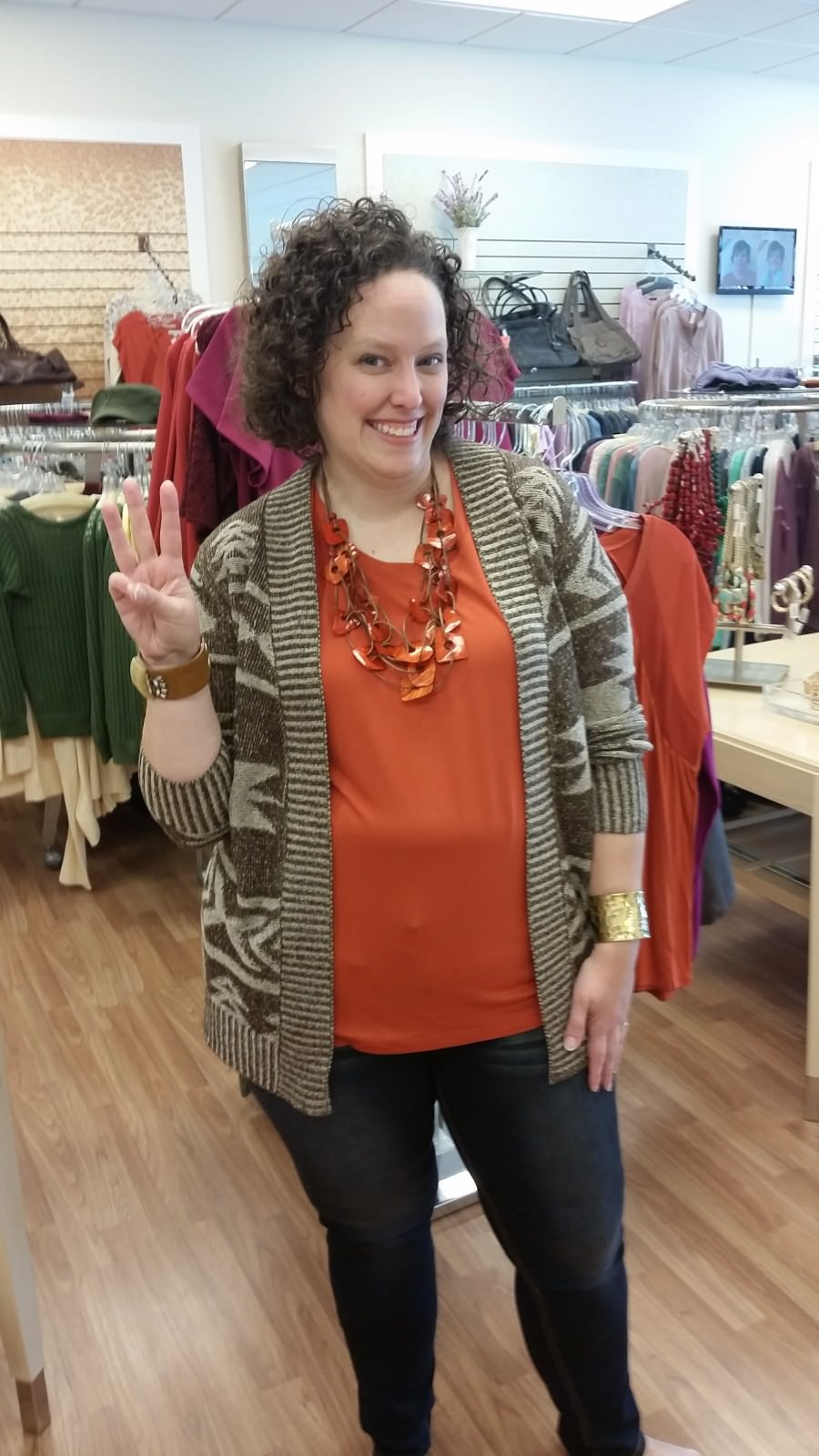 Then it was off to the Type 1 items!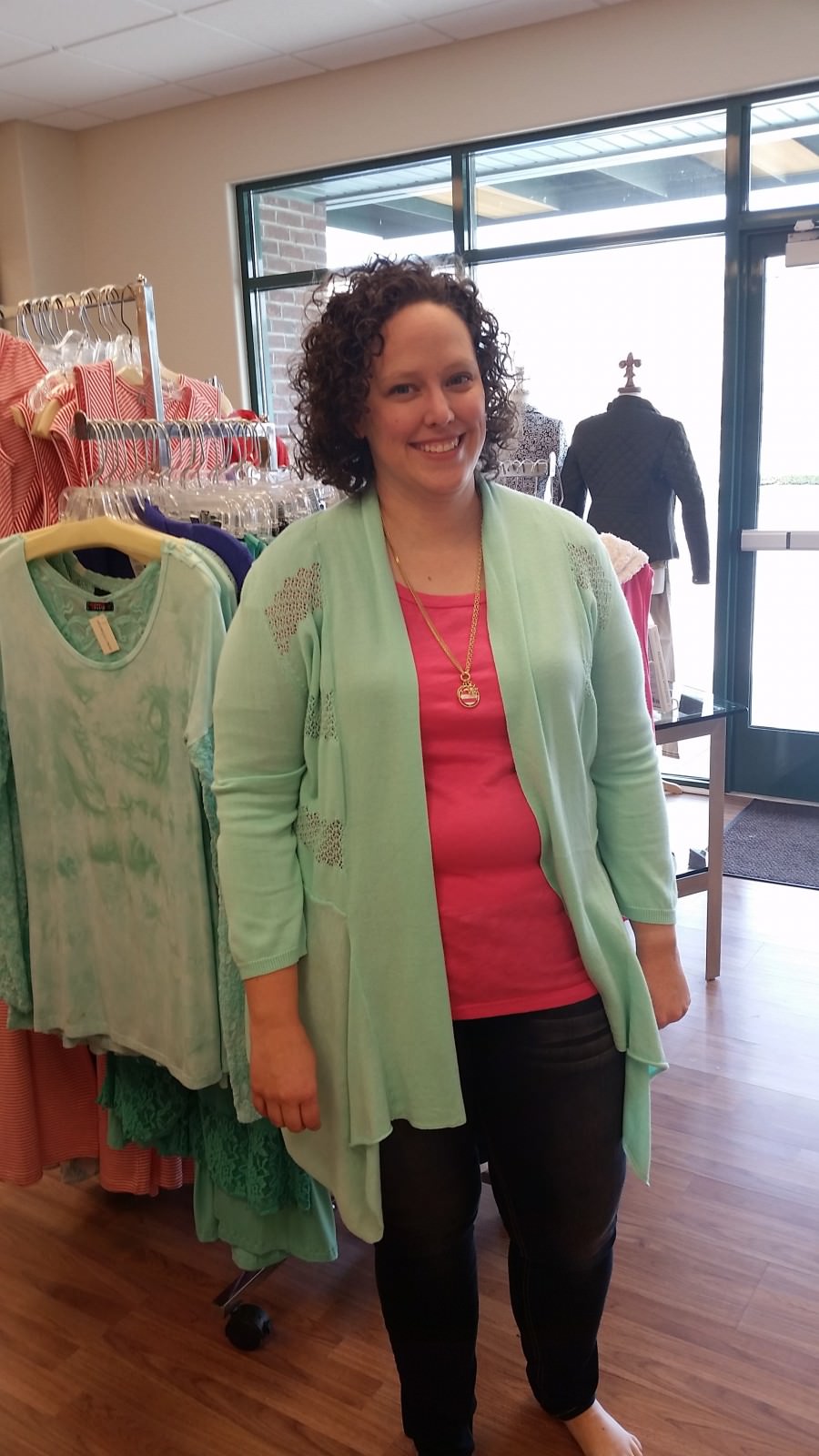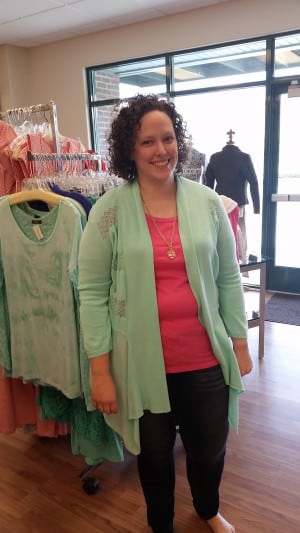 My mom picked up this aqua sweater. I thought I was going to hate it. I tend to not like things that are really flowy. Because I have a really strong Type 4 tendancies, I really like structure in my life and my clothes (a complete opposite from my fun, random primary nature). But, I tried it on with this bubblegum shirt, and I really liked it. I ended-up buying this outfit!

I had really wanted a skirt, and I really liked this outfit. I looked a long time trying to find a top that matched and Jaime came up with this green top. I ended-up really liking it! But, I ended-up feeling a little fat and I have an outfit that is REALLY similar that I am already wearing to church. I took a pass, but the skirt is super comfortable!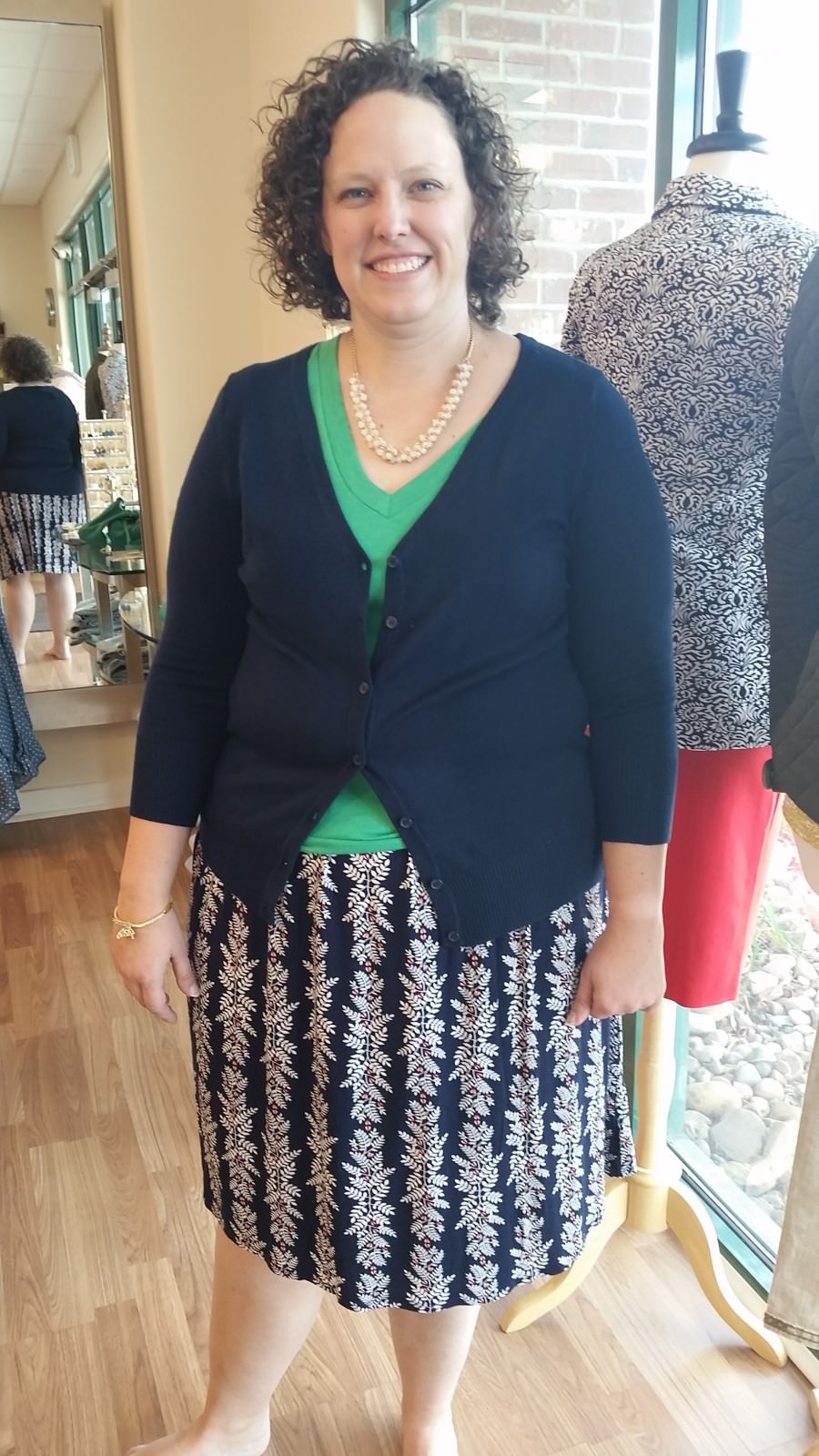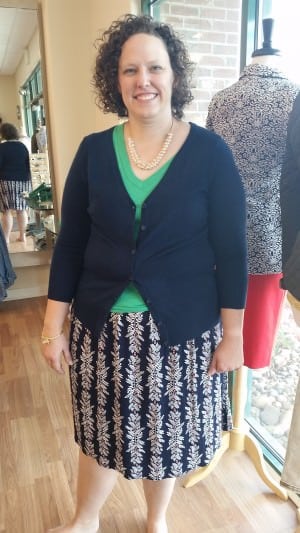 This vest is another one that my mom found for me. I thought it was going to be a loser, but I ended up loving how warm and soft it was inside (it's SUPER soft fleece) and I loved the pink color. I ended-up buying this.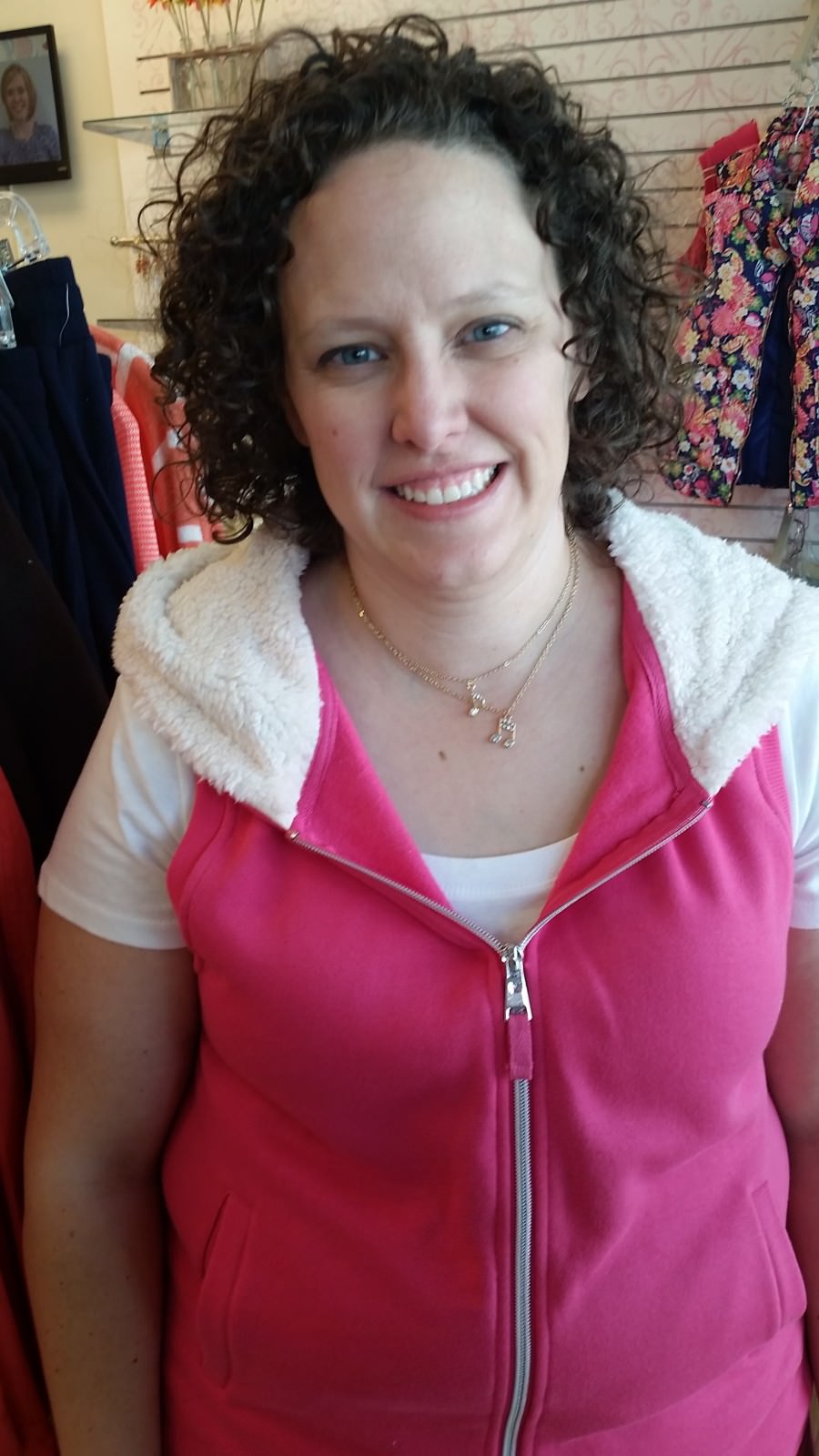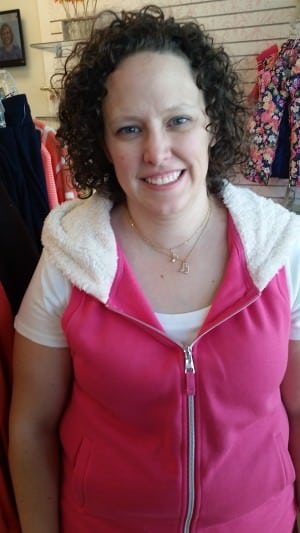 This vest runs a little large, I think — in most of the clothes I ended-up with an XL, but on this one it's just a L.
This top, mainly in color, was pretty "out there" for me. I ended-up liking it OK — not sure how I felt about the party in the back. but, it did end up looking pretty cute. I ended-up not getting it because I wanted to focus on winter items. What do you think of the color on me?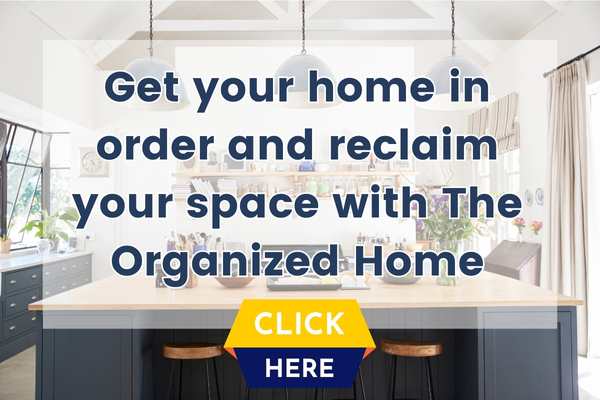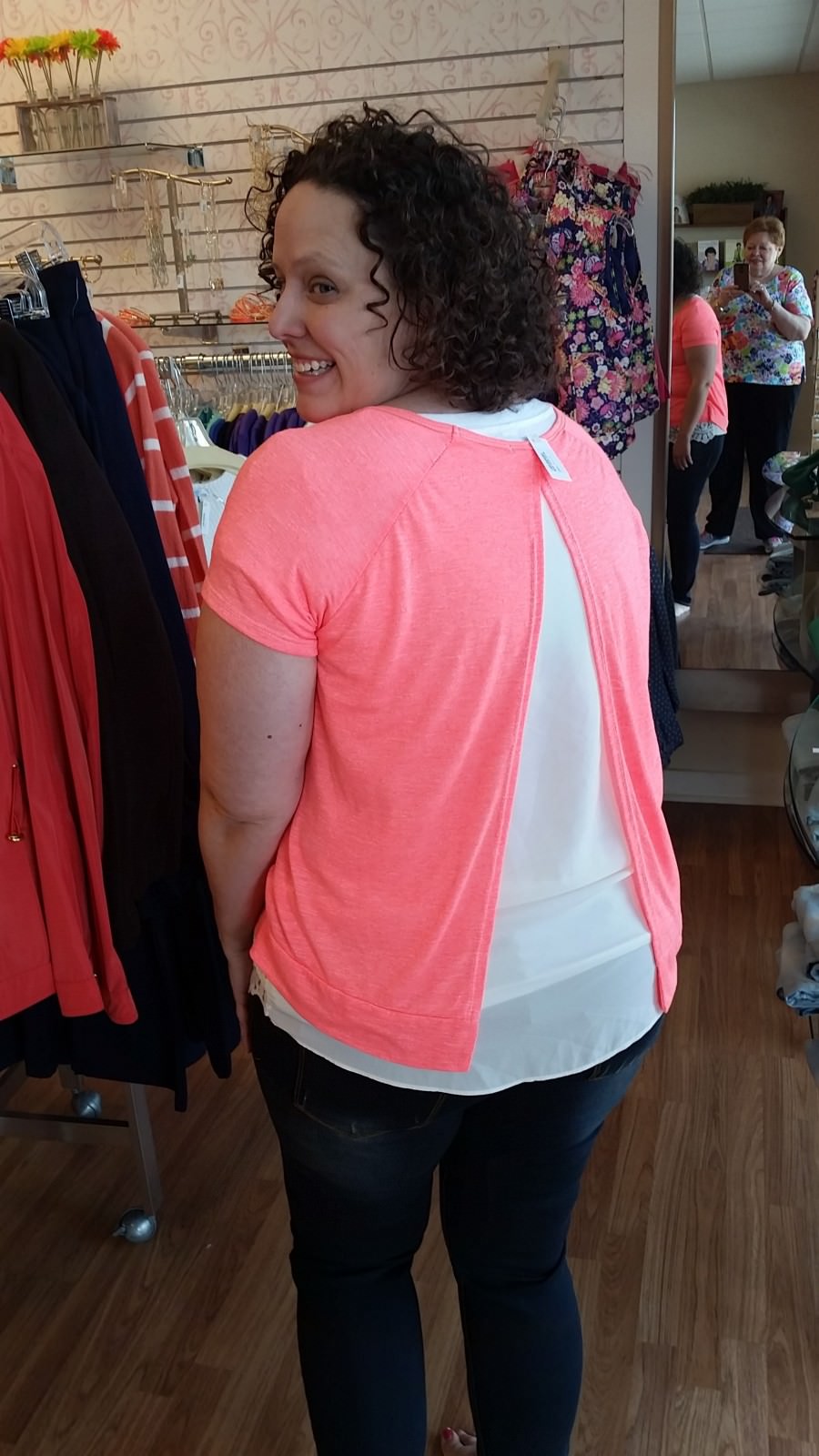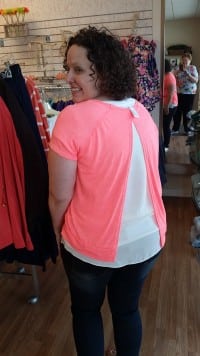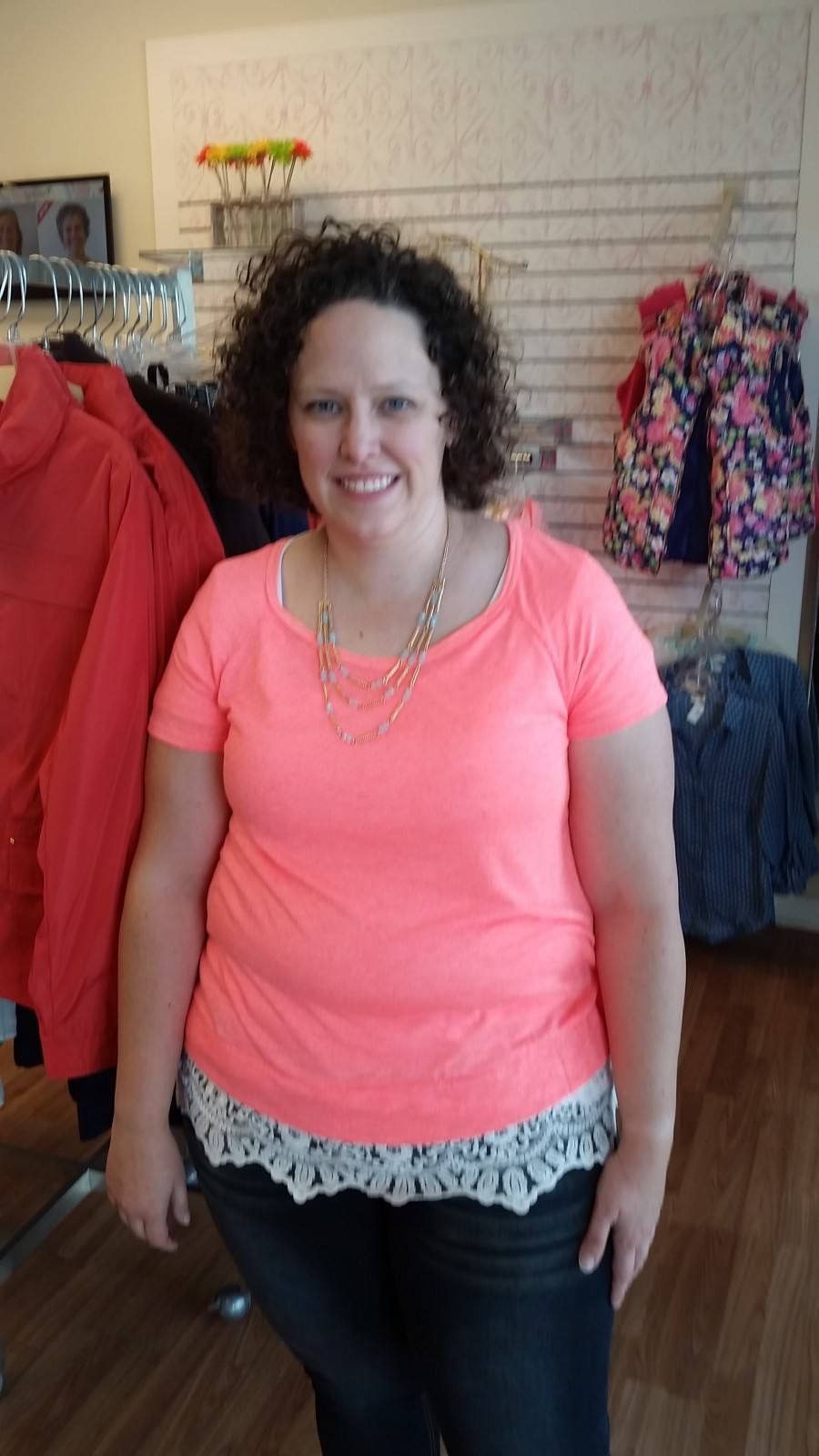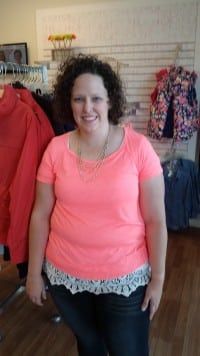 This is a really soft cotton top, it's flowy. They recommended I tie it in the front. We all had a nice laugh about that. I ended-up not loving how "shlepy" I felt in it. Again, I really like structure. However, it was a close contender. I did get the pink top underneath it.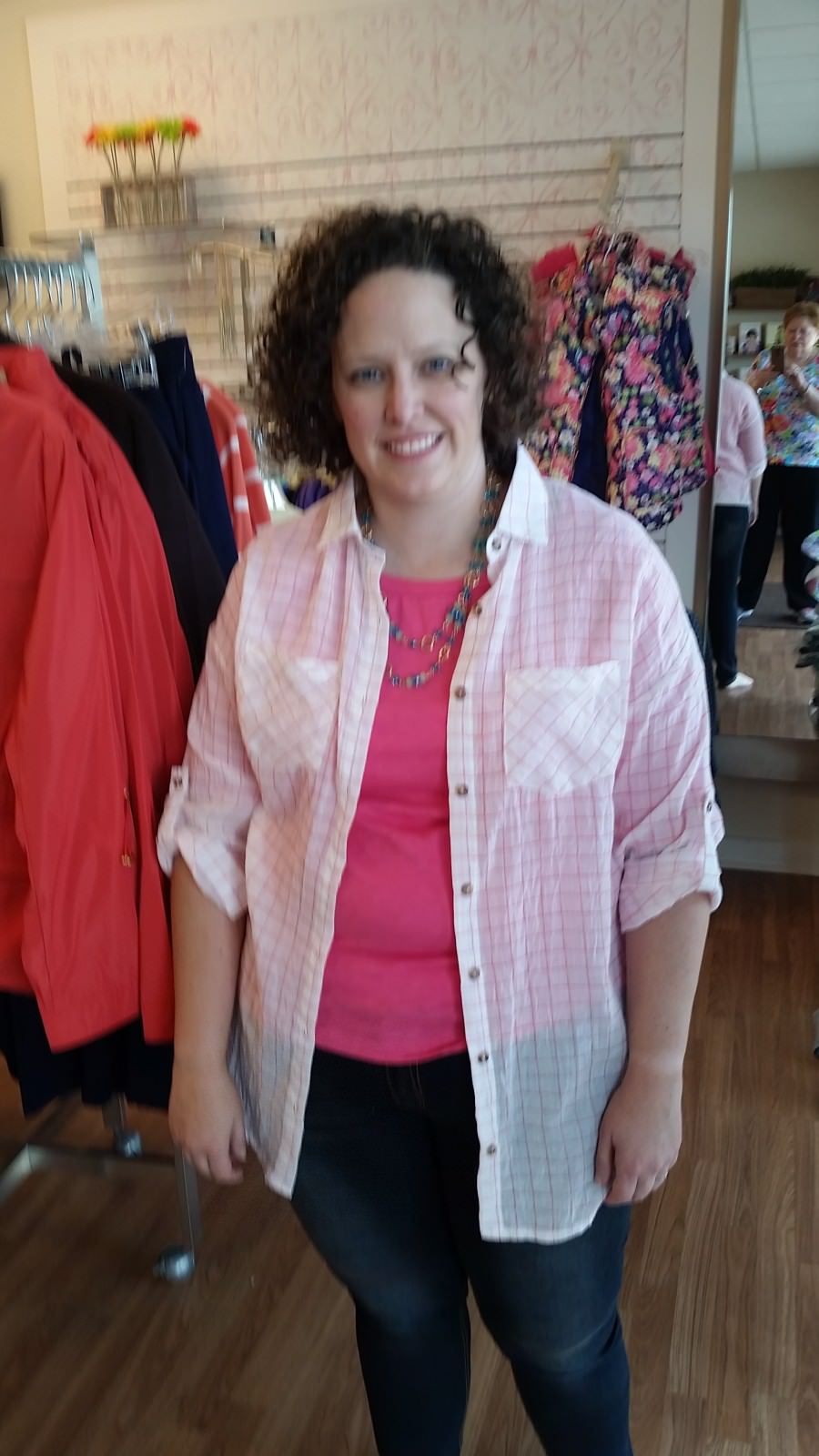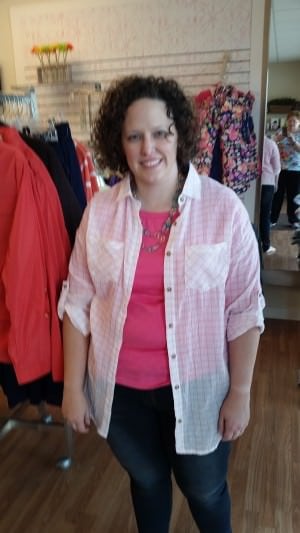 Another outfit picked out by my mom. This is an orange jacket, and the sweater has a chevron-esque pattern to it. The jacket is REALLY crisp (love that) and the sweater is really comfortable and comes down further in the back than in the front. It's so soft and lovely. I will be a great edition to my winter wardrobe which seems to be all navy and jewel colors at this moment. The jacket even has a pop-out hood in surprising monsoons. Super handy!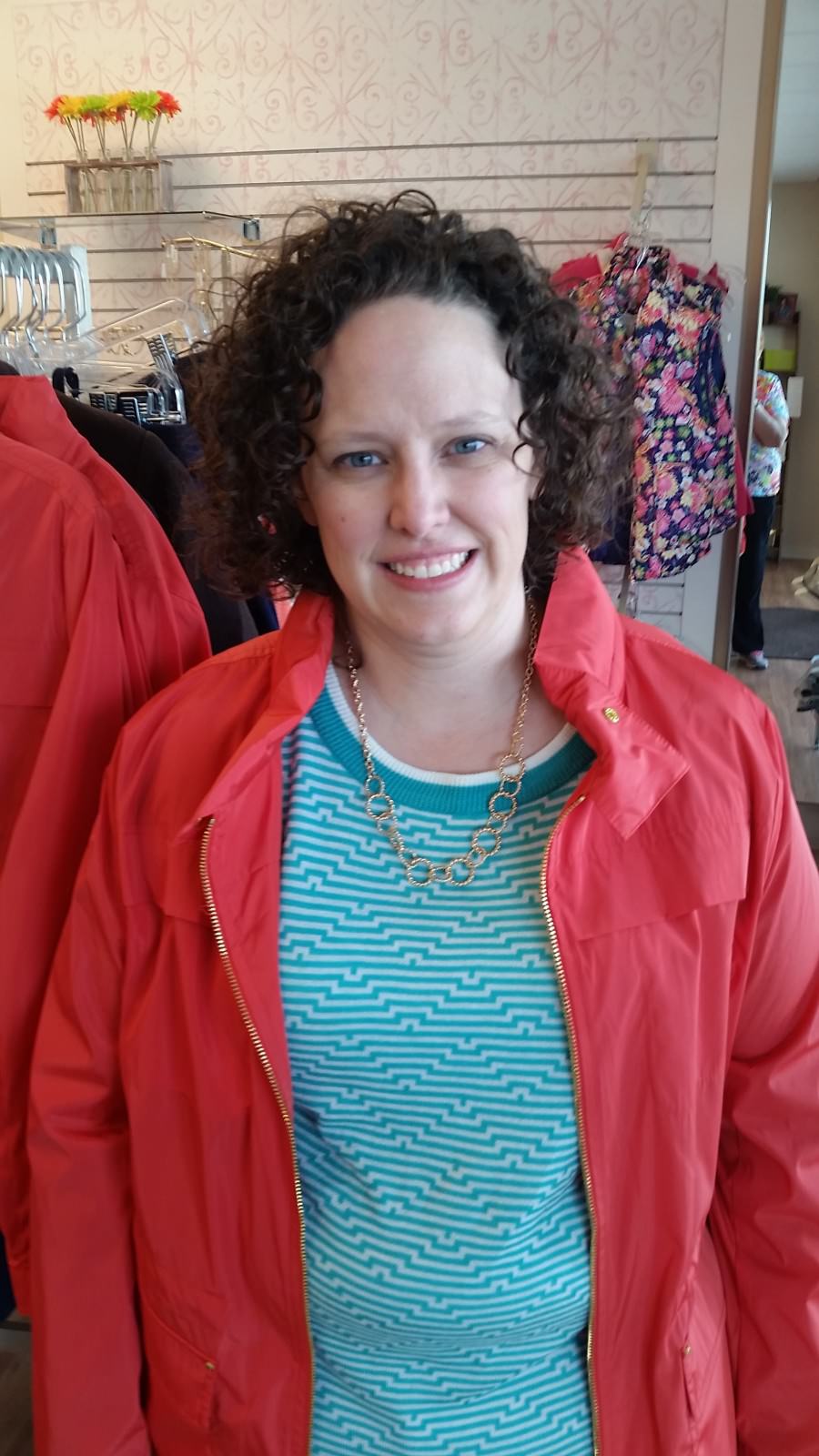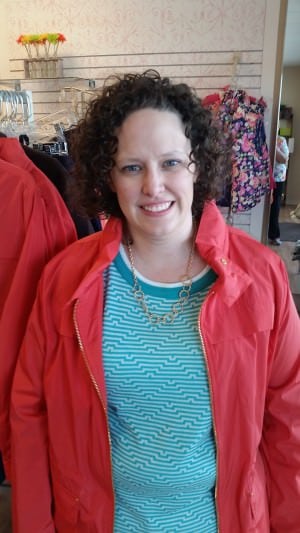 And, as my last outfit this is a white shirt with lace over your shoulders. DYT seems to really like that, where pops of color can show out. I am not normally a fan of layers, but in the winter I can tolerate it. I actually got the shirt (because it was on a really big clearance) and the necklace shown here (and the pink top underneath). This is different than my usual and I wanted to give it a try.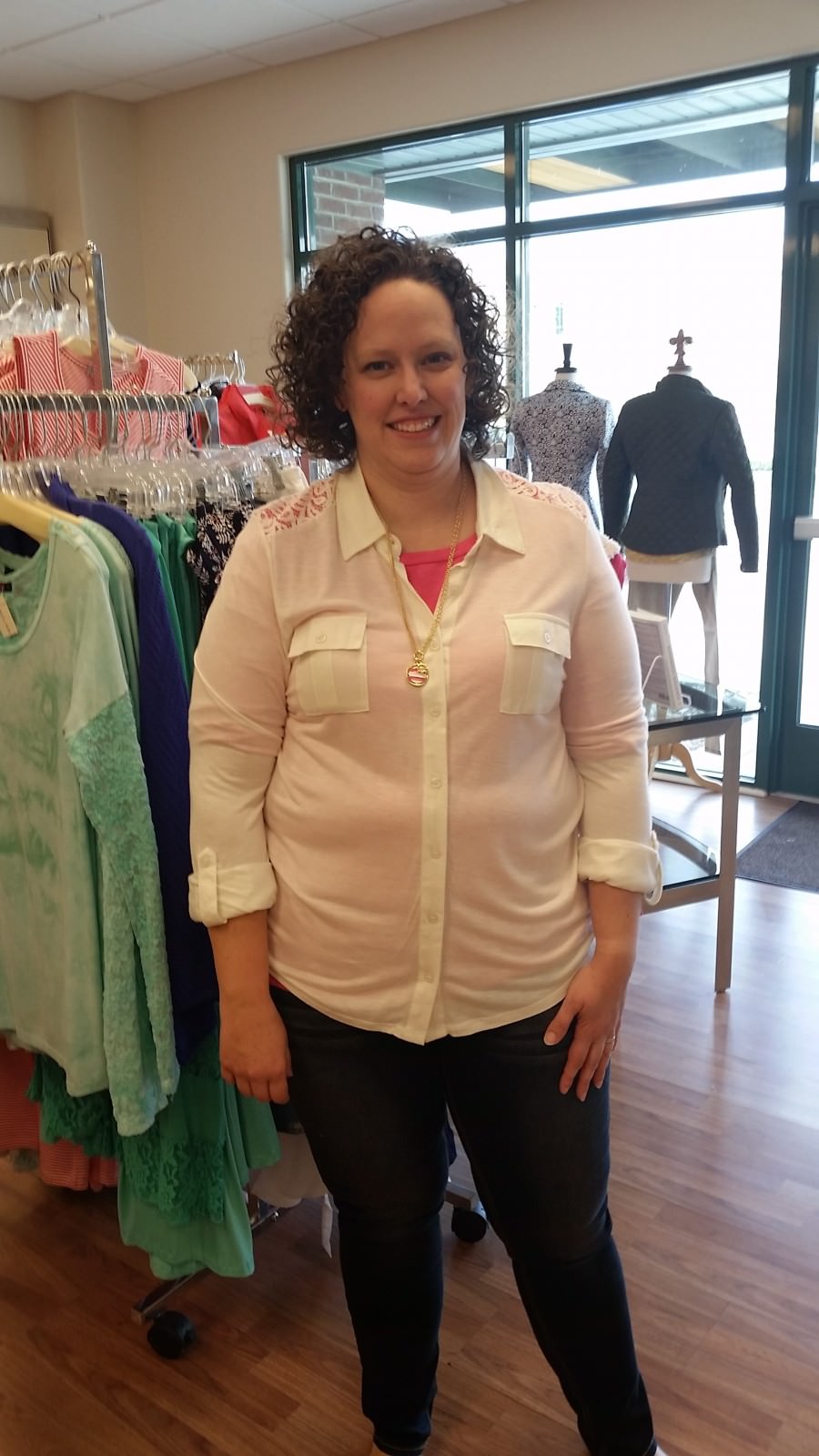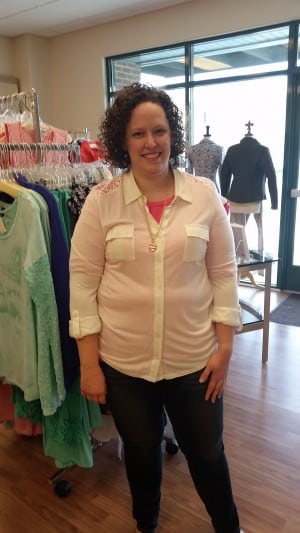 All of these clothes fit my Type 1 personality. It was so easy to walk into the store and know just what would make me feel good and ready to take on the day. It's funny, as I glanced at the other areas of the store I just kind of got sad. I love the bright colors of Type 1 — they've really grown on me since my 30 day transformation! If you're interested in having your own look and figuring out what type you are — check out Carol's FREE before & after (or, you can grab the type cards):
Smart moms feel good about how they're dressed. They feel comfortable in their clothes, so their appearance and how they feel about the things they're wearing doesn't get in the way of the business at hand. You don't have to use Dressing Your Truth. I know plenty of women who know it innately (I am not one of those women). Kudos to them!
Some photos from Dollar Photo Club
You can read all my other Dressing Your Truth Posts:
[pt_view id="3af53e4ded"]
**{Smart} Moms is a relative term. I had to give it a name, but I am the first one to say I'm not smart all the time. There's plenty of times I am lucky to have clothes on, I just find it easier when I feel better. This series is just a list of things I've found to make life easier — not to say — WOOT WOOT, I'm SOooooOOOO smart! {said like Steve Martin}
Check out all my other {smart} moms posts:[pt_view id="4256a9870e"]