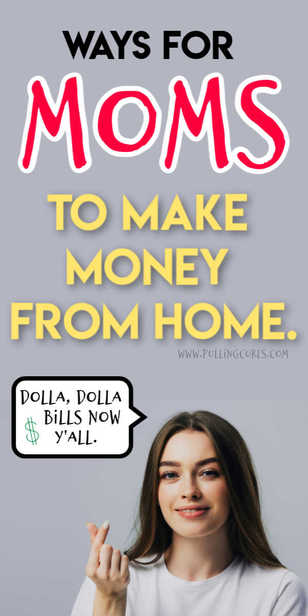 Making money as a stay at home mom (or pregnant & unemployed) can be a really rewarding way to contribute to your family's income. Here are some good ways to contribute while still being able to keep your focus on your family.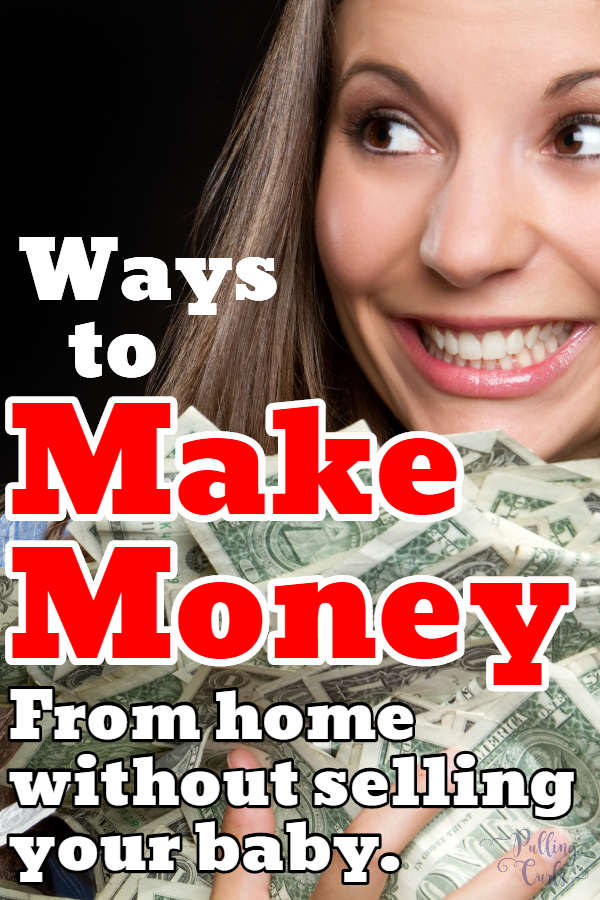 Maybe you're writhing in the montony of staying home with small kids, and you're wondering what you can do to contribute a little more, or get some spending money. I'm going to share some easy ways to lighten the load or bring in some extra cash
Ways to for new moms to make money during naptime
Ways for moms to make money shopping
Paribus
Paribus is sort of a unique tool — but one that I think is pretty cool.
Paribus finds you refunds when prices drop at online stores that have a price protection policy
Paribus monitors your emails for receipts at eligible stores, then tracks the prices of the items you bought (so you don't have to).
When a price drops after you buy (within the time allowed in the merchant's price drop policy), Paribus helps you get a refund for the difference.
See the Paribus website for a list of online stores that Paribus monitors.
Paribus is 100% free.
So, you know how you're like — cool, if the price ever drops I can get back the difference, BUUUUT — you just don't have time to sit around and monitor it. Paribus does. Pretty cool, right?
ibotta
ibotta allows you to match
Store sales
Coupons
PLUS iBotta rebates
This gives you HUGE savings on things you're buying anyway!
Let's pretend a store has Chapstick on sale for 99 cents.
And you have a 25 cent coupon (knocking it down to 75 cents) and ibotta has a deal where you can get 75 cents back.
All combined, you end up paying 25 cents.
With ibotta, you just scan your receipts and it does all work of matching up their deals. Pretty great!
Related Post: Grocery Price Comparisons
Ebates
Once again — Ebates allows you combine sales WITH cash back, for huge savings — probably some of the best in the business! Just as I logged in right now I'm seeing 6-10% back on stores I shop at frequently — and while percentages change pretty frequently, that can be a HUGE savings for your family!
You can even get a browser extension where you can have coupons and rebates automatically applied as you shop with Ebates.
**The key to saving with these companies is to sign up and USE it right away. **
If you just sign up today and don't use it, you'll never get into it.
Sometimes there is a bit of a learning curve, but worth it if your family is getting "free money** So sign up today and then GET GOING with whichever ones worked for you:
Paribus – Cash back directly with stores
ibotta – scan your receipts to save
Ebates – save at the stores you're already shopping at
Don't forget that over-buying doesn't help anyone — be sure to check out how many outfits your kid needs.
My friend Lydia has a lot of great money-saving apps as well!
---
How to make money as a stay at home mom
All of those are good ways to make money, but it's mostly making money BACK.
Taking surveys from home can be a great way to earn some extra cash.
Is this going to make you a millionaire? No, but it can pad your family's budget by a few meals each month. Plus, I found them to sort of engage my mind and interesting.
Two of them that I like are
Honestly, I'd sign up for them both — that way you can get more opportunities that way.
My friend Lydia has a great post on some other side hustles.
How to make money while pregnant & unemployed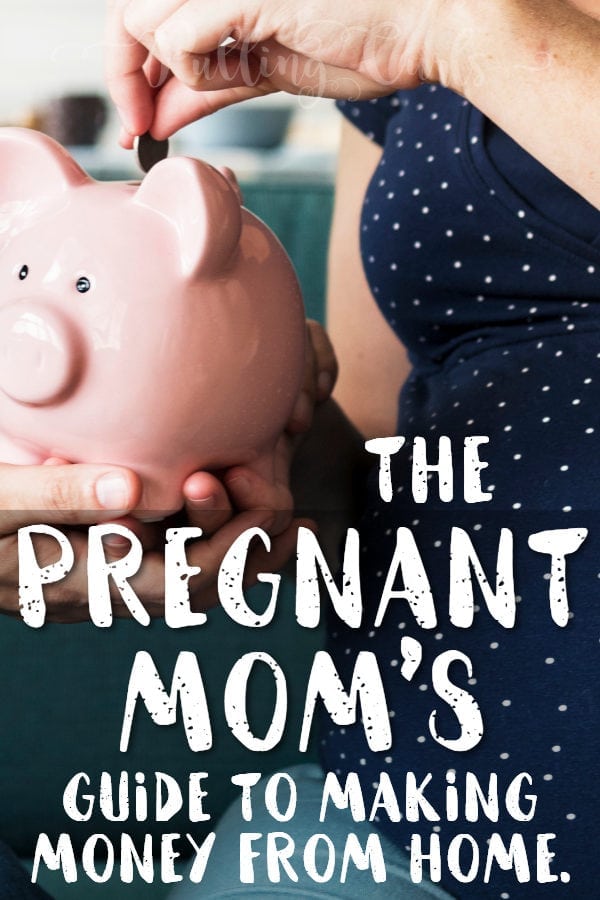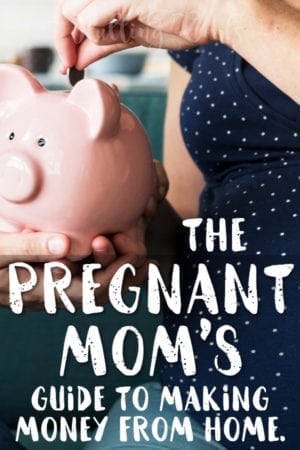 I will say that getting a job WHILE you are pregnant can be hard. Clearly, all of the things in this post can work for you — but a few other tips from the Pregnancy Nurse:
Be honest with you about what you will and won't do — if you really can't be on your feet too much, don't interview for jobs that require that
Be honest with yourself about how late you plan to work, and if you hope to work after you have the baby (although everyone is aware that things change post-baby)
You aren't required to disclose that you're pregnant in an interview, feel free to wear clothes that hide it as much as you can.
Keep in mind that if you haven't been at a business as an employee very long, there are policies that may require you to not take too long of a maternity leave, or they may be able to terminate you.
---
Other ways for new moms to make money from home
Babysitting
I always used a friend to babysit for me when my kids were tiny. The hours I needed a sitter were always during the day. I enjoyed that they were in a safe, loving environment — and also that it was less than a company daycare.
If you're looking to babysit — I'd just start to put it out to friends.
If you're looking to do it as a business then you'll want to consult your local laws for that. But infrequent babysitting can probably skirt that.
Perks to babysitting
Your child gets some socialization
The money (make sure you're on par with other pricing)
You get to stay at home and get things done ta home
You get to help a working mom know their child is in a safe place.
Virtual Assitant
This is a nwer-type position. It is where you work as an assistant to someone online.
I mostly know about this for bloggers.
They will use Virtual Assistants (VA's) to:
Write posts
Schedule social media
Bookkeeping
Take photos
Respond to emails
and more!
But, this type of work could extend to any business that needs help that could be done off-site.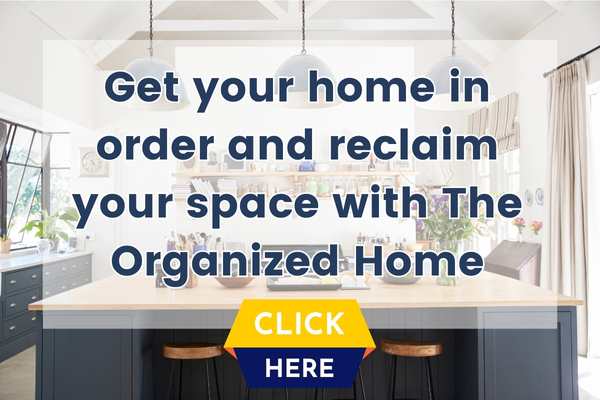 Again, if you're looking for this type of work I'd start to put it "out there" with friends and possibly social media. If you have bloggers you follow, you could always comment on their social media to say you're looking for an opening.
FYI — before you email me, I currently don't use VA's. This is 100% me and my family. So, no openings here. 🙁
Blogging
While I don't think this is a great fit for everyone, it has certainly worked for me.
Entering the world of blogging is a bit more than I want to dive into in this post — but I did make a "Fired-Up" blogging guide — giving you a few simple steps to getting started, as well as my #1 tip for doing it!
[thrive_leads id='33530′]
---
And finally, a reminder that you ARE contributing to the good of the family. I am currently in the reverse situation where I now make the majority of the money, and my husband does more of the house/kids. He is an equal contributing partner. Always remember that.
If you liked this post — check out my abundance budgeting template and my other finances posts below that.
[pt_view id="0979d5f521″]