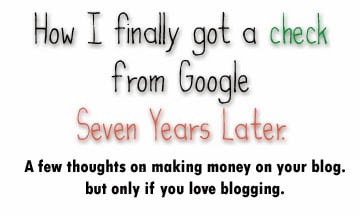 Frankly, it's not even a check. It's a bank transfer. Fairly anticlimactic, but it's ALL. MINE.
At the end of the year I was wondering what this blog was going to be. I was getting, maybe, 30 views/day and I was writing daily. I sort of enjoyed writing it, but it was frustrating to have no one reading it.
Then, my friend Lara shared with me how she had taken her blog to the next level. If you remember, Lara and I started blogging around the same time, and that is how we have become best friends. We just think a lot alike and we have supported each other for YEARS. Adore her. Anyway, Lara had read a book about using social media to amp up your blog. I had tried the whole facebook thing, but Facebook has made it REALLY difficult to do anything worthwhile… I didn't understand how to use pinterest to my advantage. I was confused.
People, I have written this blog since Spencer was 1. He just turned 10.
Nine years of blogging. Frankly, I really like it. I always have. I wanted to be a writer since I was little and it's a good way for me to get out some feeligs. I also type REALLY fast, so it doesn't really have to consume my life.
So, I finally got paid from Google. In case you were wondering, you have to accrue 100 dollars from google to get a transfer. I started adsense in 2006 (I did take a year off in the middle when I took ads off). Just a meager 7 years later. That's all.
[thrive_leads id='52234′]
Blogging is never going to be a cash cow for me. I don't think my mind works that way, and I already have a job outside the home. If any of you are wondering how to make millions on your blog, I have no idea. But, for me, here's 5 reasons I like that this is generating a small income:
1. I love that people reading what I have to say. My bread recipe blog has had almost 10k hits. It's a nice feeling to think that people enjoy what you have to say and have shared it.
2. I enjoy writing it. If writing the blog was a chore, I wouldn't do it. I enjoy giving advice and sharing what I know. I also need to write more about our family, I need to find a balance, somehow.
3. I love pinterest. I live the ideas for decorating, and there is getting to be more advice on there about living well and doing things around the home. I love it. That makes it easy to share my own stuff on there.
4. I like helping others. I like it when someone comments that a blog helped them or inspired them to do something else. That is a REALLY good feeling.
5. We can always use some extra cash. I'm not going to lie. Seeing the income generated by my Blogher and AdSense accounts rise each month is a really good feeling. Now, I should say that my hourly wage for this blog, at this point, is much below minimum wage. But, I'm fine with that — because I have #1-4 (above).
SO, if you like something on this blog. Please share it. Pin it, share it on Facebook, email a friend. I really want you to. I put things out here to learn from others and sometimes just reading my own views on things I learn more about myself.
If you're thinking you want to turn your blog into a money making machine. I'd suggest you think about why you're writing a blog. Do you still have those 4 other reasons, or are you only on number 5? I will say that I can spot a million miles away someone who only has #5 on their list. It's the people who have 1-4 that I enjoy reading and I go back to. If you'd like to generate some income, I'd read that book. It's a good read and she doesn't overwhelm you. There's lots of small steps you can take to see a rise in hits.
Hit me baby, one more time. 🙂
I hope to do another post in a month with my actual income. I'd like to give it a couple of months. I will say that February's is probably around 200 dollars. It takes Blogher a while to tally up. I'm willing to give you specifics if you want it. Read my disclosure here.
Anyway, I hope this post is helpful to my readers. I know it's not my normal genre. If you enjoyed this post be sure to check out my other blog income posts, or my blog income spreadsheet. You'll see how far I came since January. 🙂 Also be sure to follow my "Business of Blogging" Pinterest board.

[thrive_leads id='52234′]