Let's talk Acupuncture benefits or if acupuncture even works? All from an RN with an open mind.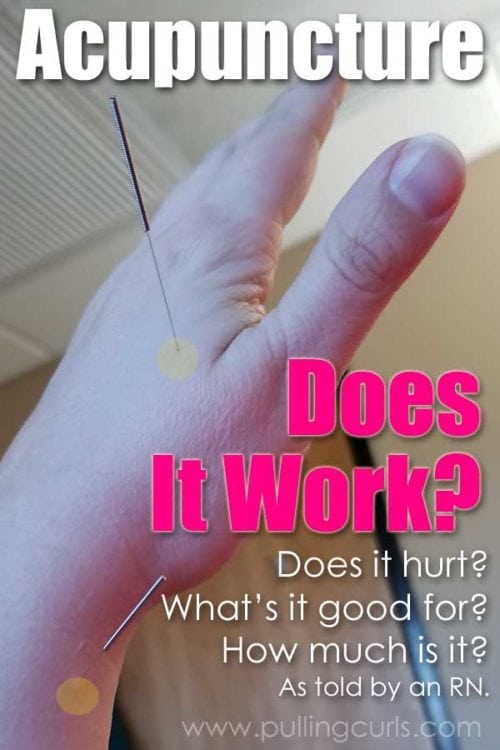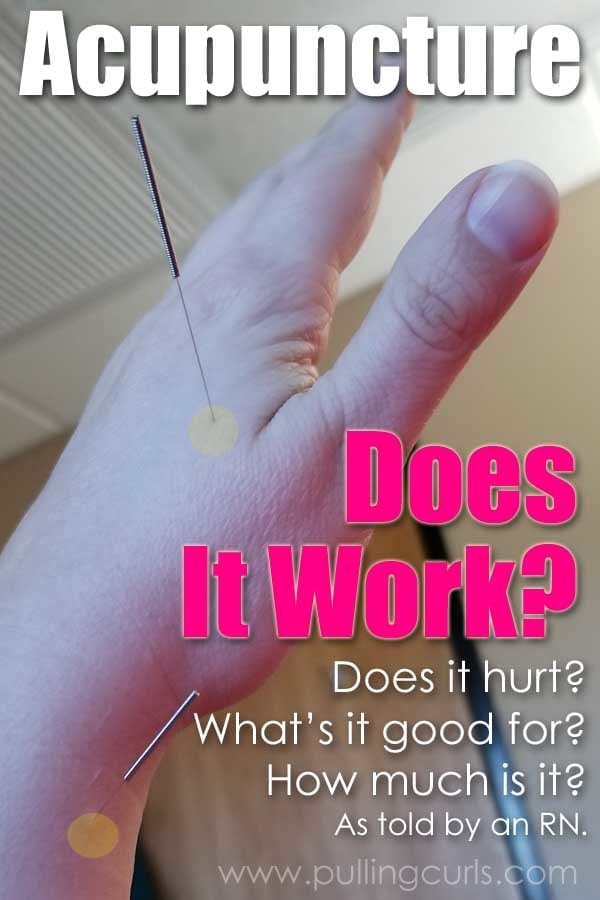 I have long touted the benefits of acupuncture for fertility or for healing. I have heard MANY stories of how it had helped people.
I've suggested it to friends and patients who were suffering and modern medicine didn't seem to help.
As my plantar fasciitis came back this past year I spent a few days almost crawling to the bathroom as I was getting out of bed (FYI PF is often worse in the mornings when you get up or after you sit for a while). I thought maybe I'd try it. I've been really honest on my opinion of essential oils – so, I thought I'd try Acupuncture.
Acupuncture Costs
First, I was worried about the price tag. I don't have traditional insurance, and I just wanted to pay cash (full disclosure: I wrote this off as a business expense but I was NOT given a discount by my practitioner).
My practitioner was $125 for the initial visit and then $75 for each additional visit. Certainly sort of steep – I invested about $300 to see if it would work. I figured after that I would reevaluate.
I find that there are community clinics that are a lot cheaper. There isn't one near me, so I decided to take convenience over cost for this one. However, I did think if this was something I wanted to do long-term I would look into that more.
Related Posts: Health Sharing Plans
Finding Acupuncture Near Me
I asked on Facebook if I had friends who liked theirs. I also looked around on Yelp. I settled on a guy that a few of my friends enjoyed.

How Acupuncture Works
Acupuncture is based on Chinese meridians that they put super small needles into
Possibly elicit your immune response to that area
Elicit magic — I literally have no idea. He explained it, but again — this is Chinese medicine that I'm not all that familiar with.
BUT, it does sort of make sense, and if you really want to dive deep into it I know there are better websites than mine. 🙂
It worked just like a regular appointment (my acupuncturist was based out of a chiropractic clinic).
My first appointment was LONG and drawn out.
He went through all of the problems I was facing and gave some advice (much of it not elicited, being a nurse I don't really want to know his opinion on weight loss — since I'm really trying to stick to intuitive eating).
Then, after they go over your history, he took a picture of my tongue and felt my pulses…
Finally, you get up onto the table.
They decide if they want you laying on your back or on your belly.
For me, the main concerns were:
Plantar Fasciitis (this one being the largest concern)
Stress
Weight Loss
He wanted to do mine on my back (in retrospect, I'm not sure this was the smartest — I was pretty clear that my PF stems from something wrong in my pelvis and along the muscles of my leg).
Related Post: Soap homeopathic remedy for restless leg
Does Acupuncture hurt
It depends on where it is.
He was very clear that you might get a quick sting, but then it should go away. If it felt like it was burning to make sure to ask him to take it out.
One area on my wrist burned and burned, and he removed it (and it still felt like it was burning for about 5 minutes).
When he put the needle in my foot (where my PF hurts) it did hurt, but not wildly.
The needle between my thumb and my pointer finger (in the fleshy part between the two) hurt a lot and continued to hurt even after I got home.
I got needles in my arms, my hands, my forehead (and a couple up on my scalp a bit) a couple on my chest, on my belly, knee-down part of my left and my feet.
So, it's just the quick sting and then it doesn't really hurt — unless you move around a lot — which I tried not to do.
Which leads me to my next point.
Me, laying still for 20 minutes isn't my idea of a good time. I used my cell phone a couple of times to take pictures and it was SUPER painful so I stopped.
I couldn't sleep. I just laid there.
Bored and wondering why I was doing it. HAha… Anyway, laying still doesn't help my own anxiety, but I know some people find it relaxing. Me, not so much.
Oh, he did put a heat lamp on my legs or my belly during that part, and that did feel nice.
Acupuncture Benefits
The first week: I felt like I was able to handle stressful situations better. My PF felt pretty resolved for a couple of days. I also felt hungrier. I felt like my metabolism had bumped up a bit. I was excited to try it again.
Second time: Nada. no changes. PF still hurt a lot, I didn't notice being any calmer or stress-free. I may have been a bit hungrier, but not so much…
Third time: Again, nada. NO change. I also voiced my problem — that nothing was changing. He basically said "huh, that's not unusual — be sure to schedule for next week"
Which, frankly — didn't make me feel like I was getting much for my $75. It also sort of made me feel like I was going to weekly pay $75 for no changes.
I have not, at the time of this writing, which is about 10 days after my last appointment, made a new appointment.
For me, there was really no noticeable change, and I ultimately felt like it had been a waste of money.
Acupuncture for Weight Loss
For me, it didn't do anything, but I do think that acupuncture could:
Increase your metabolism a bit — by their needle placement
Help injuries/pain so that you're more freely able to work out
Decrease/help stress so that you feel more able to handle your life, vs turning to food.
I did notice a BIT of that after my first time, but none since then.
Acupuncture for fertility
I've heard SO many good things about it. So I would continue to recommend it to people who are working on fertility.
I would ask your MD if they have someone they recommend — I didn't get the feeling that my practitioner was too great/into it for fertility.
Acupuncture for breech babies
I have had SO many patients trying acupuncture or chiropractic work for their breech baby and had them turn. If you REALLY want to avoid a C-section, I think this an AWESOME way to try! I would be honest and upfront when you call about what you want to use them for (or, ask your MD if they have a recommendation).
---
For me, I don't know if I'll go back. I might if I found life super stressful. Honestly, the guy was a bit awkward and I found the sessions a bit painful due to that.
But, now that I made that initial $125 investment, I sort of feel "stuck" with him.
It didn't have any long-term effect on the PF. After the 2nd and 3rd treatments I didn't feel any changes at all…
I'd certainly be interested in people in the Phoenix area have a favorite – -tell me in the comments. 🙂
If you liked this post, be sure to grab my favorite essential oil blend and check out my other family health posts below that:
[pt_view id="d218d8581b"]