Everybody get your ears on! But, where do you get ears that you love, won't cost a fortune and you'll enjoy wearing during the day!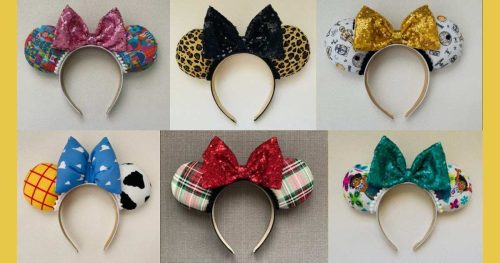 What Are Mickey or Minnie Ears?
For YEARS Disney has had Mickey ears.
For a long time they were on a small hat that you could get your name embroidered on the back.
However, the more popular version is now a headband that is easier on the hair, and easier to store. They are all over the park, Disney even currently has their fireworks to "everybody get your ears on" song.
What's Wrong With Disney's Mickey Ears?
There are five things wrong with Disney's Mickey Ears
Everyone Has the Same Ears
When you look around the park you'll notice that everyone has the same ears (unless they bought them on a previous trip). If you purchase ears in the park, you'll see those ears over and over again. Which, is less fun. I love seeing all the fun colorful and creative ears out there!
What Do YOU Want
Maybe you want specific ears. Ones for a holiday (Disney's had a harder time getting in seasonal ears due to shipping issues), or ones for a specific rides. Fun shops allow custom orders that make it REALLY fun to design what YOU want.
The Headbands HURT
The Disney headbands are hard on your head. I can't keep them on that long, actually. I have found that other retailers have better headbands that don't hurt as much (and still stay on well).
You Spend Time Shopping
Instead of being out in the park enjoying rides you're looking for the perfect set of ears. Personally, I prefer to shop when it's "Free" and I get some Disney magic in my life ahead of time. I'd rather ride rides when I'm paying to be in the park (although you can shop at the World of Disney in Downtown Disney= or Disney Springs as well — which are outside the parks).
The Disney Tag
There is a REDICULOUSLY long tag on the Disney Mickey Ears. It also is almost impossible to take off without leaving a white remnant on your ears. Drives me crazy. There must be a better way (and if you purchase them IN the park you have that tag dangling all day on your head).
Alternative Mickey Ears
So, they're HUGELY popular anymore, so what are the alternatives.
In enters Allie's Ears. They're my favorite ear shop to purchase them.
The headbands are great — no headaches from your ears
The ears are VERY sturdy and pack well (some other shops the ears get bent all wonky because they aren't made well)
She has a HUGE variety and loves to come up with custom ideas just for you.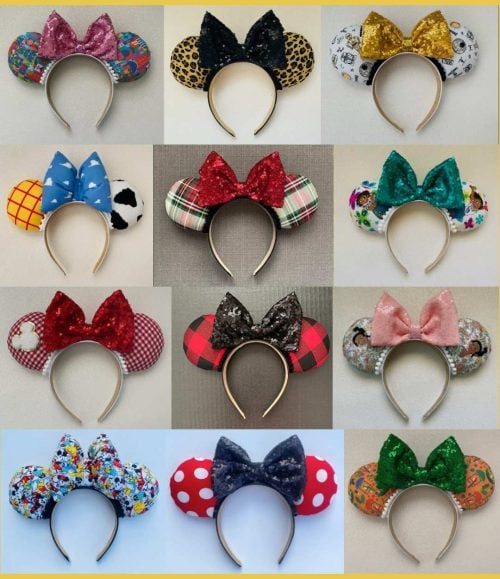 Star Wars Mickey Ears
I love how creative Allie is and still make Star Wars Feminine with her star wars ears.
Want something different? Remember she does custom ear orders too (I really want some wookie ears — and I think that would be super cute for a boy too!)
Marvel Mickey Ears
It's fun to mix genres with Marvel PLUS Mickey or Minnie with Marvel ears.
Remember, that is a small business, so if you don't see Marvel ears, just message her and ask and she can whip something up for you!
Mickey Ears for Disney Rides
Maybe you want ears based off a certain ride. I love these small world ears. I know she's made custom ones for Big Thunder, and has had some Pirates of the Caribbean ideas too!
Minnie Ears
Now, I might SAY Mickey ears, but let's face it — most of these have a bow, and are MINNIE ears. My favorites are the classic ones here.
Disney Movie Minnie Ears
There's lots of ears about movies. I loved these with Marie from Aristocats.
Stoney Clover Ears
These Gingham Ears are to match Stoney Clover products. I love those monogram letters on there!
Disney Princess Ears
There are lots of different princess ears.
Seasonal Minnie Ears (Holiday)
The seasonal ones are my FAVORITE. They are so great for photos and to remind you went you went to visit. When the time is right she has Valentines, Halloween, or Christmas ears (if you don't see what you want, just message her).
I just like Allie's ears, but if you're not loving any of those, there are a lot of etsy sellers who make beautiful ears as well. I have also used Kathy'sKreations. I used her lightweight ears (they aren't long-lasting though) that was nice when I had a young daughter and they weren't heavy on her head.
Whatever you do, enjoy sporting the ears you choose. And check out other people's ears and be sure to give compliments. It's fun to have such a creative way to share our favorite things! 🙂
And while you're here, grab my Disney Day planner — to have your very best day at Disneyland: