This past Thursday Carol Tuttle was gracious enough to sit down and let me interview her.
Carol Tuttle is a best selling author, acclaimed alternative therapist and 20-year pioneer in the self-help arena. Carol is recognized for her work with both men, women and children in helping them release themselves from the limiting beliefs and patterns that inhibit a fulfilling and satisfying life. As the creator and founder of "Live Your Truth," which encompasses Energy Profiling®,

Dressing Your Truth®, and The Child Whisperer, Carol has reached millions of people around the globe. Carol created a program called Energy Profiling, that helps people identify and honor their true natures, strengths, and gifts. By applying the principles of Energy Profiling to fashion, Carol created the Beauty Profiling System and Dressing Your Truth online course. These programs show women how to best express their inner beauty in their outward appearance. Dressing Your Truth has changed the way women all over the world feel about themselves and the way they look.

I know Carol Tuttle through Dressing Your Truth. I initially started out with that program, but have since read The Child Whisperer (a total parenting game changer, I see my kids in a completley new light) and then Remembering Wholeness. Carol's thoughts about how abudance creates more abundance have been a game changer at our house. It has been really easy to just sit down and cry about our lives sometimes, but we are strong, capable individuals, with a lot going for us. I'm excited to share this interview with you, as well as many of the thoughts I had:
In case you are not interested in watching the whole thing, but do want to watch particular questions — I'll put the time frames here, along with my own thoughts. This is NOT a transcript of the interview. I ain't got time for that. 🙂
0:23 What do you do when you find yourself in a bad mood?
Great, Carol Tuttle doesn't get in bad moods. What a surprise. But I do COMPLETELY agree with the idea of doing the next thing. I think the idea that small successes do create momentum. Our thoughts can stifle us. I know just how that feels. More
cleaning
, less thinking.
4:38 Let's say you're a ​Type 1℠ but your life has gotten overly crowded, do you have tips for staying true to your type when your life just really wants to turn you into a Type 4. I go very drill sargeant when my life is as crowded as it is right now. 🙂
Yup, that's my own question (and a few friend's questions), but I think a lot of moms have that question. Your secondary takes over and you end up being uncomfortable and turn ornery. By "smushing" in light and fun I can stay on the happy side. I also think it is a good idea to explore what I find is fun. I need to NOTICE when I'm having fun so I can replicate it. 🙂
8:18 Any tips for not taking on your spouse's energy?
Interesting thoughts on trying to not bring energies that others are trying to avoid…. I see that I've certainly brought a bad moon into our house as of late. I like the idea of making it easy for each other to love each other. That's honestly, not something I ever thought of. I heard she might come out with a relationship book at some point. I'd read it. 🙂 I certainly have been feeding what's not right lately. #fail If you focus more on what IS working, more of that shows up.
12:06 What do you do when your angels fail you?
I like the idea of checking my program. It's like my brain is html and when I keep thinking negatively I need to change my html. I
obviously don't "get it"
— but I'm working being excited on what they have in store for me. 🙂 If you're interested in more thoughts on our
unemployment journey, see it here
.
14:52 Any general tips for Type 1's trying to lose weight.
The one time that weight came off really well was right after we moved here. I had very few obligations and I was SO happy that "things were over". I need to work on being less heavy. I do plan, in general, my food. but I LOVE eating and I love having fun while I do it! Working on being less heavy.
17:08 What is your biggest tip towards starting a successful business?
She really inspired me to just do what I know. Do what I love and don't be a sell-out. I also learned that you have to grow and change. Carol has a really interesting business model that a lot of us could learn a lot from!
*I really liked what she said that I need to notice when I'm light and happy. I think I tend to just notice that I'm a Type 4, but Type 1 is what comes naturally. Also, this is the post where I talk about
my actual budget
, and also has the links to the yearly updates. 🙂
22:54 What's the best way to encourage a friend to live/dress their truth when it just seems so wrong?
It's not your business. I guess that's what I learned there. In my own defense I really don't type my friends or care what type they call themselves. I couldn't even type myself. 🙂
*Loved her thoughts on angels vs God. Looking at myself & God compared to my feelings of my kids and me can always help me understand God's feelings. I like the idea that the angels WANT to help us, we just need to ask.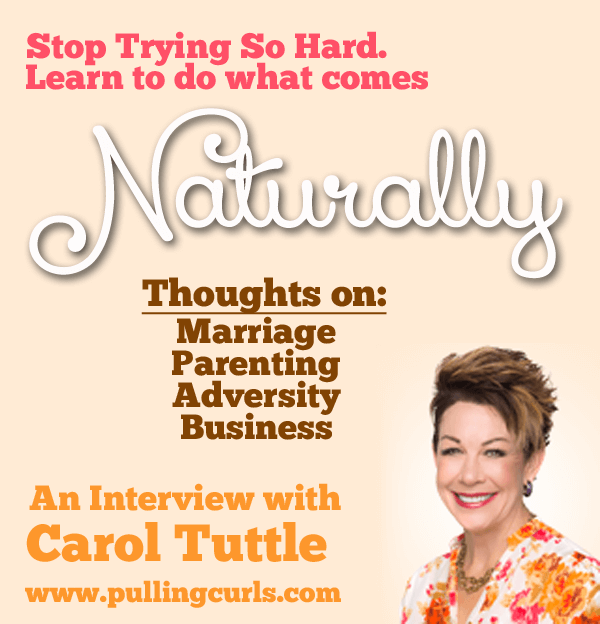 After this interview I went to her "Carol Tour" with a sold-out room of people wanting to meet her and hear more of what she has to say. A few thoughts I learned there:
Finding joy and living as your true self is like training for a marathon, it takes time to make the changes #impatient
I need to stop TYRING to be type 1, I need to just be and see what comes most naturally
Doing what is natural creates success. She told a story about Marie Kondo (of organizing fame) spend much of her childhood organizing things. In today's society, with more involved parents she might have been "treated" for this — as a sign of OCD but in reality it's who she REALLY is and has created a business and helped a lot of people! That thought really struck me that we need to allow our kids and ourselves to do more of what's natural.
Ending Thoughts:
I think Carol is completely at peace with herself. I think she is entirely genuine and caring. I talked to her once for almost an hour via skype and then again today. Both times I have felt exhilerated and ready to attack my life with more perseverance.
I am grateful for her reminders that I need to keep it positive so that more positive will come. That's our plan. We're ready to see the great things that our angels have in store. You feel positive after you talk to her, and that's my favorite kind of person. We're basically best friends now, we're doing Thanksgiving. Just kidding. I work Thanksgiving this year. 🙂
Carol is actually going on tour again in 2016 to LOTS of cities. Be sure to check her out — and you can even save $50 off the ticket price if you use the code: ctuttle
If you found the things interesting that Carol was saying, take her free energy profiling course! Sign up through one of the banners or links in this post. If you do think that buying the course would be helpful to you — please sign up using this link, as you will get 67% off the cost of the course, plus free money in the Dressing Your Truth store!

[pt_view id="3af53e4ded"]