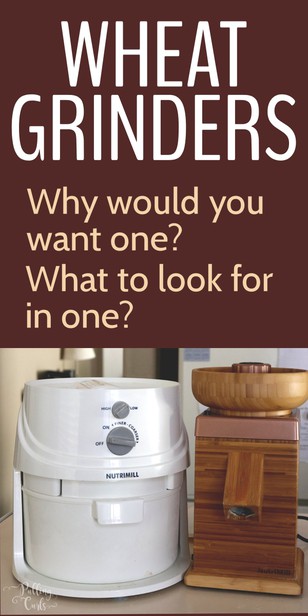 Picking a grain mill can be a hard task. Today I will compare the Nutrimill Harvest with the Nutrimill Classic. Share why you might consider a grain mill, how I use mine and which one I liked better!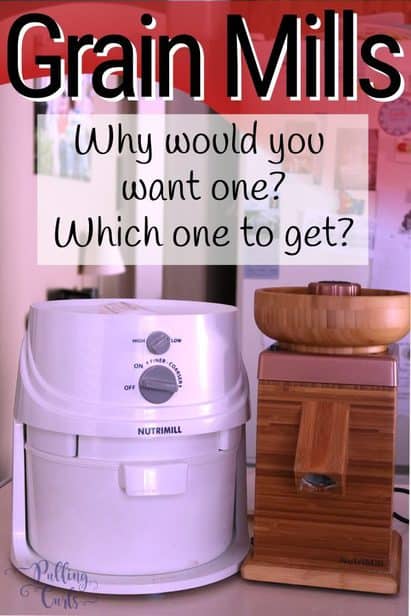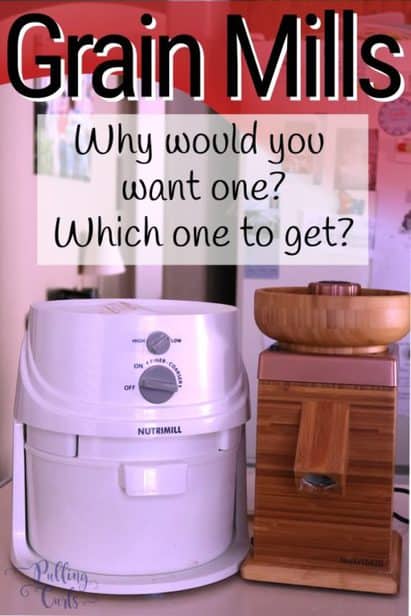 In 2009 I made the choice to start making bread for my family.
I knew that I'd have more time at home (new baby) and wanted a way to save money, and feel useful to my family.
I had a few friends who baked bread, but I knew I didn't want to go into debt to buy the equipment (or spend a ton of money).
At the time I bought the Nutrimill Classic and a Kitchen Aid Professional Mixer.
That Kitchenaid lasted about 6 years, and then died more and more frequently until we could barely get through cookies vs whole wheat bread.
I then replaced the Kitchenaid with a Bosch (which can pound through bread like nobody's business.)
However, that grain mill was still going strong, when Nutrimill sent me a Harvest Grinder (yes, one of the perks to being a blogger).
So, I was brought back into the world of grain mills.
Btw, if you like this post — you might also be interested in some of my other posts that are similar like:
Why would you want a grain mill?
Most people use it to mill wheat, but you can mill many types of things. I would guess that people who are gluten free would want to use it to mill other things like beans, rice or Quinoa.
Milling your own flours has a lot of benefits:
It's a lot cheaper — whole wheat flour at the store can cost quite a bit, but when you grind it from the wheat berries, it's pennies on the dollar. I think I can make a loaf of bread for about 20 cents, depending on what's in it.
It's more nutritious. The moment you break open that capsule and mill it — the vitamins and minerals in that flour are starting to break down. If you can mill it, and immediately cook it — you save some great nutrients
You know exactly what you're getting. I KNOW no white flour has come into my wheat flour — because I ground the berries!
I no longer have to have many bags of flour on hand (which can go bad easier) because I keep a lot of wheat berries on hand. In an emergency, we'll have way more flour than we'd have if we were just storing flour (btw, you get a lot more FLOUR than you store in berries as it enlarges when you mill it).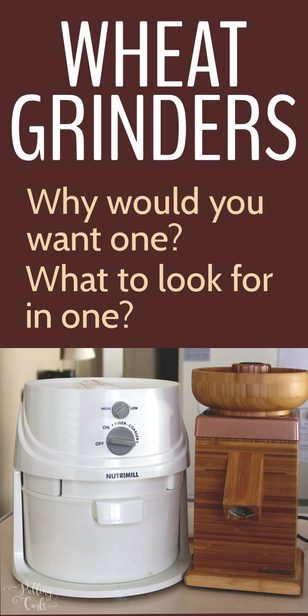 What types of grain mills are there?
I only know much about in-home grain mills, so I won't be discussing commercial mills.
Hand-cranked grain mills
As the name implies you can buy a mill that you crank by hand. This might be handy in a natural disaster as it will be difficult to get. I know a lot of people who keep this one on hand for just such an emergency.
If you plan to make a lot of bread, this not a great plan as it takes a LONG time to grind a large amount of wheat to make bread for your family. I would certainly ocnsider…
Electric Grain Mills
I have exprience with two. One is a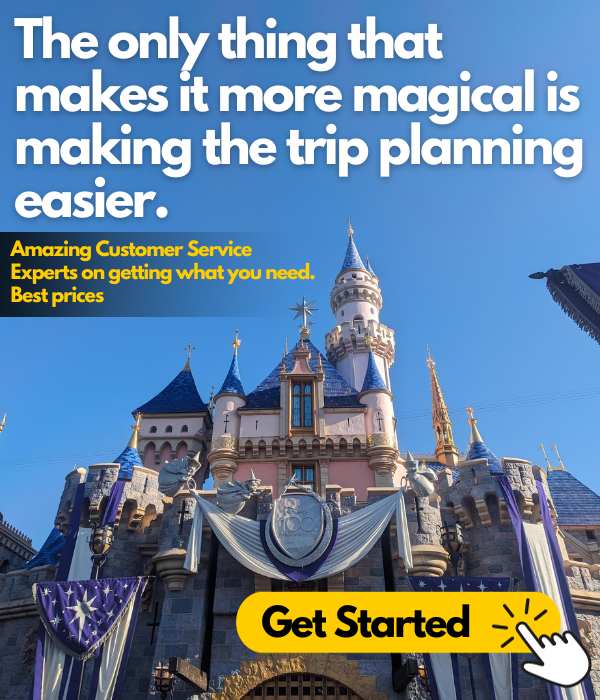 Metal burr grain mill
This means that the grain is milled by metal — like the Nutrimill Classic grain mill
I also have a
Stone grain mill
This uses stones to grind the grains — like the Nutrimill Harvest
I have poked around a bit. A lot of people like the stone variety and believe it grinds at a lower speed and some places I've heard a lower temperature.
Perks of the Nutrimill Harvest
Stones are easier to clean than the metal parts
The outside casing is much prettier
When not grinding it is much quieter
You can grab the wheat as you grind it to add it to recipes
Perks of the Nutrimill Classic Grain Mill
Much larger hopper, you add tons of wheat, and because it's so large, you're less likely to spill as you add it
Flour is kept in a dedicated container (and frankly, you don't have to clean it too frequently, as you only have flour in that)
It mills quite quickly
Flour is of a uniform consistency and can be ground very finely.
Both options have a lot to offer, but I felt like I should only keep one at our house, as it does take up room, and I was sure another family could find good use out of the other grain mill.
Which Grain Mill did I like best?
We decided to keep the classic, as it mills so much wheat much quicker and I can dump all the wheat I need ground in all at once.
However, each family would have to pick their own grain mill that would work for them. I think both would be a fine addition to anyone's kitchen.
If you liked this post — grab my bread recipe — and check out some of my other cooking posts below that:
[pt_view id="261a2c2z4h"]