I had a post go wild on my Facebook page the other day.  It was about homework. (It started with this one, after I talked to my principal and then my final thoughts).  I just worry that homework and stress go hand in hand?  Is it really worth it?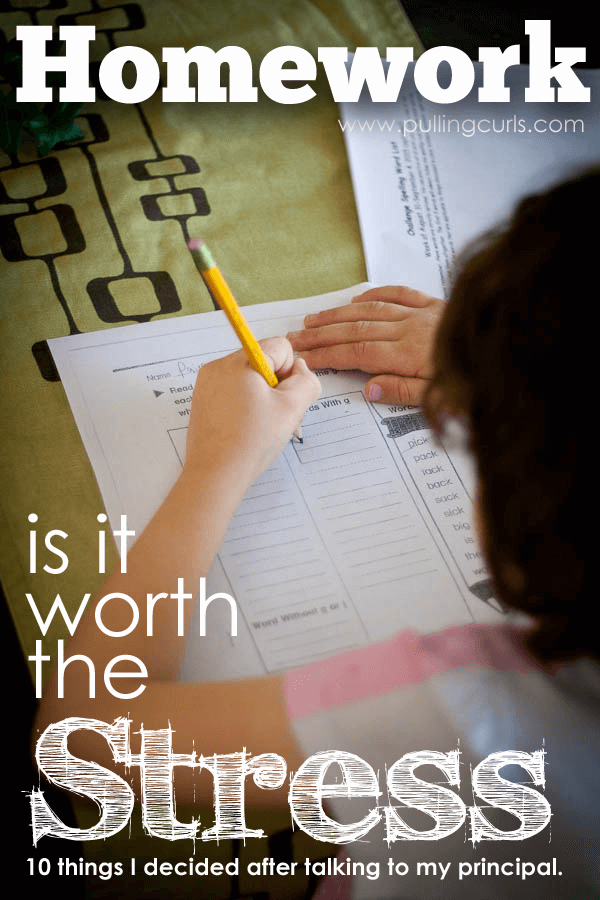 Now, I'm an involved parent.  I am, in no way, failing my kids –but homework just really makes me wonder.  Also, because I'm scheduling social media for my accounts I tend to read a LOT of parenting articles.
And by a lot, I mean a LOT.  A ton of stuff about homework.  Like this one about how kids have 3 times more homework than they should, or this one about ditching homework for more playtime.  The thing is, my kids (probably most especially Princess P) don't hate homework.  They do it alright.  But all those articles got me to thinking about my favorite good, better, best talk (which, btw, my father asked me to never think about because I spend so much time stressing about good/better/ best that I could've just done something good and moved on).  Is there something better my kids could do with their time and why am I not supporting that.
And by jove, I'm our school's PTO president, and if I represent parents at that school I should talk to the principal and get her take on it.  So, I did.
And my mind is like a rock tumbler, just taking all the thoughts in my head and mulling them over and over.  Here are 10 things about homework from a super involved parent who loves her kids and wants nothing more than to see them succeed (but thanks to spell check is unable to spell the word succeed until right now).
1.  I am willing to do it.
I'm not saying that it's too hard or it doesn't fit into our life.  I'm 100% willing to make sure it gets done.  I've also seen homework across the ages.  I have one in first and a sophmore in high school.  I see that he has, on average, about 90 minutes of homework.  He's in almost all honors classes (although no AP due to a scheduling snafu).  Him, being in 10th grade I think that's a pretty good amount for him.  In general, he doesn't seem overwhelmed thus far.  He was also in honors classes last year.  I think we have a bit more this year, nothing insane.  Yes, we will get to a giant project and the amount of time spent on homework skyrockets, but I do enjoy seeing him see a project through.
2.  My kids really like to learn.
I think a lot of the time the homework is engaging.  The spelling words are fun and they enjoy seeing their brain grow and learn.
3.  My kids enjoy playing more than they enjoy homework.
And thank goodness, that is true.  They love legos, lincoln logs, playing with the dollhouse and dress-ups.  We have a lot of fun toys to spark fun in their minds.  We have a giant playroom that gives them a large amount of space to work with.
4.  My kids are NOT over-scheduled.
Princess P doesn't have a single thing after school right now.  Of course, our budget isn't allowing a whole lot lately (and one parent is always home at this point, often two).  Of course, it's marching band season so the high schooler is another story, but I tend to focus this topic on elementary school.  I am really careful to allow my kids margins in their life to allow a lot of play.  That includes my middle schooler.  Kids need downtime to grow imaginations and heart.
5.  I'm not a fan of screen time.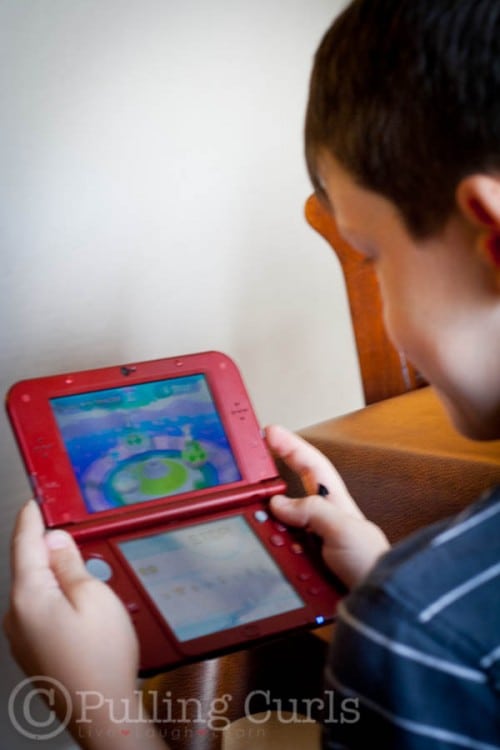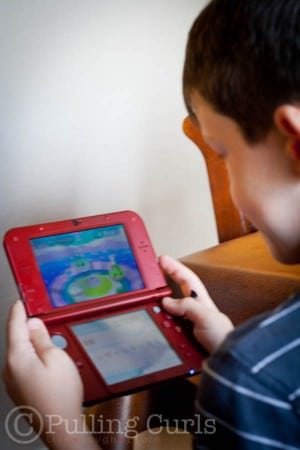 If we are eliminating homework to get more screen time I am NOT a fan of that.  In fact, we had math homework last year that WAS screen time and I completely ignored it.  Screen time, in no way is my friend with my kids.  It's something I fight off.  Princess P, thankfully, would SO much rather draw or play.  It's the older two that have an issue.  I see another post coming up about how we're working on that with them.
6.  I talked with my principal.
Well, first I talked with my teacher, and she said it was a school initiative and understood where I was coming from, so I "upgraded" to the principal.  I'd totally recommend doing this if it's something out of the teacher's hands.  Again, talk to them like the respected professional she is.  I wasn't going to tell her HOW she could be doing it, but instead WHY she is doing it that way.  It just isn't my place to tell the principal what to do.  It IS my place to share my thoughts with her.
7.  She said it's not busy work.
Which, is a lie in Princess P's case.  BUT, she is willing to work on handwriting and pretending that the spelling words are ones she struggles with.  It's the same packet for all the same kids.  You're gonna be too hard for some kids, and too easy for others. I get that.  And again, there is always something they can work on.  Be it handwriting, or expanding on the assignments.
8.  She said it build stamina, especially in the case of writing.
Our school has a writing initiative, we write more than any other school in the district, and as a PTA we have funded teachers to go to the Lucy Calkins training in NYC each year.  I guess I get this, although I'm not sure that it might help the older grades, when they tell kids to write at home for 30 minutes, to have written at home for 15 minutes when they are in first grade (10 minutes in K).  I asked to see research, she didn't have any besides that's what Lucy Recommends.  Oh Lucy, why to teachers love you so much?  You're like the One Direction of elementary learning.  It seems like what she says goes, and I have yet to find her research on it either.
9. She emphasized to do what works for us.
For me, that is not paying attention to time limits.  My first grader is supposed to do 15 minutes of writing, 15 minutes of reading and has about 6 worksheets to complete each week.  As long as the writing pages are filled and she does her worksheets I'm happy.  She reads a lot, I have no fears of her not reading daily.  I don't want to set a timer and have her roll on the table for 15 minutes if she can write of her love of Disneyland and mermaids in 5 minutes. I prefer accomplishing THINGS, not time limits.  So, that's what's working for us.  Again, last year I completely ignored the request for the screen time game to be done 1 hour/week.  #loser
10.  I still believe that homework is a practice in mediocrity.
Do I stew over her best writing and am I equipped to get that out of her?  No.  I'm glad when it's all done and we're off to play.  She isn't doing her best work.  She is already at school from 7-3 (that is door to door time) and her best work needs to be done between those hours.  I don't force it at home
ETA: I wrote this piece, I love the nice round number of 10, but I do believe there is a #11:
11.  My child listens to her teacher, no matter what
Princess P has zero idea that I hate homework.  If her teacher says that she needs to do something, we do it.  It is not my place to ever undermine her teacher –at least not in front of my daughter.  As I mentioned, in my Kindergarten readiness post.  The teacher is like a new parent in her life and I wouldn't undermine what my husband told my child to do, just like I wouldn't undermine what the teacher says.  Yes, my child knows how to protect her well being and knows when to speak up if she ever felt unsafe, but other than that.  What the teacher says, goes.  The end.
---
And I guess it all boils down to the fact that if I (an involved parent who loves education and helping her kids to succeed — and yes, I typed that wrong again that time) am unwilling to force her to do her best work — are any parents?  Are kids learning with homework? What do you think?  Comment below, or on one of my facebook posts.
Some other posts you might find interesting: