There are so many questions about getting an epidural — and the one I get most often is how long does an epidural last? Plus, how long does an epidural last in a C-section (as they're different). Let this L&D nurse since 2001 tell you how it all works!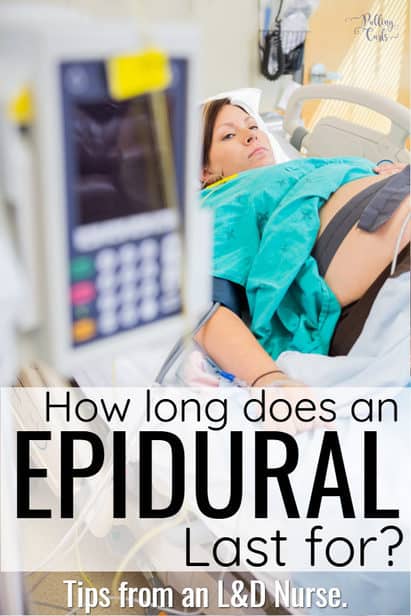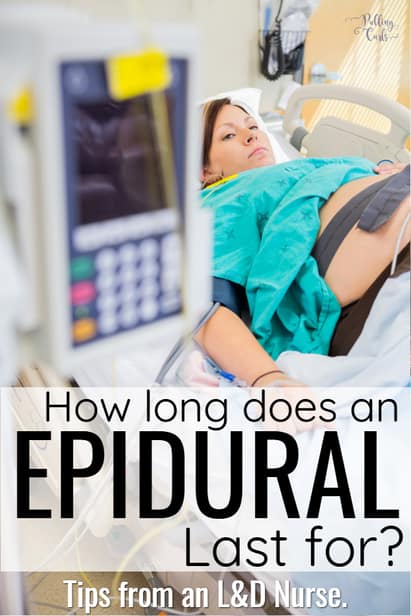 How long does an epidural last?
Now, epidurals come in all shapes and sizes. There is an epidural injection that doctors can use to help back or neck pain. Each of those will last for a different period of time, and are for pain management — but today we're talking labor epidurals — the kind they use in labor and delivery. How long will they last? Don't miss my whole page about labor epidurals.
Prenatal classes are so hard to find that fit your schedule
— did you know you can do it entirely online? Hundreds of my readers have taken
this one
and LOVE it!
How long does an epidural last during labor?
In most cases, an epidural is initially placed (this post>> can tell you all about epidural placement, including how long the epidural needle is — and this post tells if an epidural hurts)
Initially, they do a needle insertion (using an epidural needle), into your epidural space.
After that, they will feed in an epidural catheter (a tube) that will hang-out in your back until you've had the baby — and that replaces the needle.
That little tube will carry the medicine into your epidural space (which is not the same space your spinal cord is in) until we stop it or it gets pulled out. It's sort of like an IV in your back.
Some doctors do a combined spinal-epidural that helps if you're in a lot of pain when the epidural is placed — although that is usually doctor preference.
The doctor then gives you a large amount of epidural medication into that space — we call that a "bolus".
The medicine is pushed in via a pump — very similar to how your IV goes into your arm.
The amount of medication, and how much pain relief you get is up to the doctor, for the most part.
In general, the plan is for an epidural to last until we stop it, making for a positive birth experience.
That can go awry with things like the tube coming out of the right spot, or it gets kinked, but in most situations, it lasts until we stop it.
"Back in the day", doctors used to just come in and give a giant amount of medicine every few hours. It didn't drip into your back — but I would guess that all hospitals have it going in via a pump while you're in labor.
Most pumps have a button that you can push for an extra amount of medication. The pump is set to only allow you a certain amount of medication each hour.
If you are in a lot of pain, it is important you let your nurse/provider know so they can assess if you're progressing or what is up.
Common side effects of the epidural anesthesia can be itching, a mild increase in temperature and clearly — numbness/inability to move their lower extremities.
Your anesthesiologist can also come in and give more/different medication if the medicine going in via the pump isn't enough. He can also turn the rate that the medicine goes into your back either up or down depending on if you're feeling too much or too little.
**Sometimes we will turn off, or lower the rate for your epidural once it's time to push so that you're able to feel more.
Btw, if you'd like you thank your nurse, I have a whole post on gifts for labor and delivery nurses.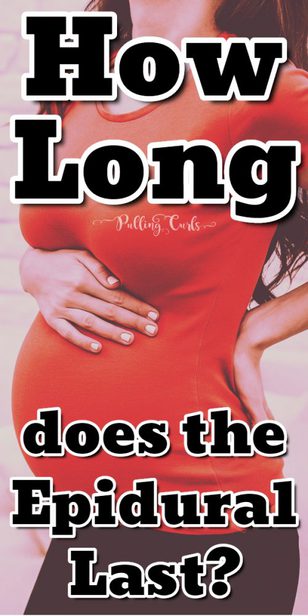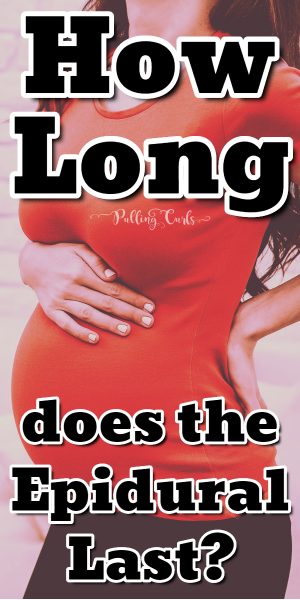 How long can you have an epidural?
In general, you could have an epidural for quite a long time. It can infuse for days (I've never gotten to the point that we had to replace it), but it is best not to….
In general, we don't want people in hard labor (hard enough to get an epidural) for more than a day….
How does the epidural wear off?
Once we turn the epidural off, it slowly wears off. Usually taking 1-2 hours to wear off.
Make sure you hold onto your nurse and take her help the first time you get up. Your legs will likely feel a bit weird.
Which is better — epidural or natural birth?
Every woman, and every labor is so different. Never has this advice been more pertinent — you do you. Do what works for you. You can't compare your labor or your pain with anyone else's. After almost 20 years in L&D I can guarantee you that.
How long does an epidural last after a C-section
Most planned C-sections have a spinal, although if you have an in-dwelling epidural they may put in a lot of medicine to get that to work the same way.
Those epidurals will wear off slowly — and last about 2 hours. BUT, your abdomen will have the epidural last the longest, so that's a total perk of spinal or epidural anesthesia vs general anesthesia. We usually leave the catheter in for 12 hours after the surgery and we often will sit you on the side of the bed when that comes out.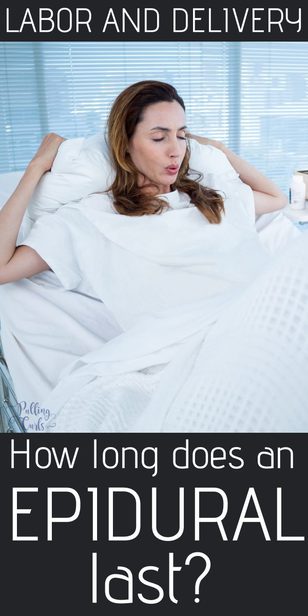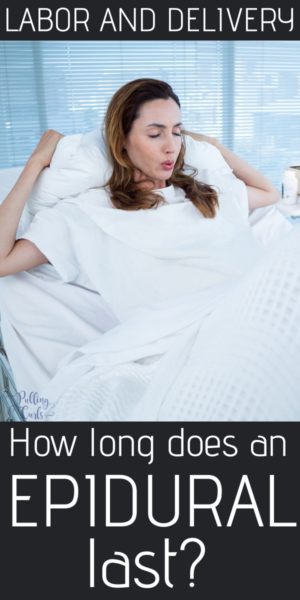 Ok, so far we've talked about how long is an epidural needle in inches. We've talked about the epidural — how long before delivery you can get it. We've answered the question — can you get an epidural right away AND how long does an epidural last after delivery.


BUT, let's answer a few more questions:
Epidural FAQ's
Is an Epidural Safe?
Your anesthesiologist will give you informed consent prior to getting the epidural. Like all medical procedures, there are risks and benefits.

However, the epidural is very safe. Thousands are put in every day for both labor, as well as other surgeries and pain management.
Is the Epidural Safe for the Baby?
Yes. The needle doesn't get anywhere near the baby.

The biggest complication can be that your blood pressure drops (we talk more about that in my epidural placement post) but, anesthesia can give you medication to counteract that.

Epidural medication doesn't get into the blood stream, hence it doesn't cross the placenta to get to your baby.
How is an epidural done?
The simplistic way to look at it is an IV in your back — but I talk all about in my post about epidural placement.
How long can it take for an epidural to wear off?
It usually takes 1-2 hours. We normally turn the epidural off after they repair any tearing in the lady parts.

Once it's off, I recommend you move and "pedal" your feet so that you can start returning sensation.
Can you walk with an epidural?
I've heard rumors of a walking epidural, but I can't imagine they work well. I have never seen one — and frankly, they make me nervous.
Do Epidurals Wear Off?
Every hospital I've worked at has the epidural on a pump, so it is continuously infusing. However, a few things can happen to the epidural that might make it feel like it's wearing off.

If you feel like that, ask your nurse or anesthesiologist to help you. HOWEVER, remember that the epidural doesn't take away 100% of the pain of your contractions (it's not designed to).
---
So, that's that — in general, you don't need to worry about the epidural wearing off before you have your baby — but, an epidural isn't meant to take away ALL labor pain << read that post to find out why.
BUT, here's the magical question — how to know when to get the epidural — I answer it all here.
AND if you're interested in more info on pain management during delivery be sure to check out my Online Prenatal Class for Couples hosted day and night on the internet, with your's truly. Hundreds of couples love this class. It's:
Accurate — you'll get the RIGHT info. Since I still deliver I really know what I'm talking about
Engaging — there are videos and questions to help you take it at your own pace and stay involved
Available — no more having to fight traffic, and find the right classroom. It's here just waiting for you.