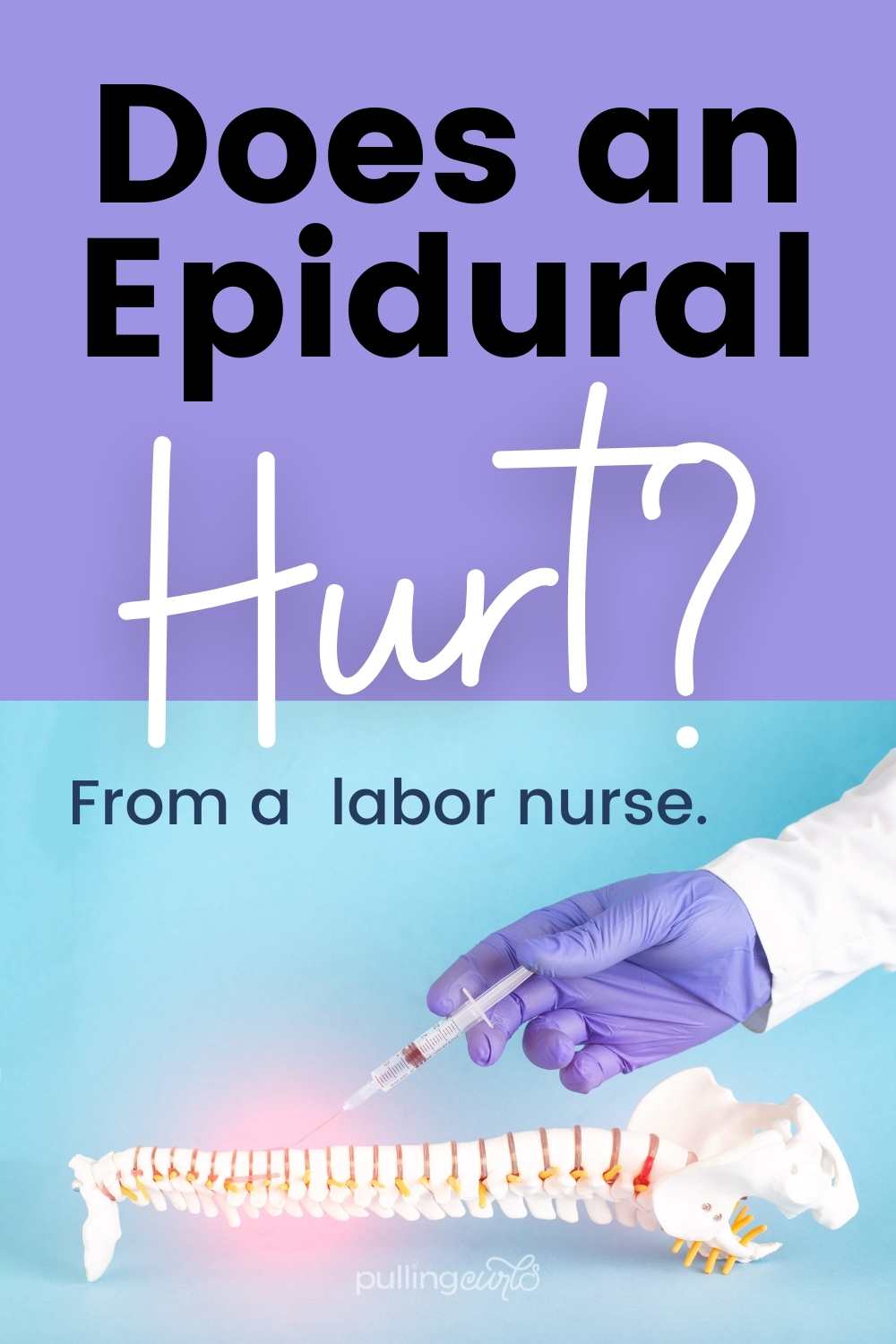 An epidural is a process that you probably have a lot of questions about. What does it it feel like, look like — does it hurt? Let an L&D nurse of 20 years, plus the recipient of 3 epidurals, answer your questions!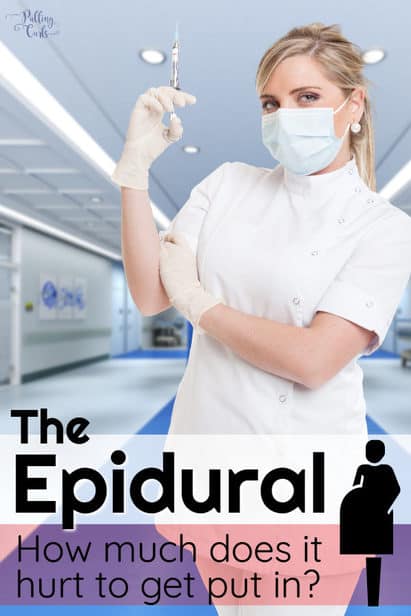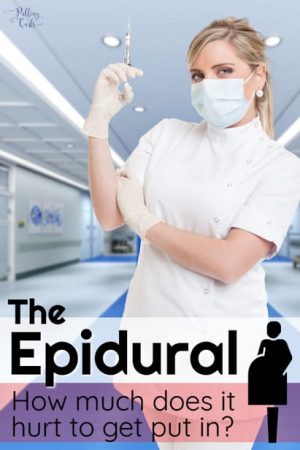 First off, hello! I'm Hilary — many people know me as The Pregnancy Nurse 👩‍⚕️. I have been a nurse since 1997 and I have 20 years of OB nursing experience, I am also the curly head behind this website Pulling Curls and The Online Prenatal Class for Couples. 🩺​ I've helped with thousands of epidurals and really have a good idea of how it all works.
Jump into my personalized pregnancy emails here:
Does An Epidural Hurt?
When people ask this question, I think you need to think of it split into three areas:
Does the process of putting it in hurt?
Does the epidural hurt once it's in?
Does the epidural hurt coming out?
This post is part of my series on labor epidurals and my labor pain information so don't miss those pages that has ALL the links to my posts on it!
How bad does getting the epidural hurt??
Getting the epidural put in is the most painful part of the epidural, most often. However, I would put the pain (after watching thousands getting 3 of my own) on par with the pain of getting your IV.
BTW, an epidural is placed by an anesthesiologist or a CRNA
I have a whole post about the process of getting an epidural during labor. But, let's do a quick review here.
The doctor will feel your back — he may push quite hard to find the bones and the landmarks that show him where to go.
The doctor will numb your skin on your back. This feels like a sharp bee sting and may last for a few minutes, at the most.
Then, you will feel a lot of pressure as he is putting the needle in. It won't feel sharp. I always think it feels like the doctor is pushing his pen on my back very hard.
You will also need to curl-up around your baby during this process. It is vitally important that you NOT move during this time. Some people find that position painful while in labor.
I will say that each of my children, the epidural placement was better/worse. Sometimes them putting the catheter into my back (catheter is another word for tube in the hospital) hurt like CRAZY.
Most often, after the initial numbing, I feel like they are pushing hard on my back with their pen. I don't feel anything sharp, but it is uncomfortable.
BTW I go through the whole epidural process in this video:
And, if you're really wanting to dive into the process and know more about it (as well as how it feels the whole time, check out this class.
I also have a podcast on 4 tips if you're afraid of an epidural.
Does the epidural hurt while it's running?
When the epidural is flowing in, you will just feel cool fluid on your back sometimes. The process of the epidural medicine going in doesn't hurt.
You will also have a large amount of tape on your back. That may pull and tug at times.
If you're wondering how long an epidural lasts << that post will answer your questions!
I also have a new video on when to get the epidural:
What does an epidural look like?
An epidural needle looks much scarier than it actually is.
Keep in mind that most often the doctor isn't using much of that needle at all, maybe 1/3? BUT, if you want to see one — you can check right here.
The other good news is that it's humanly impossible to see the needle while he puts it in.
Unless you go all exorcist on us. 🙂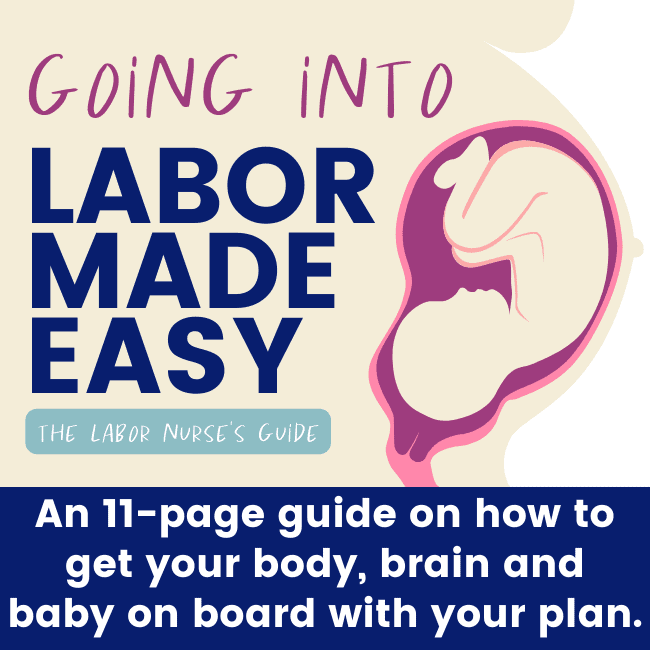 The epidural process is really not all that scary. The idea of it is worse than the actual process. But I'm here to discuss all your pain management needs in here.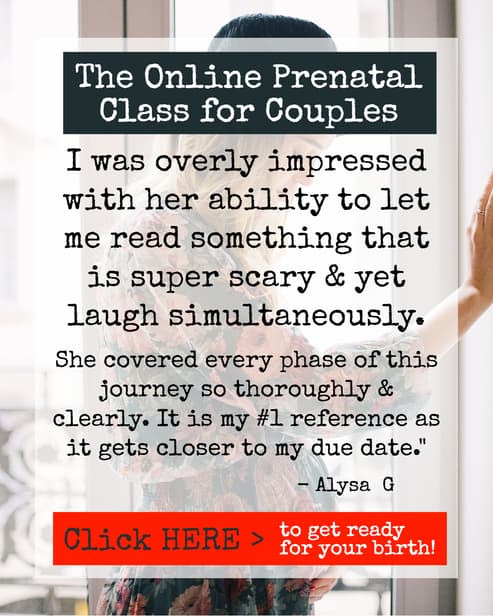 How do Contractions Feel?
Uterine contractions feel very similar to stomach cramps, or the cramps you feel when you're getting your period. I have a whole post on what do contractions feel like?
What does the epidural do?
The epidural is designed to take away about 80% of your labor pain. This post talks all about if labor still hurts with an epidural.
Does an epidural hurt after birth?
As far as the epidural coming OUT. It feels like us ripping a lot of tape off your back.
The actual epidural catheter coming out doesn't hurt at all, most often.
Some women feel like their back is a bit bruised. When the water in the shower hits that spot, it will ache, similar to your IV spot. I have a whole post on if an epidural can cause back pain with some studies linked.
---
So, that's the nitty-gritty on if it hurts to get an epidural. Just a reminder this is part of a series on labor epidurals. Don't miss the others:
And, if you're interested in more info on pain management during delivery be sure to check out my Online Prenatal Class for Couples hosted day and night on the internet, with your's truly. Hundreds of couples love this class. It's:
Accurate — you'll get the RIGHT info. Since I still deliver I really know what I'm talking about
Engaging — there are videos and questions to help you take it at your own pace and stay involved
Available — no more having to fight traffic, and find the right classroom. It's here just waiting for you.

Or, if you're not quite ready for the full class, check out my free prenatal class — It's your first step towards being your own birth boss.