Labor pain is one of the most intense out there. There are plenty of options for pain relief including anesthetics (epidurals, analgesics), positioning, heat, breathing and more. This article will help you chose how to get through the pain with support.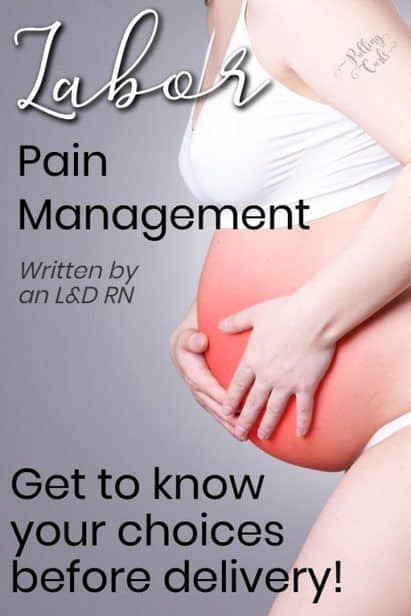 Managing Labor Pains
As an L&D RN I have seen thousands of patients in pain. I've seen them manage their pain in a way that worked for each of them. Today I want to dive into labor pains with you and share some of your options so you can choose what works for you.
Before we get going, grab my best pain management options right here:
Fear of the Unknown
One of the most painful things of labor is the fear of the unknown. Being in a new place without your people, or your smells can make things even harder.
But taking some preparation you can know what to expect and not be caught off guard as labor progresses. After 20 years in the labor room, I've seen prepared patients approach labor very differently. You can even do it on your couch at 10 pm.
Every labor is different
What I want to remind you first, and foremost — is that EVERY labor is different. Things like, anatomy, baby positioning, if/how you get induced can all change how you feel the labor.
I find birth stories frustrating because no two labors are the same from what you're feeling in your head — so keep that in mind as we journey forward!
Contraction Pain
Pain from contractions are similar to pains from lifting very heavy weights, or pain from gastrointestinal distress. The problem is that it happens over and over for hours on end. I have a whole post on what contractions feel like that you might enjoy!
Sometimes painful contractions can extend to your back or to your flanks. This is often called back labor. Most often the pain moves more into your abdomen as baby rotates.
Pain with Vaginal Exams
Vaginal exam pains are another injustice to the pregnant woman. Most women find vaginal exams painful. Learning how to cope with them, and also making sure they are only done when necessary can help (make sure you get informed consent when they're done)
Natural Pain Management Options
There are lots of ways to manage your pain without medical interventions (I have a post on natural labor). A few options:
Breathing
Hypnosis
Positioning
A lot of people find a doula helpful to talk about these options. I also discuss them in a bonus video from this course.
Pro Tip: One of the best ways to manage your pain is to stay in your own space as long as possible. Laboring in the hospital is hard, and if you don't plan to go the medical route, ask your doctor how long you could labor at home safely.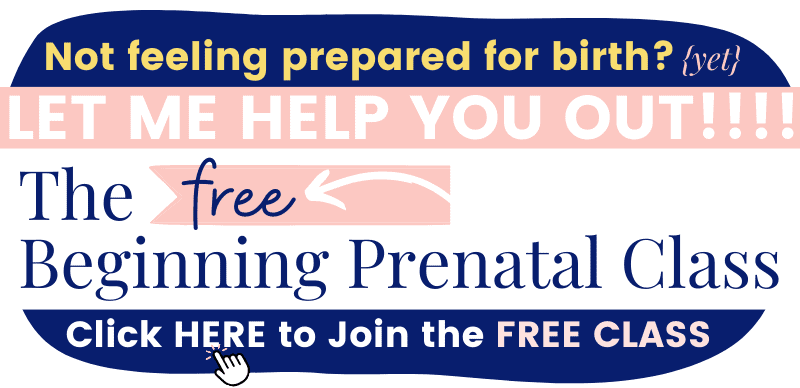 Medical Pain Management Options
In the hospital, we also have a few options for pain management.
There are two different types of pain medications. Systemic analgesics vs anesthetics.
Analgesics take the edge off, and anesthetics can help numb the area so you feel pain hardly at all.
IV Pain Medications
These are systemic analgesics, as they go throughout your body. The ones most often used are Stadol or Fentanyl. I go into great detail in my course about what to expect with those medications.
Epidural Medication
An epidural block (more commonly known as an epidural)is similar to an IV — and the tube threads into your back and give numbing anesthetic to where you are fairly numb from about your bra line down to your knees.
The Epidural is meant to take away about 80% of the pain. I have a post where I talk about exactly how it is placed. If properly done, it can last throughout labor. It is the most popular option in the US.
There is a very small difference between epidurals, a combined spinal epidural (known as a CSE) and a spinal (which in the maternity ward is used for c-sections). I discuss all the nuances in my course.
[thrive_leads id='28896′]
Local Anesthetic
The provider can inject numbing medicine around your perineum (in between your vagina and your rectum) as the baby comes out to help any tearing that happens in that area. Most often they use lidocaine for this.
This only works at the very end of labor, but it does help with delivery pain.
Nitrous Oxide
Nitrous is becoming more and more popular in the united states. It is the same medication you might use at the dentist and takes the "edge" off the pain. It is administered by the patient (she holds a mask on) and it has a short half-life, which means it wears off really quickly (for both mom and baby).
Impact of Not Managing Your Pain
Not managing your pain can lead to extreme stress at delivery. Preparing in one way or another is very important to averting that type of stress. As you can see, there are a lot of techniques you can use.
I hope you can figure out which one is best for you, and remain open to what is best when labor actually happens. My best advice is to weigh the pro's and con's and then make the best choice for you! Don't panic, you've got this!