Marijuana during pregnancy is becoming more prevalent.  Hopefully you'll consider actually reading this post before you comment. 🙂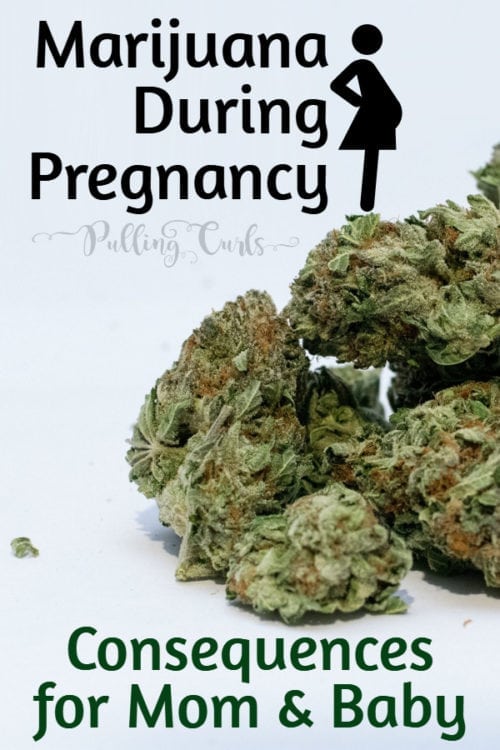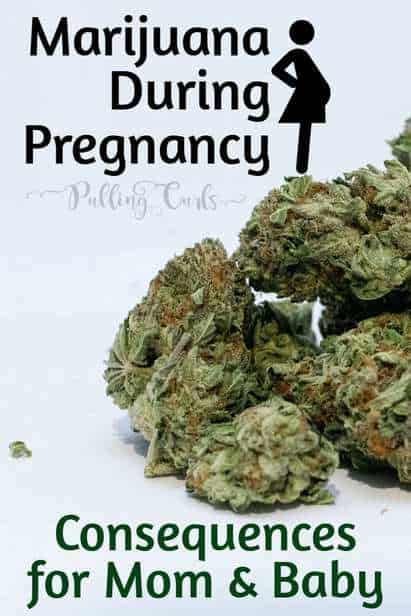 Marijuana while pregnant or breastfeeding can have serious consequences.  I can't believe I have to write this post, but we're seeing it more and more — and somehow moms are shocked and surprised by the consequences.
How do I know this?  I am an L&D nurse (since 2001) and this is something we deal with frequently (more and more lately).
Marijuana while pregnant
Marijuana is becoming legal in more and more states both for recreational and medicinal uses.  Whatever side of the argument you stand on for that — the reality is that when you're pregnant things are very different.
Taking marijuana during your pregnancy is a bad idea and is illegal — in most states.  It is illegal for a doctor to give you a marijuana prescription while you are pregnant.
Consequences for your baby
Marijuana during your pregnancy can cause:
low birth weight
premature birth
small head circumference
decreased length
stillbirth
After birth, babies exposed to marijuana in utero have changes in brain development — things like changed responses to visual stimuli, higher-pitched cry or trembling.  While it doesn't appear that babies go through withdrawal, the longer term studies are noting things like change in school performance, memory, impulse control or attention spans.
You can learn more about these consequences in this article  from the NIH.  I've read a few studies and it seems that there just aren't many out there.  While the results are fairly inconclusive (and many studies seem to contradict each other) the majority point to possible brain issues as the child develops.
We recommend you stay away from most un-studied things during pregnancy, especially during the first trimester.  It's just that simple.
**I mainly wrote this article for the consequences that I have seen below — you need to realize that in most states pot is illegal.  You are using an illicit drug during pregnancy…**
Consequences for mom
Depending on your state, your provider can sometimes take a urine drug screen with or without your consent.
The results of that urine drug screen (which always includes a screening for marijuana) will be noted in your chart.
When you come to labor and delivery, we will call a social work consult, and they will call the state to come assess the situation.

We may also ask to take a urine drug screen on you in the hospital that will show recent drug use.  And no, your drug screen will not come up positive for you being around people who smoke pot (although, you shouldn't do that either).
**If you plan to refuse the drug screen, we will screen your baby (that does not require consent).  We will also call social work about your refusal and that refusal will look worse to the state's social services**
From that point, it is out of our hands, but you will have a visit from CPS who will asesss your home environment.  It is in their hands at that point.
Nurses may also take your baby's first stools to test it for marijuana to see how far into your pregnancy you took the drug (which may be a relief for those who mistakenly took it early in their pregnancy, before they knew — those stools will back you up).
If you are currently pregnant and using marijuana you need to stop.  If you are taking it for a "medical condition" you need to talk to your doctors about alternative methods that are legal.
**If you disagree with this article I strongly encourage you to talk with your doctor about your drug use and what to expect after delivery. **
Marijuana and Breastfeeding
The compounds in Marijuana are found in higher concentrations in breast milk than they are in the user's bloodstream.  It can have similar consequences for your baby as noted above, and also noted in the study above.
If you liked this post — be sure to keep your healthy pregnancy up with my pregnancy newsletter, and check out my other pregnancy posts below that.
Have an Experienced Nurse Help you during your pregnancy!
Emails come straight to your inbox and can be tailored to your # of weeks, completely free of charge! 
Advice for

JUST where you are

in your pregnnacy
Hilary has been a

l

abor

nurse

since 2001
Join

thousands

of pregnant women who love her emails in their inbox!
This also gives your consent to also recieve my newsletters with new or relevent posts ~ unsubscribe/adjust at any time.
I will absolutely NOT approve any pro-marijuana comments below.