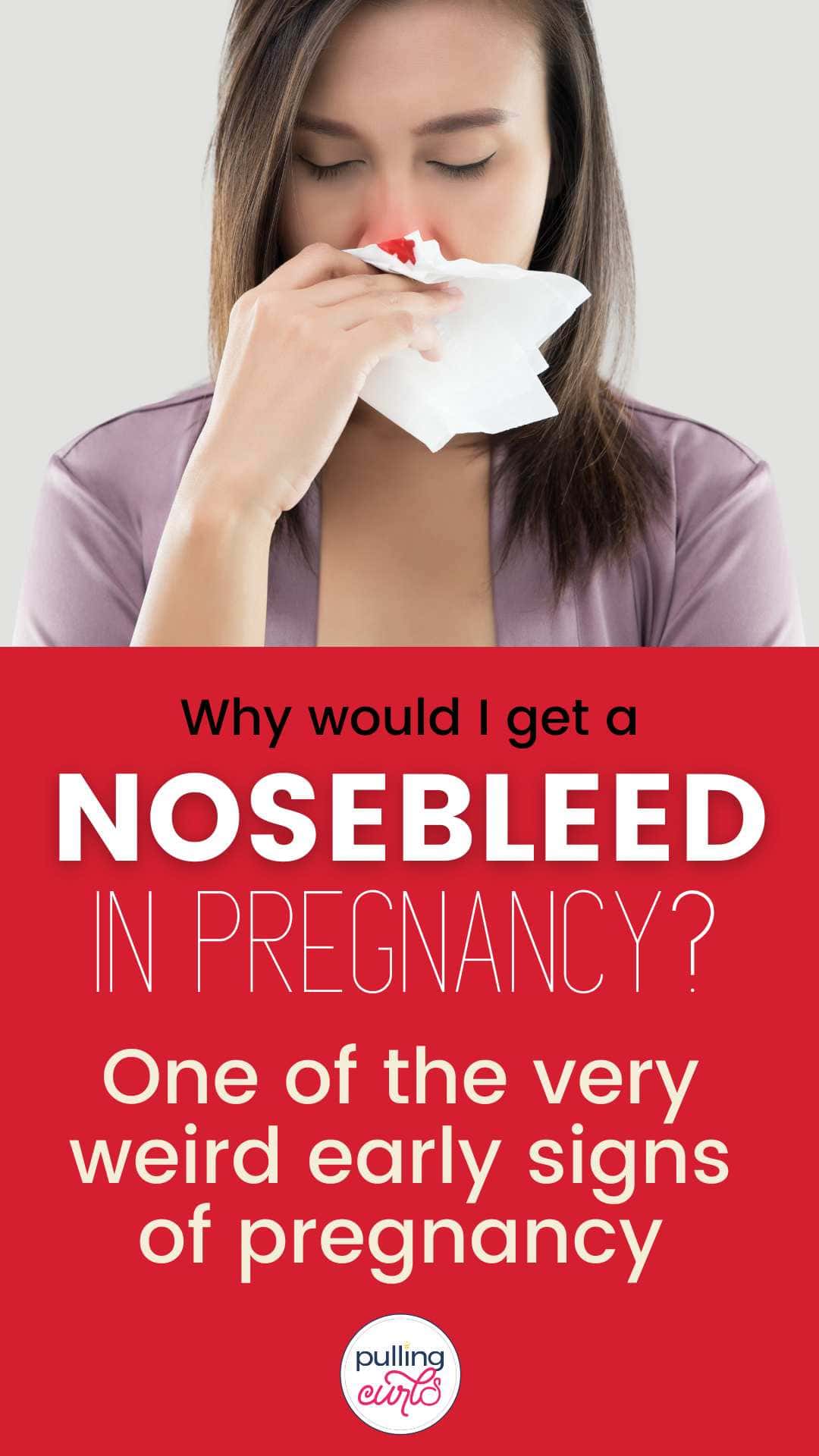 Nosebleeds during pregnancy are an odd sign but actually a common and normal early sign of pregnancy for some people. If you get nosebleeds during pregnancy, what should you do?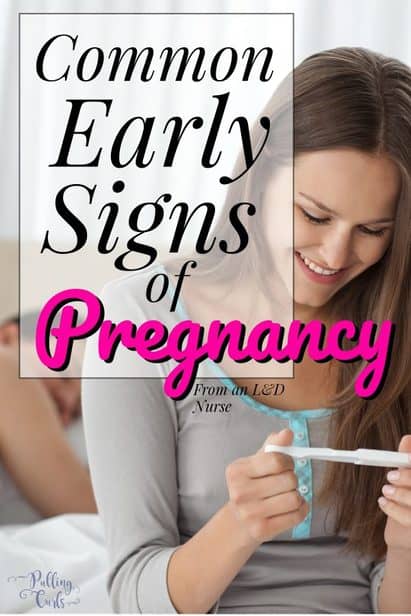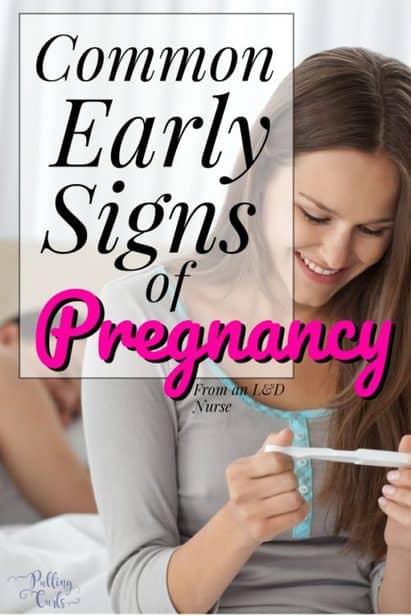 Hi, I'm Hilary — many people know me as The Pregnancy Nurse 👩‍⚕️. I have been a nurse since 1997 and I have 20 years of OB nursing experience, I am also the curly head behind this website Pulling Curls and The Online Prenatal Class for Couples. 🩺​ I have seen THOUSANDS of pregnant women, and while most of them are much more pregnant you — I have a pretty good idea of those early symptoms (I've had 3 kids of my own) too.
I'd love to follow you through your pregnancy, I hope you'll let me join you right here:
Please remember these are just some good ideas, but any questions — you should talk to your medical provider. If anything about you or your body seems "off" definitely give them a call!
Early Pregnancy Symptoms
These early pregnancy symptoms are NOT a pregnancy test.
If you've had a negative test, but are wondering if you could still be pregnant, my friend Katie has a post on negative pregnancy tests, as well as some other early pregnancy symptoms. I also have a pregnancy calendar that will show you important dates in your pregnacy! AND, I share the best time of day to take a pregnancy test.
Many can come with or without pregnancy, but sometimes, once I have a positive test (as we waited a long time for the last baby at our house) these are reassuring signs (even if they are annoying). I also have a whole post on what to do when you're first pregnant that will give you a bit of a to-do list.
Keep in mind that these are normal things to see in early pregnancy, but it's normal not to have all of them, or even to have none of them. A positive pregnancy test is your BEST sign, and then hopefully you can see a health care provider and see/hear a heartbeat as that is also a very important thing.
If you don't have these symptoms, please don't worry!
However, if anything seems out of the ordinary please do seek medical advice, and remember the information here is for entertainment purposes only. 😉
OH, and be sure to grab the best pregnancy planner. They're the most fun when you start early and get into the groove of things. I promise you'll LOVE having all these details next baby!
Nosebleeds During Pregnancy
This seems like an odd one, though — right? While it can be a sign of many things, it can be a sign of early pregnancy (I get them most early in pregnancy, personally).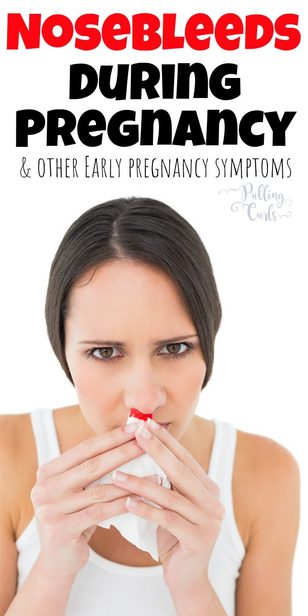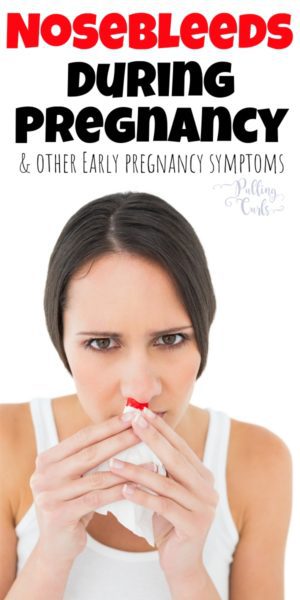 What causes a nosebleed while pregnant?
The truth is you have more blood flow through all of your body and your nose is an area where tissue can tear or be bothered really easily and create a nosebleed. Often early in pregnancy you might have some high blood pressure (due to your increased blood volume — your body compensates quickly). Think of it as poking a hole in a kinked hose! All of this is from the hormonal changes of pregnancy.
Also, your changing hormone levels can affect blood clotting at certain points of your pregnancy (to help baby grow). So, that can make them more frequent as well.
If you were prone to nosebleeds before, you may be more likely to get them once you are pregnant.
A bloody nose happens when the small blood vessels in your nose or nasal membranes are ruptured. It can seem like a lot of blood, and the blood can go down the back of your throat into your stomach and make you feel sick.
You may wonder how to stop a nose bleed during pregnancy….
What to do if you get a nosebleed during pregnancy?
Tips for severe nose bleeds: Pinch the sides of the nose at the bridge of your nose and lean forward so the blood comes out your nose (instead of swallowing it). Some people find using an ice pack helps as well.
I would recommend considering medical attention if it doesn't seem to be stopping or slowing after a few minutes. If you go to the ER or an instacare clinic they have nasal tampons they can shoot up your nose to stop the bleeding. If they see a specific issue they may use silver nitrate to stop a specific blood vessel.
Frequent pregnancy nosebleeds can be a common problem, but most women find it's more the occasional nosebleed.
Once the bleeding has stopped, you may want to lightly blow your nose to get out any excess blood clotting.
If you find they are happening really frequently, or are really heavy nosebleeds I would talk with your healthcare provider. They may want to try some blood tests, and check your hemoglobin levels.
Ways to prevent nosebleeds in pregnancy:
Dry air (and cold weather can cause dry air) can also make you have nose bleeds, so if you're getting them frequently you might want to try a humudifier or saline drops in your nose. Same for if you have a runny nose and are frequently blowing it — make sure you're also using a humidifier.
If you have a stuffy nose, try to stop any nose picking and in dry climates you can even put some Vaseline in your nose in the evening to help hydrate those membranes.
Hopefully it isn't a big one, an a little compression makes it stop quickly.
And again most people just find this to be an issue during the first trimester of pregnancy since your body is getting used to all that new blood flow. Most people find by the third trimester they don't get them as much.
For me, it's actually one of my main symptoms of early pregnancy. Nosebleeds in pregnancy are very common.
I remember charting in a room (back when we paper charted) and I saw a bright red drip come out my nose onto my chart. It was super awkward….
In this same vein some people find that their mucous membranes of the mouth bleed more than they had previously.
I also talk about this a bit more on my sister site's article pregnancy sneezing during the first trimester where I talk about pregnancy rhinitis. And, if it's an actual cold I have a whole post on home remedies for colds in pregnancy.
Swollen/Tender Breasts During Pregnancy
Your breasts are affected by all the new/different pregnancy hormones coursing through your body. For most pregnant women, throughout their pregnancy their boobs will hurt and swell at different times and may stay that way for long periods.
All gettin' ready to become a juice bar. 🙂 Sidenote, I am a big fan of taking a breastfeeding class.
Tired during early pregnancy
While you are creating small (but HUGE) building blocks of a human, the majority of your resources are creating the placenta at this point.
Later, when you look at it — it takes SO much iron and resources to make this magical organ. Not to mention your growing baby (it's just a lot smaller than the placenta at that point).
So, have a nap. You deserve it!
The fatigue will get better.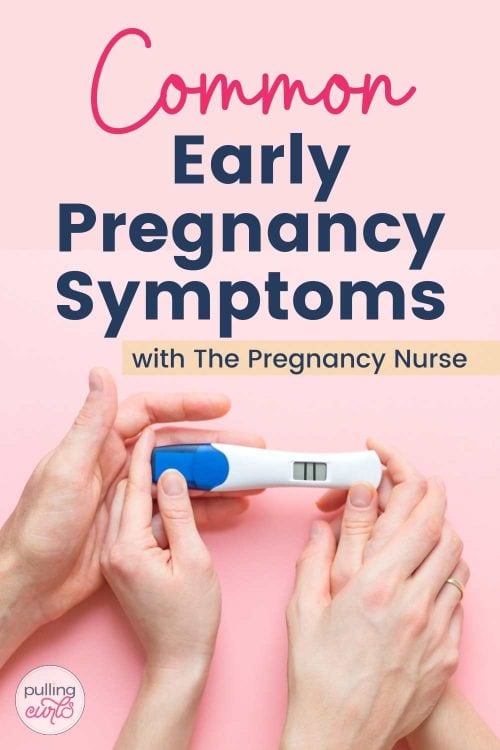 Spotting during early pregnancy
When the placenta implants there is often some spotting (implantation can also cause c-section scar pain).
This can range from a fair amount to just a tiny amount.
Not usually like a period, but I have heard stories of women who felt like they bled a normal amount, and it must've been implantation bleeding.
Actually, you may have a change in vaginal discharge in general too!
Nausea, sometimes with Vomiting During Pregnancy
Although this doesn't usually happen in the VERY early pregnancy, it will start to increase as you progress in gestation.
A lot of women also complain about feeling super "gaggy" and gross. All of that is normal (and super fun) #sarcasmfont
Morning sickness doesn't usually start til' 7-9 weeks of pregnancy (but can start earlier).
Issues with Food during pregnancy
You might crave certain items, or you might NOT want other items. All of that is normal as your hormones are affecting your digestive cycle.
Also, you might just not be feeling well and be turning to food to make you happy. I turn to food a lot when I'm tired. It's not served me well. 🙂
Grab my safe eating guide right here:
Fainting or Dizziness during early pregnancy
Because you're using your resources to create a baby and a placenta, it's not unusual that you might feel faint or dizzy.
Make SURE that you are drinking enough water. In fact, I would certainly err on the side of too much water vs not enough at this stage. You'll feel better for it.
Constipation during pregnancy
Like above — your body is trying to conserve resources — and give as much as they can to the baby.
Leaving you with hard poop. Constipation is a really common issue in the pregnant patient.
More water, more fiber. Tally ho!
And yes, I do have a whole post on avoiding pooping at delivery.
Headaches during pregnancy
Headaches can be from dehydration, or hormones, or fatigue. They will probably stay with you on and off during your pregnancy.
I have a whole post about headaches in pregnancy on my Pregnancy Nurse site.
Bloating/swelling during pregnancy
With all the fluid/hormone changes it's normal to have some swelling and bloating during pregnancy.
It could also be from the popcorn you ate.
Mood Swings During Pregnancy
Whether it's from hormones, fatigue, or just a crappy spouse — who knows. Just know this is normal. Ask your husband/partner to be more forgiving, and remind them you don't mean it when you head spins backwards sometimes. 🙂 I have a whole post on my sister site on what to do if your partner is unsupportive.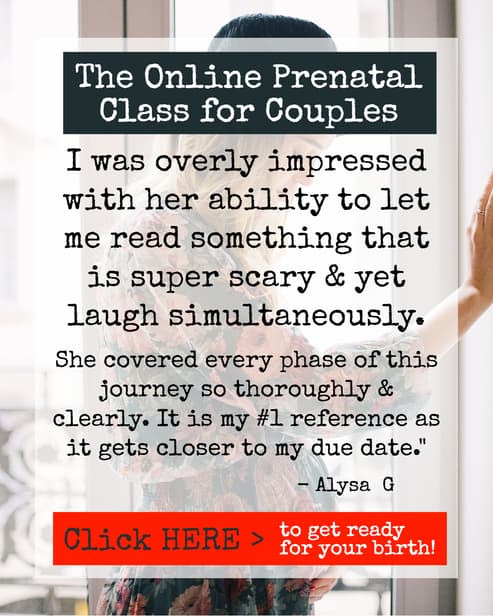 Hopefully this information reminds you that what you are experiencing is NORMAL (but also annoying). Knowing that you have a common symptom of pregnancy can sometimes make you feel better (oddly).
FAQ's about early pregnancy:
Are early pregnancy cramps the same as period cramps?
They sure can feel the same. It's just your uterus growing. They shouldn't be too painful, and don't take ibuprofen at this stage in the game. Sometimes a warm shower can help.
Are early pregnancy symptoms on and off?
Yes, 100%. Just because you feel really nauseous one day, and not the next — don't get concerned and stress-out. It's just your body trying to find a new normal.
Can early pregnancy cause pimples?
Yes, darn hormones. They're all over the place at this point in the game. Sorry about that.
When should I take a Prenatal Vitamin?
Right away! Prenatal Vitamins should be taken by all women who have a chance of pregnancy to prevent neural tube defects.
What should I not do during early pregnancy?
Freak out — stressing out about all of it is not a great plan.
Take medication — unless your doctor has directed you to, I recommend a neutral body during pregnancy which means trying to make your diet and intake as clean as possible.
Otherwise just act normal. Your body takes care of this, and hopefully, it works out. Honestly, the first few weeks don't seem "real" and I try to sort of ignore it. As someone who had infertility for quite a while I like to give it a few weeks to get my heart set on stuff, but that's me. I have a whole post on what you SHOULD do during early pregnancy.
That includes
Drink lots of water
Eat balanced meals — try not to go too salty or too sugary. Balance protein and sugar. It will just help you feel better overall.
Take it easy. Try not to over-schedule yourself, leave a lot of margins in your life.
It's never too early to think about getting prepared for your baby's birth. I have an online prenatal class that will help you and your partner prepare for what's to come check out The Online Prenatal Class for Couples.
Or, if you're not quite ready for the full class, check out my free prenatal class — It's your first step towards being your own birth boss.