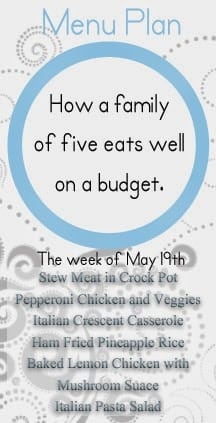 And no, I don't mean "May I Meal Plan" — but since you asked. Yes, yes you can.
How is late May already? Has someone adjusted the space time continuum?
Just wondering.
Ok, back to meal planning. Here's what's on tap for the next couple of weeks. I should say that Conner is going to be gone much of next week at a scout thing, so there are some recipes that really only serve 4 and that will work next week.

Stew Meat in Crock Pot — I have some older stew meat I need to use up. I'm going to use the one to put in tacos about 1/2 down that page. I mostly just need to use it up. I think it should be tasty.
Burritos — my old standby. Hoping to put some lettuce, tomatoes and salsa in them for a little veg. I just realized this is fairly similar to the stew meat – -but I'll try to put these on opposite ends of planning period.
Pepperoni Chicken — a family favorite. Get in that chicken protein while still having some pepperoni. Best of all worlds. 🙂
Ham Fried Pineapple Rice — I was just going to do ham fried rice, with as many vegetables as I could throw in it — but the pineapple in this looks delish, don't you think?
Italian Crescent Casserole — I made this one other time Conner was gone, it was a hit!
Baked Lemon Chicken with Mushroom Sauce and some sort of Vegetable. I bought mushrooms at costco. I love baby Bellas!
And finally — Italian Pasta Salad
. I bought some tiny pepperonis, and I think the kids would like that in some sort of italian pasta salad. Probably pasta, tomatoes, broccoli, salad dressing from food storae and tiny pepperonies. Oh, and maybe some olives.
That's it for this meal plan. Do you have meal plans of your own? Link below!