I have really been racking my brain for some organizational systems for weird (ish) things in our house.
First off, ribbon. I found some of these larger ribbon spools at GoodWill, and I LOVE the ribbon. Much better then the Walmart stuff I had. It curls so nicely!
BUT, I couldn't figure out how to store them, but I wanted them accessible to quickly wrap gifts or primary stuff.
I came-up with this
It's a dowel, and then 2 command hooks, which you can see more close-up here: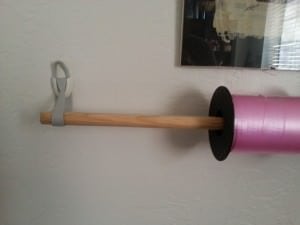 The command hooks are for cords, but they work well in this situation because they're flexible and the spools are so thick we need it held out a bit further from the wall… it's a good solution becuase I didn't really want anything permenant down there, in case I find a really cute solution otherwise, but for like 5 bucks, this worked for me! 😀
Next up: Spices.
I actually found this solution a long time ago, when we lived in CA with our tiny kitchen. I always seem to have really narrow cabinets around my stove (anyone else). I like to keep my spices around my stove because I am usually dumping them in things I am cooking. I also like to keep the smaller containers of spices on hand, becuase I don't often use large containers of spices before they go stale. Anyway, I needed a problem solved. I walked the ENTIRE container store and found this: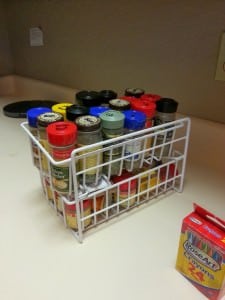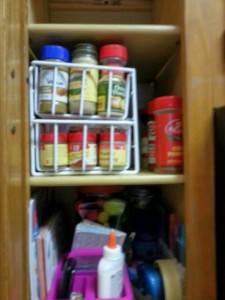 As you can see, it fits nicely in that weird narrow cupboard by my stove — I also have room for the larger spice bottles that I use a LOT of (I go through chili powder like crazy, anyone else?) to the right of it. Smaller spices fit at the bottom and larger ones on the top. It's absolutely perfect. I also recently sharpie'd the name on top of all the spice containers so I could see them when I was looking from above. That made things a LOT easier! I really do think that if you have a storage issue, and you can't figure it out — go to the container store and walk ALL The isles. I think I found this in the bathroom isle. but it works so great!
And finally, Crayons.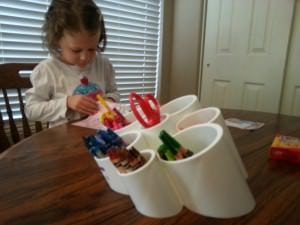 Paige is totally into coloring right now. I love it. But I didn't love her dumping out her crayons to find the color she wanted all the time. I'm walking around Goodwill and I find this contraption. BINGO. Crayon galore!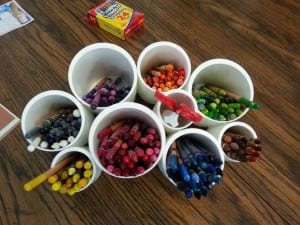 I am going to put this on our little desk in the playroom. I think art is SUCH a great activity, I want to foster it. I also want to say that Goodwill is my A#1 place to find stuff to organize with. So, you can either go with the Container store, or just keep checking goodwill every now and then, you're liking to find the thing for you! If you love this product, it's really nice — and made by Boon. You can find it on Amazon. I won't tell you how much I paid for it. 😀
*Seriously, I could stare at this thing and it's color-coded-ness all day long. I love it WAY too much!