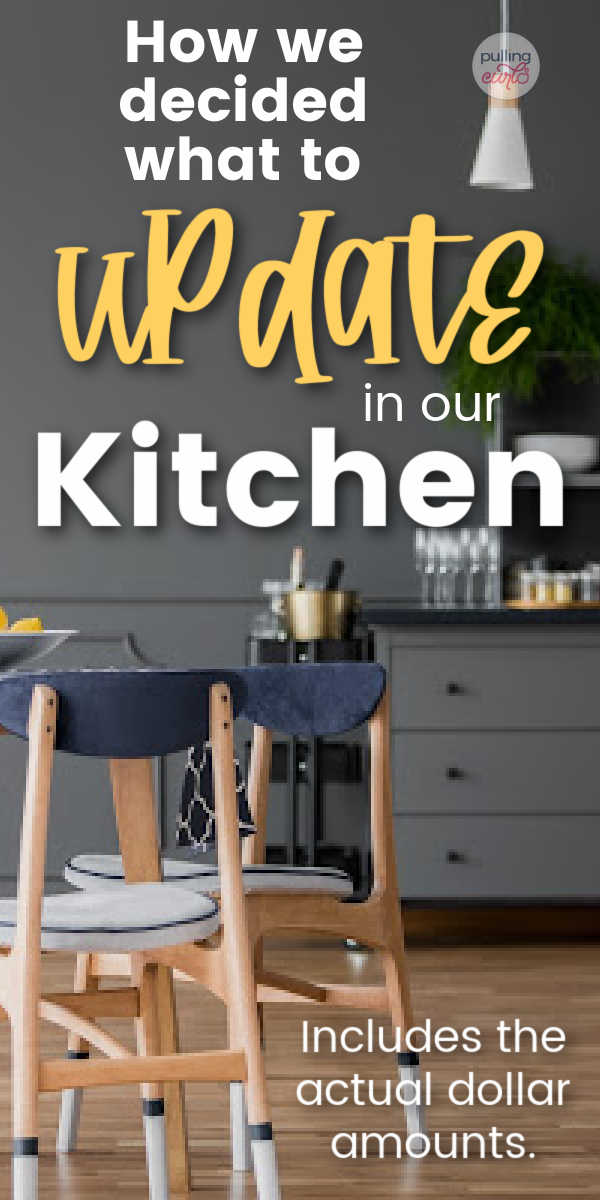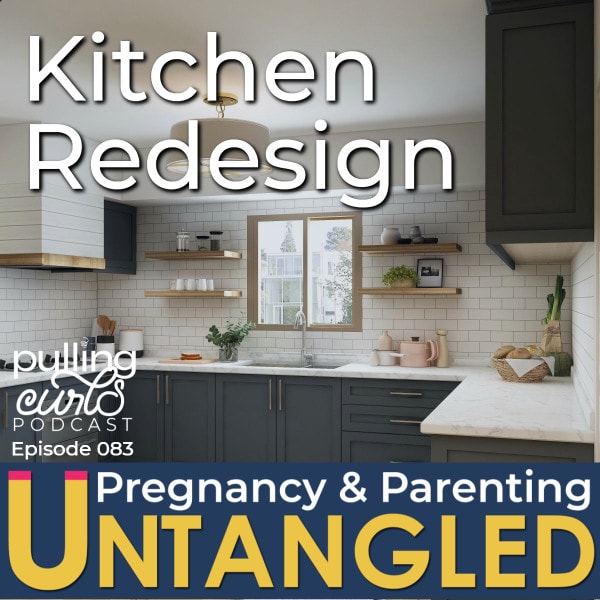 Re-doing a kitchen takes a lot of time, money and attention — not to mention all the inconvenience of being without a kitchen can cause. How do you pick what to change and what to invest.
Kitchen Redesign on a Budget
Big thanks to our sponsor The Organized Home — if you're looking to have your home support you (rather than you supporting it) it's the thing that can help you out!
In this episode
How we decided what to change in our home (and no, we're not getting white cabinets — even though we felt like we should)
The pricing of the things we did (I meant $500 for the drawer inserts)
How we picked out tile (and how crazy it is to ship it) — this is the tile we picked out.
Other things that might interest you
Producer: Drew Erickson
Check out my other household tips podcasts: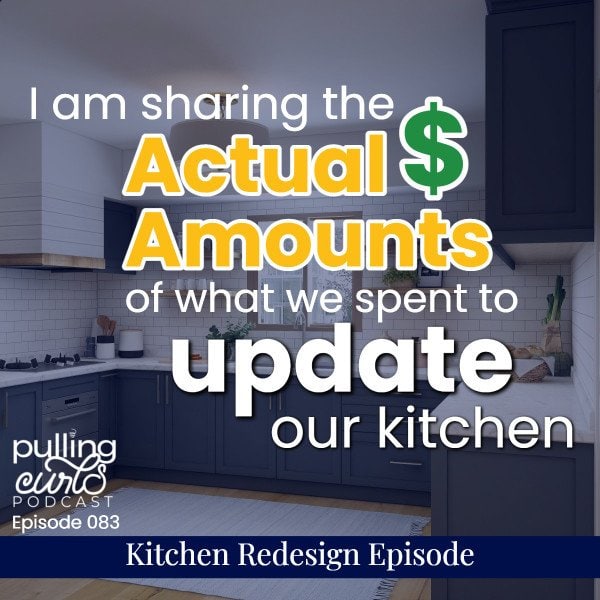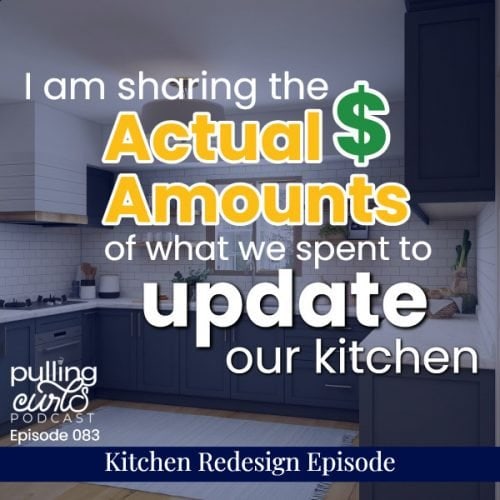 Check out all my podcasts:
Transcript
[00:00:00.175] – Hilary Erickson
Hey, guys, welcome back to the Pulling Curls Podcast today on Episode 83, this episode has been years in the making. OK, I don't know if it's been years, but we're talking about my kitchen redesign. Let's untangle it.
[00:00:22.095] – Hilary Erickson
Welcome to the Pulling Curls Podcast, I'm Hilary, your curly headed host on the podcast, where we untangle everything from pregnancy, parenting and home routines. I want you to know that there are no right answers for every family. And I find that simplifying my priorities is almost always the answer. It's tangled just like my hair.
[00:00:46.195] – Hilary Erickson
OK, friends, before we get started, I would love it if you would leave a review. It really helps my podcast get seen. I think to you you're like, what could a review even mean? Right? But Pulling Curls gets lots of listens and hardly any reviews. So I understand that you love me, but could you show it with a review? Thanks. OK, guys, I live in the realm of bloggers, right?
[00:01:07.395] – Hilary Erickson
That's what I spend most of my time doing. I'm in giant blogger groups. I'm in a giant blogger group that has a ton of food bloggers which, huzzah to food bloggers like that. It's not my role. I have like four recipes on my site and it was a struggle just to do those. But I cook just don't want to photograph it. So I was thinking that I wanted to re-update our kitchen. Our kitchen had Formica countertops. It has your basic maple like builder-grade cabinets.
[00:01:29.335] – Hilary Erickson
We had slowly, like updated like the faucet and things like that, but we knew that we wanted to upgrade it to hopefully sell better because we… This is not a forever home. Our plan is probably to stay here through our youngest graduating high school, although if we stay in virtual school much longer, I don't care if she loves her friends. It don't matter because we never see them anyway. Story for another day. We just wanted to update the kitchen so we knew the countertops was on it because aumann formica countertops.
[00:01:53.515] – Hilary Erickson
Not a real sales point, guys. So Countertops was on our thing and I was looking at the kitchen and I was talking to these other people that had updated their kitchens and they were all like, white cabinets are amazing. It will help your household better. And I was like, oh, that would be so pretty. Now, mind you, we live in Phenix or House has sort of kind of a southwestern flair. We have some arched doorways.
[00:02:13.915] – Hilary Erickson
It's tile, it would remain tile. I think that helps keep it a little cooler in the summer so that but then our kitchen is tied into our living room, tied into quite a large area of space. So we'd have to retile kind of like all of that. Are you sensing the pain here?
[00:02:29.455] – Hilary Erickson
We did carpet like last year and it was really painful. So I'm pretty sure the tile would be even worse. I digress. I was just looking at it and I was like, well, obviously we need to update our cabinets to white cabinets. And then I started to think about it and I was thinking, our kids are not white cabinet people. Like we're clumsy. We bonked itself a lot. You know, I'm not worried that my kids are going to draw on it because we're old at this point.
[00:02:51.565] – Hilary Erickson
At the recording of this episode, my youngest is eleven. My oldest is twenty one this summer. So we're not young. We're just… We're just kind of clumsy, myself included. I'm just saying I am not a white cabinet person either. Also, I'm not a white, I'm white, but I'm not like white isn't my signature color. I don't know. I would much rather have Navy cabinets, but that really doesn't fit into this whole Southwestern flair.
[00:03:14.305] – Hilary Erickson
And my husband would definitely raise an eyebrow. So we were looking at this and we were thinking, OK, so we're going to put in new cabinets because that's obviously what you do. Everyone puts in new cabinets. And I was like, you know, how are we going to knock out walls? And I was like, of course we are. And then I was just like, oh, my gosh. Like, this is going to be so much work for not only whoever we hire, plus all the money.
[00:03:33.355] – Hilary Erickson
And… And in reality, I think our kitchen would have a very similar footprint because I'm not you know, it's not a forever home. I don't want to invest four billion dollars into this. So slowly, I think we came to the realization that our kitchen redesign would just make it a little bit more functional, a little bit nicer looking long gone would be the Formica countertops. Kissing them goodbye. But it was just time for an update that wasn't going to cost a billion dollars and it wasn't going to put me out of my house and kitchen for quite a while.
[00:04:00.835] – Hilary Erickson
So these are the things I thought about. Let me just put in a little gripe for ripping out an entire kitchen that's still fairly functional. I just that's a lot of, like, product that goes into a landfill or whatever when it's still pretty functional. So another thing we might do is resurface the cabinets, but that is going to be an episode or a thing for another day. It's not happening anytime soon. So but today I wanted to tell you what we did do in our kitchen.
[00:04:22.645] – Hilary Erickson
I'm going to tell you our actual dollar amounts. I posted something on Instagram and the thing that got the biggest raise was like, oh, my gosh, I had no idea how much that would be. Thank you so much. So I'm going to tell you what we did, kind of how much it cost. We did go for higher end appliances because I was like, if I'm not updating these cabinets, I want to get appliances that are quality.
[00:04:39.355] – Hilary Erickson
We're definitely I mean, definitely who knows what definitely is at this point in time. But we are planning to stay in this house for at least another eight years at least. My youngest graduates, high school, barring any further complications from our lives. But so let's talk about what we did, how much it costs.
[00:04:56.185] – Hilary Erickson
Do you ever just feel like it's unfair that some people can have company over at a moment's notice? Their house is just super easy to clean up and they can relax on the couch with Netflix, where you feel like you always have things to do around your house that can totally be you. The organized home is all new in twenty twenty one. We're talking about de cluttering, zones, organization systems that actually work. We've got assignments and challenges. I hope you'll join us.
[00:05:20.245] – Hilary Erickson
You can use coupon code UNTANGLED, look for the organized home link in the show now.
[00:05:26.185] – Hilary Erickson
And before we get started into all that excitement, let me remind you that the organized home is brand new and we have a kitchen section coming up soon. We filmed areas of my kitchen that totally work for us. There's some video of the actual kitchen redesign like what it looks like now, all that kind of stuff. We're. Talking about zones, how you can de clutter, your kitchen, all that kind of stuff is coming up in the organization.
[00:05:46.455] – Hilary Erickson
So take a peek at it. You can join for just a month or two and then pop out. That's how I kind of like to do courses, especially like this. And if you did that, it's only fifteen dollars a month. So it's really cheap. Also, you can save 50 percent with coupon code untangled, so that makes it even less than 15 dollars. You know, that makes it more in like the twelve dollar range for just a month.
[00:06:03.365] – Hilary Erickson
So you can pop in, do it, join the Facebook group for a month and then pop back out. I don't care. You do you! Anyway, it's coming in. All right. What did we do? We put in the first thing we did is we did new drawer insert. So that means we had drawers and the guides were just not working as well as they used to. Some of them were difficult to put in. Some of them the guides have fallen down.
[00:06:20.735] – Hilary Erickson
So we had to like put them back up. And also the drawer itself was kind of falling apart. Some of them, the bottoms were falling out, things like that. So we had new drawers made. We also made some pullouts for some of the larger cabinets we had. I think we only ended up doing two pullouts. But, man, that's like night and day functionality. I absolutely love those. Pull-Out So those were about sixty five dollars each.
[00:06:41.255] – Hilary Erickson
And in total for our kitchen, that was about eight hundred dollars installed. So really like those we could have had inserts made, like if we wanted something for our silverware or something like that. But we chose not to do that because we want to leave it kind of as functional as possible. We can switch out utensil organizers or things like that at our whim. We did get a new dishwasher. We went with a bosch because all of the food bloggers that I know totally recommend the Bosch.
[00:07:03.245] – Hilary Erickson
I absolutely love it. It was about eight hundred dollars, I think. So, just in case you're wondering, how much a higher end dishwasher is that? There you go. We did buy our appliances at kind of a local appliance store, was trying to shop local during the whole pandemic. And I will say that during the pandemic, getting appliances was a big fat pain. So you'll see that as we come to the appliance sections. OK, then we got new countertops again, almond Formica countertops that stained when Raspberry's looked at them or enchilada sauce or really anything.
[00:07:32.195] – Hilary Erickson
Not a fan. Also, the corners of the Formica was kind of peeling off. So sometimes when you would walk by your pocket would catch on and rip off some of it. So then I just use some masking tape to like cover the corners or so classy here. Anyway, new counters was about twenty eight hundred dollars. Now we went with a cheaper end fabricator. A friend of ours recommended him. I don't know that I loved him. Part of me wishes we had gone with like a more of a mid grade fabricator, but it was fine.
[00:07:59.015] – Hilary Erickson
And then we found our slab. There's apparently Arizona is like the birthplace of stone countertops. So there's a lot of discount countertop areas around here. I'll see people who put in their countertops in Utah and they got it from this company. So this company has a place where they're like all their extra countertops go and we got ours there. We went with kind of a grayish with some specs so that it wouldn't look as bad. I will say I was thinking that things would look better than the Formica.
[00:08:24.935] – Hilary Erickson
This doesn't stain. So that's it. And it's not peeling up. But you can still notice crumbs and you can notice like water stains and stuff like that. That's just the way it's going to be. We went with quartz, honestly, our kitchen, if it had been any, like, less crazy, granite would have been a great option. I wouldn't have shied away from granite because I like the idea that it can handle the heat and I wouldn't have to put a pad on or anything.
[00:08:45.125] – Hilary Erickson
But we went with quartz just because we needed kind of a lighter countertop. Our floors are gray, our cabinets are that yellowy maple. So we have a lot of different colors that we're dealing with. So I just wanted something a little bit lighter and more neutrally than crazy granite countertops. And again, if you go into the organized home, you can see it. Oh, OK. We then got a new microwave which took nigh on to forever during the pandemic.
[00:09:06.845] – Hilary Erickson
We went with a microwave that had convection cooking along with microwave cooking. Do I find the convection cooking to be amazing? It is nice to have it. We have shied away from getting like a tiny toaster oven. We don't have one of those. We don't have a ton of counter space. So anyway, it does give us another oven. So I was hoping to have it during Thanksgiving this year. It came after Thanksgiving, so I haven't used it for like a big cooking event, stuff like that.
[00:09:32.345] – Hilary Erickson
But I have used it when my kids just want to, like, heat up some pizza rolls. We don't want to do the whole oven. I am looking forward to maybe doing it in the summer where we don't have to heat up the whole oven. Arizona. Hot. So verdict's out. If you ever wonder if you're listening to this podcast like a year later and you're wondering what I think, ask me in the comments in the show. So I'll tell you what I think.
[00:09:49.415] – Hilary Erickson
OK, so once the microwave was end, because you have to have your microwave Ours is above the stove and we had to have that put in before we could get a new backsplash. So we had bought the tile for the backsplash back when we bought the microwave in September, and then the microwave didn't come till Christmas. So, yeah, pandemic crazy thing about the backsplash. So we went to floor and decor and we went to Home Depot. Didn't really like any of the tiles because again, we have all these kind of colors that we're dealing with, gray tile, yellowy cabinets, this grayish countertop that we put in.
[00:10:18.725] – Hilary Erickson
So we found a tile that we really liked that they only sold it online. So we got the sample. We really liked it. And then I was like, well, shipping can be that much. I think Amazon has ruined us all for shipping. So I go in to plug it in and the tile was about twenty dollars per box of tile. So I needed like four, maybe six. I think we ended up buying six because I didn't want to not have enough.
[00:10:39.965] – Hilary Erickson
So I was like twenty a box. Maybe 10 bucks shipping was 15 to 20 bucks to ship, but when you go to the Florida court website, when you plug in that you want six boxes of TYL shipping was like someone saying, no, I want to say like 400 dollars for shipping. But if you split it into boxes of just two, it was only twenty five to ship the two boxes. So anyway, you could do the math in your head, but they didn't do the math for you.
[00:11:05.365] – Hilary Erickson
Yes. So that's just something to check out. When I tried just two boxes of tiles, it was actually cheaper to ship it that way and they actually have a giant truck come and drop it off at your house. They were like, can we cut in your cul de sac? And I was like, it's two boxes of tile. Like, I don't really need your semi truck in my cul de sac, but I wish you the very best.
[00:11:20.605] – Hilary Erickson
Anyway, it turned out fine, but something to look at. You know, because of all of these colors, we didn't really want to do just a white subway tile, although we probably could have. I really like how the tile ended up looking. I will try and put a link or a picture of the tile in the show notes if you guys are interested. So in total, the tile was about two hundred sixty dollars total for I think six boxes.
[00:11:40.045] – Hilary Erickson
We went with giant hexagons. They're pretty different and fun and it was six hundred and fifty dollars to install the tile so it was about nine hundred dollars total for the whole backsplash. Prior to this it was just painted and it was painted kind of a dark tone because again we have this kind of Southwest fare going on at our house. So it's just added a nice big difference to our house. I really like it. It really ties everything together.
[00:12:00.715] – Hilary Erickson
So we've actually never had a tile backsplash before. So it is easier to, like, get your spaghetti sauce or whatever off of that tile than it was for a painted wall with a bunch of texture. So I don't miss that. OK, and finally now we are waiting on a new fridge. We again bought kind of a higher grade fridge during covid. Maybe you guys know this, but fridges have been on way back order. We ordered it.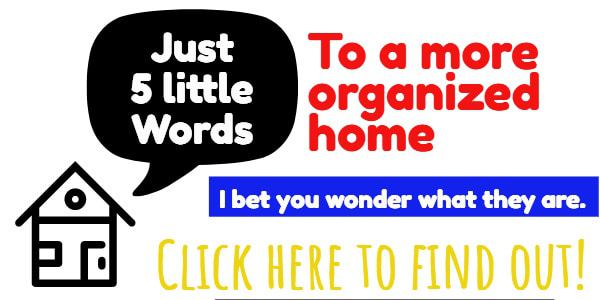 [00:12:21.025] – Hilary Erickson
And I want to say October and November and they're hoping maybe March. So we ordered a kitchen aide. So we're just waiting on that. But we can live with a fridge that we have. And I'm grateful that our fridge is still going. It's starting to make some funky sounds, though, and our fridge is up. I think it's about the same age as our youngest. So about 11 years old. One of the weird things in Arizona is that when it gets super hot in the summer, the tap water also gets very hot.
[00:12:43.555] – Hilary Erickson
And that's really gross. So we have to have like a separate water thing. So I really want to have water in the door. That's one of the main reasons that we're getting a new fridge so that we can have cooled water through the fridge. And also the water sometimes tastes a little weird, especially during the summer. I am a full on tap girl, Auldridge tap water all day long, but if it's warm and it's gets kind of a summer, let's do it.
[00:13:04.765] – Hilary Erickson
I just can't deal with it. So we wanted water in the door, which I would normally not want. But we have to have water somewhere so as we'll be through the fridge plus we can get ice there anyway. So if you total all of this up, we're about nine thousand dollars and about half of that is the fridge because the fridge is about four thousand dollars. It's not quite that much, but it's a fair amount, I think.
[00:13:21.625] – Hilary Erickson
I think I rounded that up. But if you look at the other things, you know, it's about eight hundred dollars for the drawer inserts, which was a lot we definitely could have cherry picked which drawers we did, but we decided to just do them all so that they would all be the same high quality. You could definitely go with the lower end dishwasher. I'm sure that we paid in part for the name Bosz because the counters I feel like we went low.
[00:13:42.235] – Hilary Erickson
I think we probably could have spent up to five thousand dollars on counters alone. So that's something to consider. I do know that there's lots of counter options, so check those out. We had looked into resin. We had looked into concrete. Having new countertops was great. It definitely changed the looks of our kitchen. I love that they're not falling apart or staying easily, but it's still just a countertop. You still have to keep it clean.
[00:14:01.165] – Hilary Erickson
And all that kind of jazz tile backsplash. If you went with tile that was in the store, that probably would have been about two hundred dollars less, which would have put us around seven hundred dollars for tile. So you definitely could do this for more in the three thousand range for the things we've gotten done so far without the fridge. So mostly why I'm doing this episode is that I really just wanted you guys to understand that you don't have to just rip out the kitchen.
[00:14:20.935] – Hilary Erickson
I feel like that's where a lot of people feel like, oh, I just need the white countertops so that it sells better. We're really happy with how things look now. I do think we'll probably refinish the cabinets or do something with them before we sell the house. But in the meantime, our kitchen is much more usable. Thanks to the backsplash. It looks a lot more tied together and polished. I really like how it looks. So do you.
[00:14:40.555] – Hilary Erickson
Do you don't feel like you have to do whatever the popular trend is right now? I don't feel like you have to throw away what you have if you feel like it's pretty much working. And I felt like our layout was pretty much working for what we had, you know, try and make it work for you, save some money, get your house paid off before you redo the kitchen. Something to consider.
[00:14:56.755] – Hilary Erickson
Thanks so much for joining us today. I hope we help smooth out a few of the snarls in your life. We drop an episode every Monday and we always appreciate it when you guys share and review. Until next time, we hope you have a tangle free day.