Small books are my arch nemesis. Thankfully, they are small. Aka, short. As in, although it feels like it took them an hour to read it, it was less then 10 minutes. #dealwithitmom. Small books are a key step in teaching reading.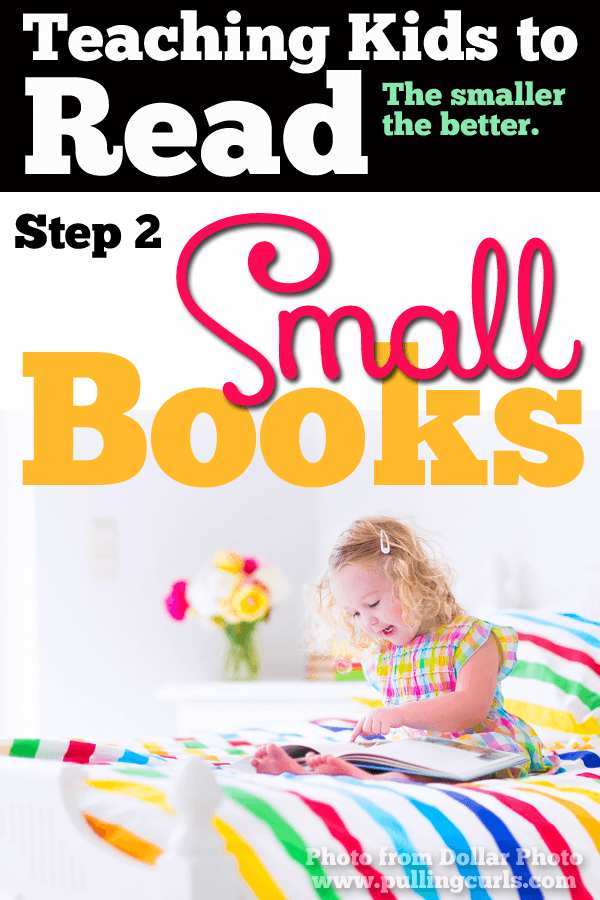 These are the bob type of books, or whatever it is that you find in your local bookstore.
1. Buy the books. These book should not have very many pages, and very few words on each page. I'm talking like 5-10 pages, with 5-10 words on a page, repeating the words quite frequently. These books are usually paperback and pretty poor quality, and that's fine. These aren't going to be cherished books for long. They're a stepping stone. Also, we only read these books together, they weren't out for general consumption until they had "passed them off" and then they were their's.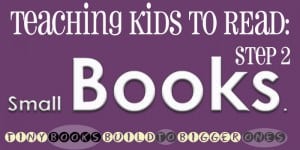 2. Buy the books at a bookstore. No one likes getting a deal more then me, and if you do find a SET of books at goodwill, by all means get them. BUT having a set is pretty important to this part. Having graduated readers that build on each other really helped my kids. Once they had learned one word, that word would also be in the next book which would make them feel VERY proud.
3. Make them feel proud. Now is the time to unleash all the compliments you can think of. Learning to read is tough stuff and they need to know that their hard work isn't going un-noticed.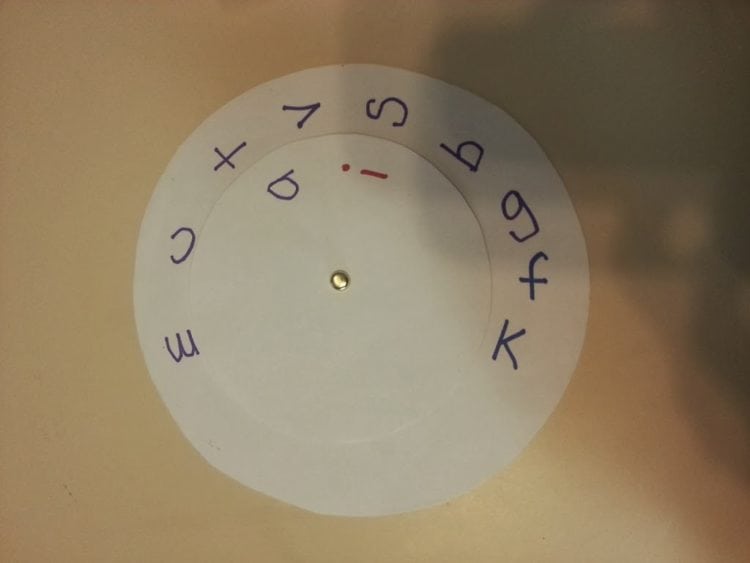 4. At the same time as this, keep talking about letters, it's important that continues on. Especially flashcards. You'll soon be moving to sight words, but you really need to get the letter/letter sounds down first before moving on. Kids don't have to have perfection in knowing letter sounds before starting reading, just some basic letters. The ones they usually pick in Wheel of Fortune — strnl (btw, I hate saying what "L" says — don't you?). Another thing I did with Spencer who had an especially hard time sounding stuff out was a wheel (pictured). You put vowels on the small circle and consonants on the larger one, and they practice using those two together. Sometimes that's a lot easier for little minds instead of a whole word.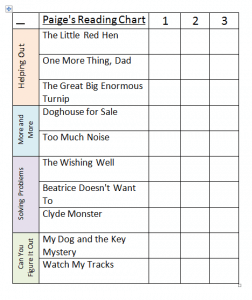 5. Make a little chart for them to read these books several times. I'd recommend 3-5 times, especially on these small ones becuase by the end you really want them to feel ownership that they CAN read that book, whereas a few days ago they couldn't. I made mine in word on cardstock and laminated. Are you surprised? You can see mine to the right. I printed them in color and I bought fancy stickers to go on them. Again, you really can't praise enough.
Repetition, praise and appropriate reading levels are all key here.
Check out my other reading steps:
[pt_view id="53a410496c"]