I am a "throw it back" kind of a gal. I mean, sure — I tend to have the façade that I love stuff organized, and I do, but I really like to just throw things back. Rather then pull bin out, remove lid, replace item, put away.
Yuck.
Who wants to do all THAT work?
So, open bins have been the answer to my needs.
I found both of these sets at Goodwill. I think I paid 3 bucks for each set. Did I mention I love Goodwill?
Anywho…
Here is our new snack bin. I had an old carboard box, that was doing an alright job – but the kids had to slide it in and out to get to the treats, and that never happened — so I just had an ugly box hanging out of my pantry.
Ew.
And voila, the new snack bin: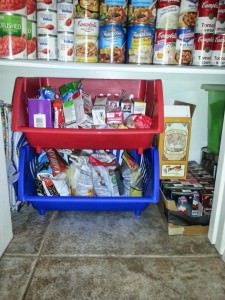 So, the top one is for lunch snacks. They are allowed one snack out of here each day. They tend to be a little more sugary-goodness… a treat bin more then a snack bin.
The bottom bin is where I am pulling my bulk grains. Right now it has brown rice, cornmeal, flax seed and Chia seed. Don't I sound healthy? 😀
Then, I also changed my bathroom into open bins, about 6 months ago. I love it so much I could die right now happy. 🙂 Of course, I wouldn't — because I have all these drugs: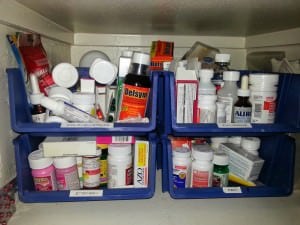 Prior to this, each of these items was in a shoe box. It just wasn't happening. This is SO much easier!
Plus, because these are bins — I harken back to
last week's informational tip
and I just pull the bins out to get at the bulk vitamin containers that are behind them. Easy peasy.
Do you have a way that you store your drugs that you love? Is it in your veins or your nose? Just kidding… 🙂