Sometimes patients have NO idea what anything is.
Or, sometimes they've read up so much on EVERY. LITTLE. THING. on our friend, the internet, that they have so many mis-guided notions about things I want to scream!
Frankly — I'm not sure which is worse. 🙂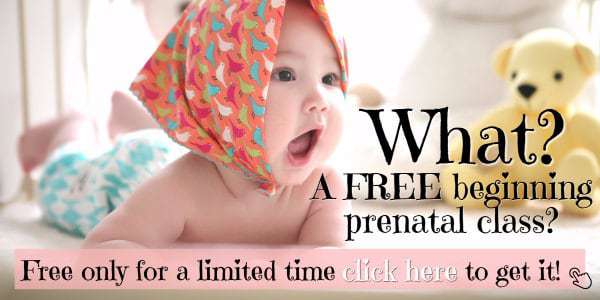 So, here's some normal delivery vocabulary, so you'll go in with at least a little bit under your belt.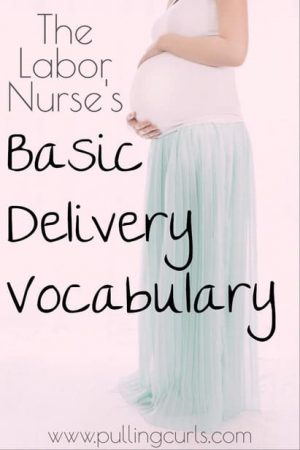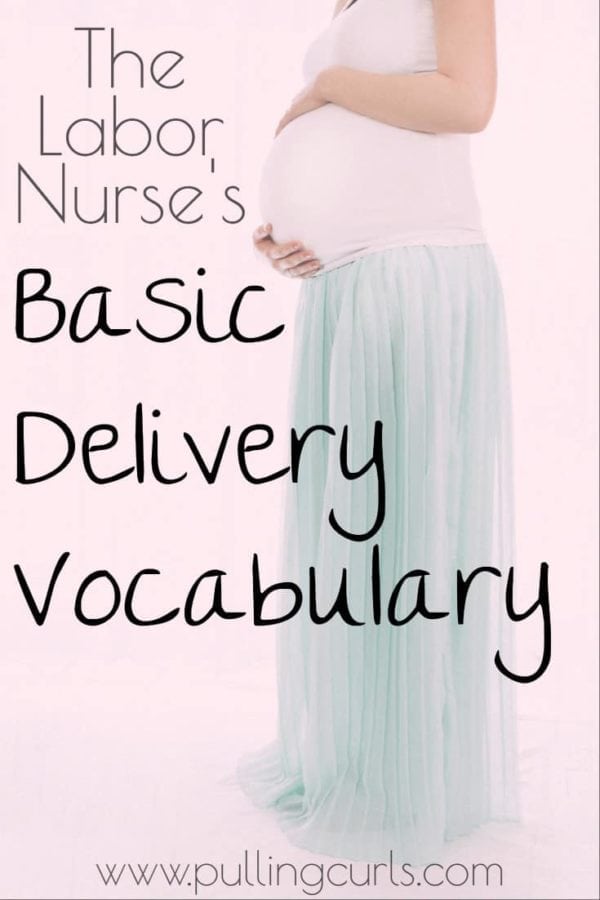 This post was originally written in March 2014, and was updated in March 2017.
Normal Delivery Vocabulary
1.  Pitocin:  It's a synthetic of what your body is already producing.  Most often used after delivery to get your uterus to clamp back down so you don't bleed to death (we like to keep your blood inside of you).  Also used to induce people (see below).  Usually done IV, but can be done as a shot.  Want to know more about Am I In Labor <– That page has tons of awesome info!
Also, if you're worried about knowing what a contraction feels like — check out BloomLife Monitors:

2.  Epidural:  An infusion (like an IV, but it looks different) that goes into your epidural space in your back to make you fairly numb from about your boobs to your knees.  It works in varying degrees on women.  Some are totally numb, some feel a fair amount of pressure.  Done by an anesthesiologist.  Or,you could just use this special word. 😉
3.  IV:  Most doctors want you to have an IV if you are delivering in a hospital.  If you are not being induced, we can often just leave a plastic tube in your arm to leave you more free to move.  Most often this is just infusing water to keep you hydrated.  You can lose a LOT of blood in a short timespan during delivery and we desperately want a way to help you if that happens.  If you drink a lot of water ahead of time, this makes the nurse's job easier, hence making it easier on you.  IV's are often on birth plans — I have a free birth plan worksheet.
Free
Birth Plan Template
                         From Pulling Curls
Get informed today on all your options in the delivery room ~ all part of my pregnancy newsletter.
Includes a special bonus -- so be sure to check your email right after!
This also gives your consent to also recieve my newsletters with new or relevent posts ~ unsubscribe/adjust at any time.
---
4.  Bag of waters. Your baby is being surrounded by a bag of waters that contains mainly baby pee as well as a few other things brought in by the mother.   Most people's water doesn't break on their own, and often your doctor will come break it to speed up labor.  It's normal, but if you have concerns, discuss it with your doctor.  Is my water broken is one of my most popular pregnancy posts.
---
5.  Induction:  Induction can happen in many ways.  Induction is basically starting you in labor.  The doctor will pick a way that they are most comfortable with, considering your cervix and how "ready" it seems to be.  Most inductions will not happen until at LEAST 39 weeks, but often doctors want to wait until 40.  You can also learn more about induction here.  Or, learn some of your own ways to go into labor.
So, that's my top five normal delivery vocabulary.
Want to know more about your delivery?  I offer an Online Childbirth Class that goes through EVERYTHING and gets great reviews.  If you're not ready for the full class I also offer a free beginning class which you can sign up for below.
Get my free beginning childbirth class!
Straight to your inbox, this class will teach you:
Common third trimester testing
Common fears (and how to get over them)
Answer common questions
Tell you what should bring you into the hospital (or at least a call to your doctor)
For a limited time you can also get the free online coursehere - as part of my pregnancy newsletter.
Powered by pullingcurls.teachable.com
This also gives your consent to also recieve my newsletters with new or relevent posts ~ unsubscribe/adjust at any time.
OR, I will send you a reminder to sign up via email:
This also gives your consent to also recieve my newsletters with new or relevent posts ~ unsubscribe/adjust at any time.