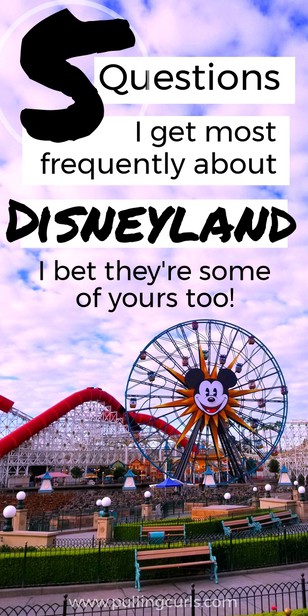 Today, I want to share the answers to my 5 most common questions I get about Disneyland. We'll talk Maxpasses, parades, timing, where to stay and FOOD!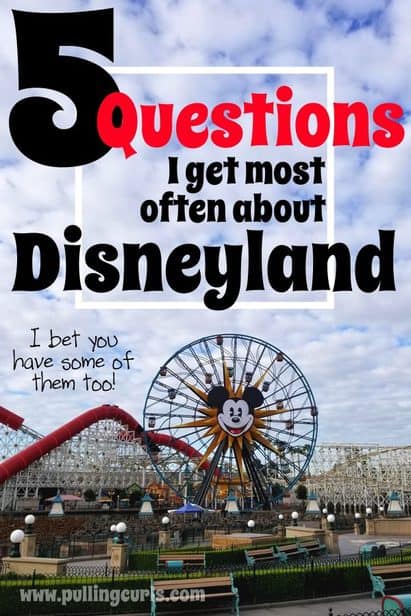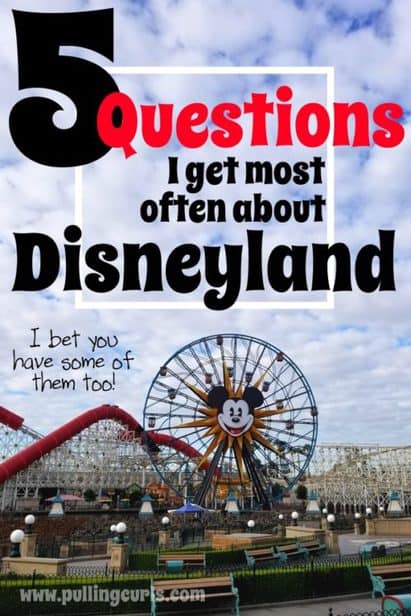 I don't get asked what to bring very frequently… because I have this:
Ok, onto the questions!
#1. Is the MaxPass Worth it?
Man oh man, I sure do think it is. BUT, I am currently only traveling with 4 kids, and each additional child you have, it gets more and more expensive — especially since they just raised the price to $15 (and I can see them doing that again in the future).
I have a whole post about the MaxPass.
But, briefly — let me share these quick tips:
You may consider just getting the MaxPass for the adults or just one of you if you just want the photo pass
You can STILL use paper fast passes, those haven't gone away
The MaxPass certainly does save time, and makes bouncing between park a lot easier/more enjoyable!
Be sure to read that post with my MaxPass tips if you're wanting to know more.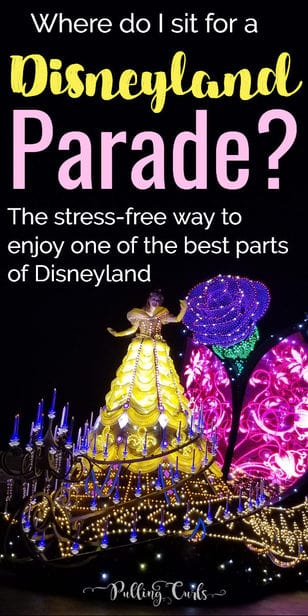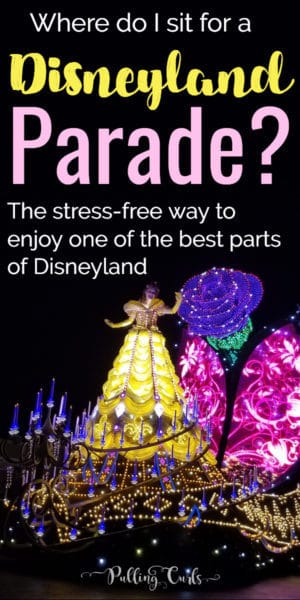 #2. Where should I sit for the parade?
First off, let me share that my kids aren't in love with the parades.
Even the 9-year-old — since she was probably 5. They would much rather ride rides with a bit smaller wait time, than watch a parade.
HOWEVER, we did watch the Paint the Night Parade last fall and we did really enjoy it (it's a little more magical with the lights and all the imagination that goes into making it glow).
For us, I love to eat at the Plaza Inn while the parade goes by. You get a pretty good look at it, and the music/festivity — without having to be in the crowds. Disney is really good about having the floats fairly high so that you can see them, even if the ground vision is blocked.
For Paint the Night at California Adventure, we sat across the street from Carthay Circle. I even got to lean on a lamp post while we waited.
We got there about 90 minutes before the parade started, and my husband went and got us all corn dogs from the Corn Dog Castle while I waited.
I learned quite about where to sit from one of my favorite Disney bloggers — Happiest Blog on Earth — you can see her blog about parade seating.
BUT, don't spend a ton of your time on parades if you only have a short stay, and aren't attending with kids ages 3-4…. but, that's just my opinion.
Pro Tip: Bring a thin blanket (like this one) to sit on and save your seats. People will crowd you if you don't have anything to "mark" your territory. And, the blankets are so thin, they don't take up a lot of weight in your backpack.
#3. Where should I stay?
Oh man, there are a LOT of choices. I have a whole post on where to stay at Disneyland.
And frankly, that's why I recommend Get Away Today. Here's what you should do:
Think of what's important to you (room size, placement in relation to the park, pricing, etc).
Call Get Away Today 1-855-GET-AWAY — or check out their website (but their customer service really shines over the phone). Tell them your priorities, and see what they recommend.
Make SURE to use my coupon code CURLS10 to save $10 on your package (that includes at least 2 nights hotel and 2 tickets).
For me, I think my favorite room was the Fairfield on Harbor — but I honestly think I'm going to try the Tropicana next time (unless I can swing the California Adventure hotel). For us, at this point in our life, proximity is most important — but it certainly hasn't always been that way.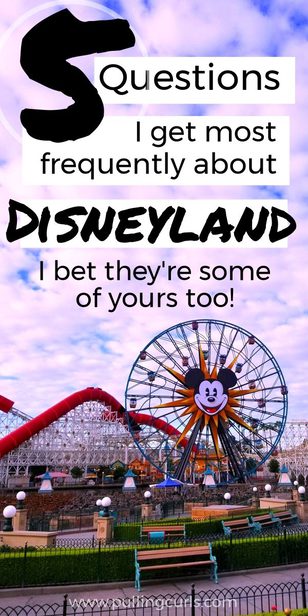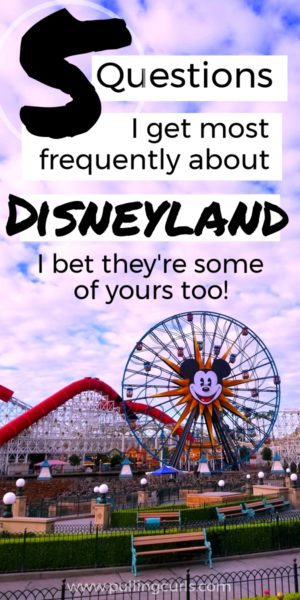 #4. Should I stay at a Disney property?
There is usually a pretty big price difference between the Disney-owned properties, vs staying off the property.
We have never stayed on-property. A few reasons:
Besides CA adventure, the other hotels are actually further away from the main entrance than some of the closer hotels off Harbor.
They are a LOT more expensive — a LOT. Although, they do run sales and have promos, so it can be more affordable depending on when you purchase.
They don't offer breakfast, and don't have microwaves, etc. I just like those conveniences…
However, I have mulled it over:
The experience is supposed to be amazing — great staff and service
Rooms are supposed to be very comfy
Staying on property offers extra hours in the park without other visitors, which would be a big perk.
Anyway — I know for a good # of you, the price will be prohibitive — and for me, I'd rather have a bit more wiggle room in our budget in the park, rather than being strapped with an expensive room.
Pro Tip: Check out my Disneyland Budget calculator, and my Disney budget post to get a good idea about what all the rest will cost.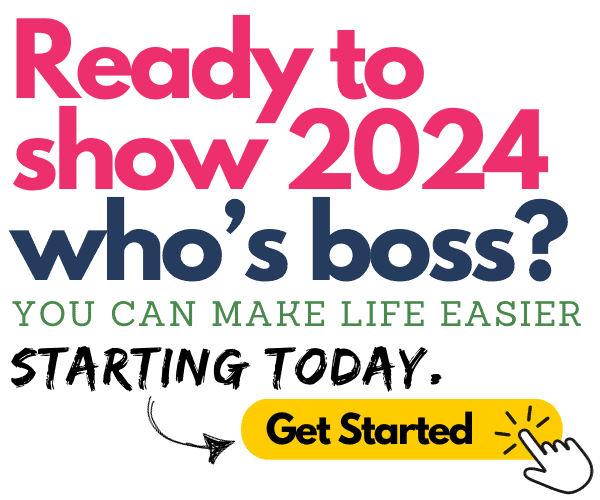 #5. When should I go?
This has SO many factors. Last time we went, it was unexpectedly SO busy (we still had fun, and I have a post on what to do when it's busy at Disneyland).
I have a whole post on when is best to go to Disneyland.
I would say:
Try to go at a time that works for your family — it's not worth going at a REALLY stressful time, that you might not be able to enjoy yourself (I suggested leaving mid-school year to my freshman in high school and he FLIPPED out).
Of course, it's great to go at a time that is less crowded, but I found that Disneyland can still be very fun, even if you go when it's busy. Google Disneyland crowd calculators to find out a good one. As you get closer, the best crowd indicator is the Disneyland calendar. If they have longer hours — they're expecting larger crowds.
And, if you have the luxury of not having to work around the school year calendar, I'd go in mid-September, early October, early November. Those times also have the bonus of few school groups being there with you. 🙂 Other great times are January and February (just avoid the holiday weekends), or later April/early May.
BONUS QUESTION: What should I eat?
Oh man, I really enjoyed some treats last time — and rather than type them up — I'll just have you check out this post that shows you my favorite things to eat at Disneyland (and how to get them faster) at Disneyland).
But just two little words for you: Raspberry Macaron.
It's at the Jolly Holiday (that's just to the left before you get to the hub of the castle if you're walking from the entrance towards the castle).
You're welcome.
If you liked this post — be sure to grab my Disneyland day planner that gets you started on YOUR day to Disney. AND check out my other Disney posts below that!
[pt_view id="d498c1b099″]