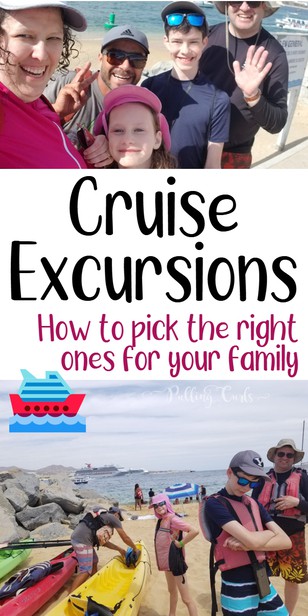 This last Spring, we went to the Mexican Riviera with Carnival Cruise lines, we wanted to try a couple of different types of excursions and we've come up with some tips for families to choose excursions.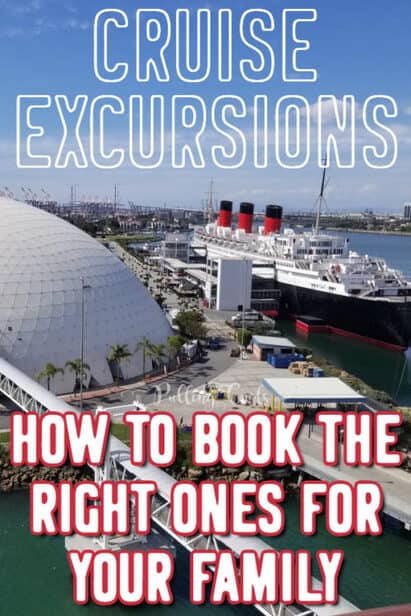 Who to buy cruise excursions from
We used a company called Shore Trips. A few things I liked about them:
They GUARANTEE that you will arrive back to your ship on time, or they will get you back to it.
They had reviews available on the site to see how people liked the excursions (biased, more on that later)
The price was much less than the carnival pricing
I did email them about what our family was like and they recommended some for people with kids.
However, we had a pretty negative experience in Mazatlan (Stone Island). It wasn't advertised correctly (we had wanted to snorkel, but they don't carry snorkel gear for kids — and as far as I can tell, conditions seem to pretty bad for snorkeling pretty frequently), and everyone was pretty drunk early on. I gave a review (negative) and they never posted it. So, take their reviews with a grain of salt.
I think I would still use them again though, and try to check out reviews on my own as well.
BTW, we got our cruise from Get Away Today — so many great answers and ideas for us. Big fan of them (always).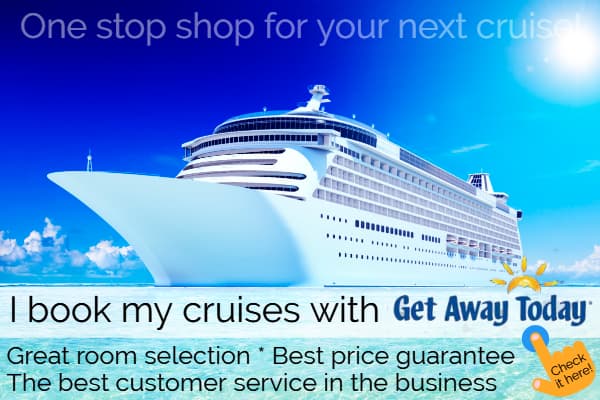 BTW, if you're looking for more info on cruising — don't miss these posts:
How many excursions should you buy?
I wouldn't do an excursion for each of your shore days. We did 2/3 the days we were in port, and I think that was a good number. It was nice to just explore Puerto Vallarta on our own (and take the kids to the mall to learn the value of a peso).
We were also all a bit sore from our previous excursion when we were in Mazatlan, so I wish we'd just taken a "bye" for that day and chose something in Puerto Vallarta.
[thrive_leads id='45797′]
How to Pick Excursions for your Family
For us, after having one excursion that was AMAZING (Cabo Outfitters Kayaking around the Cabo Arch, one of the best days of my life) and one that was less-so…. I thought about what I'd pick next time:
Pick shorter excursions for your family
The Stone Island excursion was most of the day, and it was just TOO LONG. We aren't huge beach people (especially when there are no "supplies". I wish we'd picked something that was active, and a bit shorter.
Open Bar Excursions?
For us, that was a downfall. We don't drink and it is awkward to be around people who are VERY drunk and not be drinking, plus kids….
Pick active excursions for your family
For us, our family really likes to be DOING things, which is probably why the Cabo Arch was such a win. We were active the whole time and trying new things.
Aware of your limitations
Turns out, we don't love the beach. Especially just to stand there all day with no toys or chairs…. just not my thing. That's how our Mazatlan excursion ended up being.
I probably should have been more honest with myself about this (although, I had seen resorts with beach chairs and umbrellas when I booked this, so I thought it would be more like that).
Communicate while on the excursion
Only one of the tour guides spoke English, so that made it hard. I wish we would have asked him a bit more about how the day would go. We had no idea how to get our food until we asked him.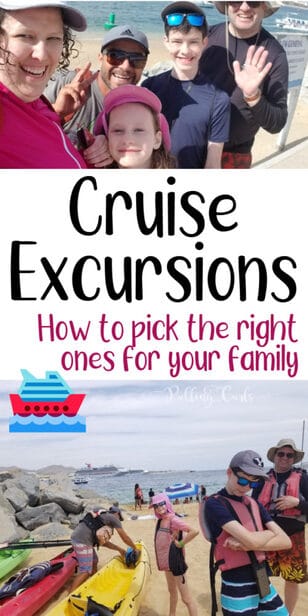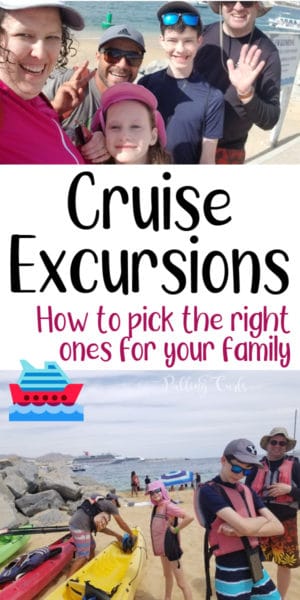 Can you buy excursions once you get into the port?
Yes, of course, you can. You will also save a TON of money, but I get nervous about missing the boat and just who's taking us where for the day.
It's me, it's not them.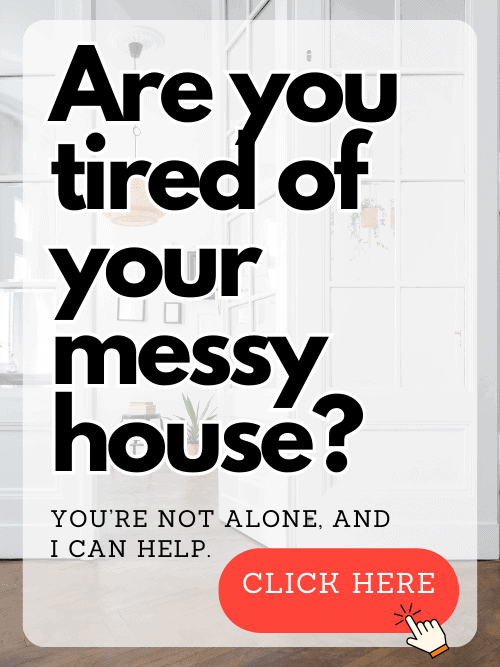 But, there are tons of excursion opportunities the minute you step off the boat.
As well as people pushing you to purchase, etc.
I find those situations overwhelming. In fact, even at our Stone's Island excursions, there were constantly people on the outskirts of the restaurant yelling for us to buy things.
Again, me — not them.
Anyway, we love the boat so much, and it is nice to get off and see the sights, but I am not sure I'd spend as much on excursions next time.
Hope that helps you in picking yours!
If you are headed on a cruise, don't miss the things NOT to be missed in your bag and check out my other cruise posts below that!
[thrive_leads id='45797′]
[pt_view id="8f834b1nx1″]