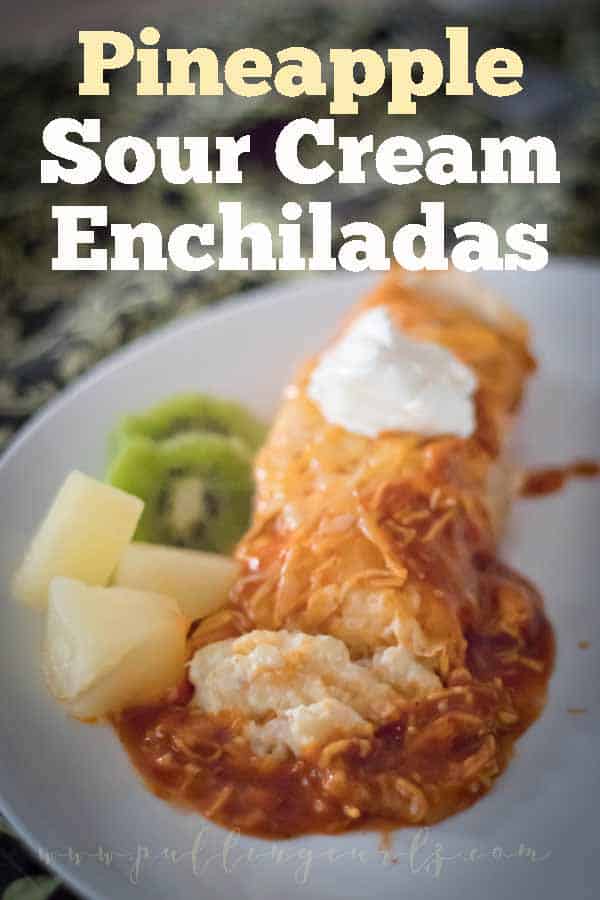 Pineapple Sour Cream Enchiladas are a light treat when you're craving mexican food, but don't want something heavy!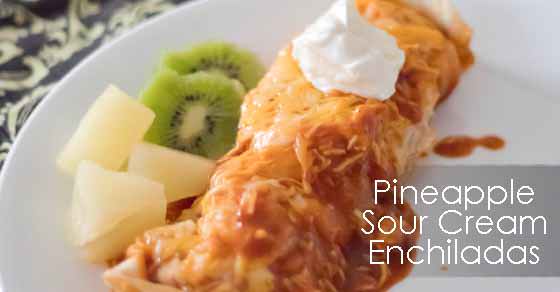 I love Mexican food.
I bet you do too if this recipe caught your eye.
However, the fillings can be super heavy in the summer. I was looking for another option one day and ran across one online that peaked my interest.
It needed some changes and I LOVE what we have now. I'll also share a few alterations you could make to adjusting the filling to your family's taste. That way each family can love it how they like it.
This is a sponsored conversation written by me on behalf of Shamrock Farms. The opinions and text are all mine.
**Be sure to enter the generous giveaway from Shamrock Farms to win $100 Gift Card at the bottom of this post!**
Side note: I love sour cream. I even have a post on if you can eat sour cream while pregnant.
When I say we're having potato bar, I almost mean we're having sour cream, with a side of potato. 🙂
However, good quality sour cream is a must. I prefer the full-fat kind. And I love how Shamrock's brand sour cream is so smooth and creamy!
I recently had a lesser sour cream (on vacation) and I must admit coming back made me want to hug the real stuff. 🙂 Any other sour cream lovers out there?
---
Ok, back to the dish at hand. 🙂 I think you'll love how easy and fairly light it is. It must be easy if I had the will to take pictures while I made it. 🙂
It takes very few ingredients, an can be made ahead of time, or ready in a jiffy. It must be easy if I had the will to take pictures while I made it. 🙂
Ingredients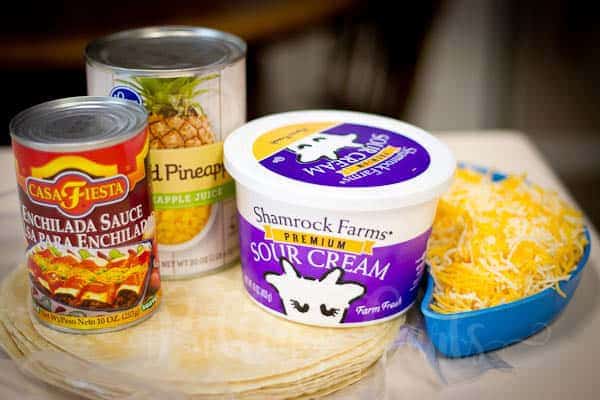 Flour Tortillas (I fit my recipe to make 5 as that feeds our family, but you could put a little less filling in and do 6 — or more filling and do 4)
1 cup Shamrock brand sour cream
2 cups Cheese (I did a mexican blend, but you could easily do just cheddar)
1 large can crushed pineapple
Enchilada sauce (a smaller can)
You'll notice there aren't many ingredients to this recipe, to be SURE to use high quality ingredients (that's why I only buy the good sour cream).
The first thing you'll want to do is to drain the crushed pineapple. Now, I have made the lazy mistake of trying to just drain it in the can, and it turns out SO much better if you put it in a mesh colander (or, I think cheesecloth would work as well) and push on it with a spoon to get as much liquid out as you can.
Save the liquid for a delicious drink. 🙂
Combine all the pineapple, 1 cup sour cream (you can even do more if you are a sour cream lover like me — I probably did 1.25 cups in this one). Keep in mind that a 16 oz container of Sour Cream is 2 cups, so just take about half of it for 1 cup.
If you were making this for a crowd, it would probably be handy to use a stand mixer — like the Nutrimill Artiste (that post compares a bunch of different stand mixers).
Add 1 c of the cheese and stir well.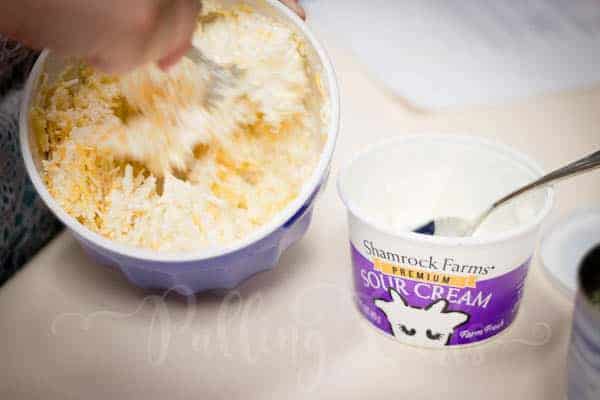 Spray your baking dish (I used an 11 x 7 Pyrex dish) with a nonstick spray
Add 1/4 cup of enchilada sauce at the bottom of your casserole dish.
Then, add your filling to your tortillas, and roll up.
Place them side by side in the baking dish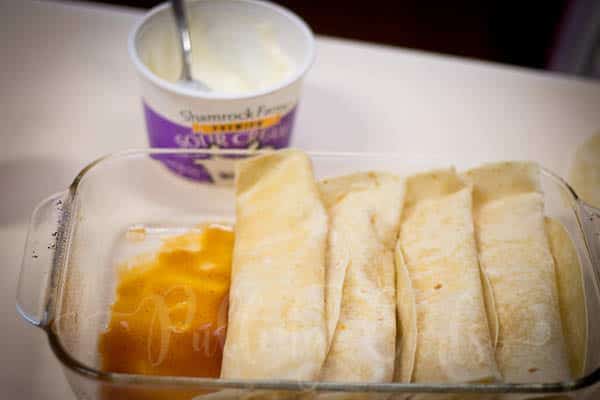 Pour the remaining enchilada sauce evenly over the top
Put remaining cheese on top.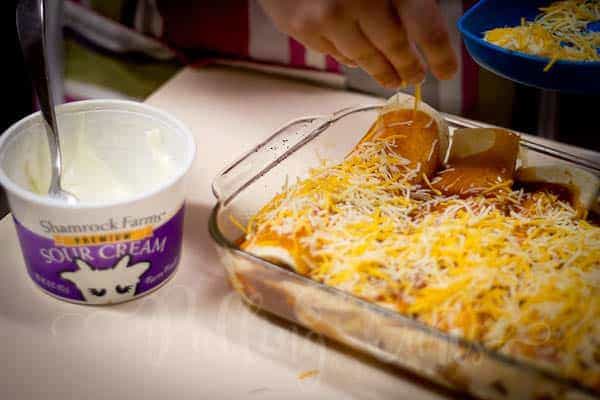 Take a piece of foil to cover your baking dish (I like to spray the inside of the foil with non-stick spray so that the cheese doesn't happen to stick to it) and cover
Put in a 350-degree oven for 20 minutes.
Uncover and bake another 10 minutes.
Serve while hot with extra Shamrock sour cream to taste.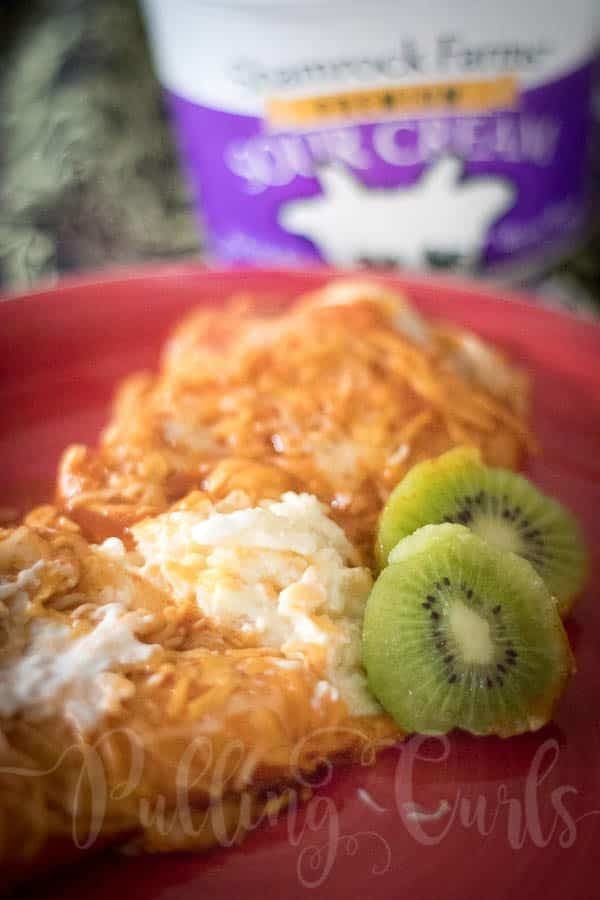 Other editions to consider:
Olives –I think some chopped olives in the sour cream/pineapple mix would bring a salty zing, but not all of my family is fond of olives.
Shredded chicken — it would up the protein and the bulk of the dish. It was summer here and I wanted a light tasty meal, so I didn't include it (but I have in the past)
Serve with more fruit, a green salad and you have a great weeknight meal that is easy and affordable!
Shamrock Farms uses pure, milk with no added growth hormones. They go through rigourous purity testing and are shipped cold and fast to your local grocer (also the milk at my daughter's school — she was super excited I was doing this post).
Shamrock Farms' real, working dairy farm is open to the public for tours October – May so you can see firsthand their commitment to high-quality animal care so their cows stay happy and healthy.
Visit Shamrock Farms on any of their social media channels:
Enter this giveaway for tons of dairy products, or a $100 Visa Gift Card Giveaway: