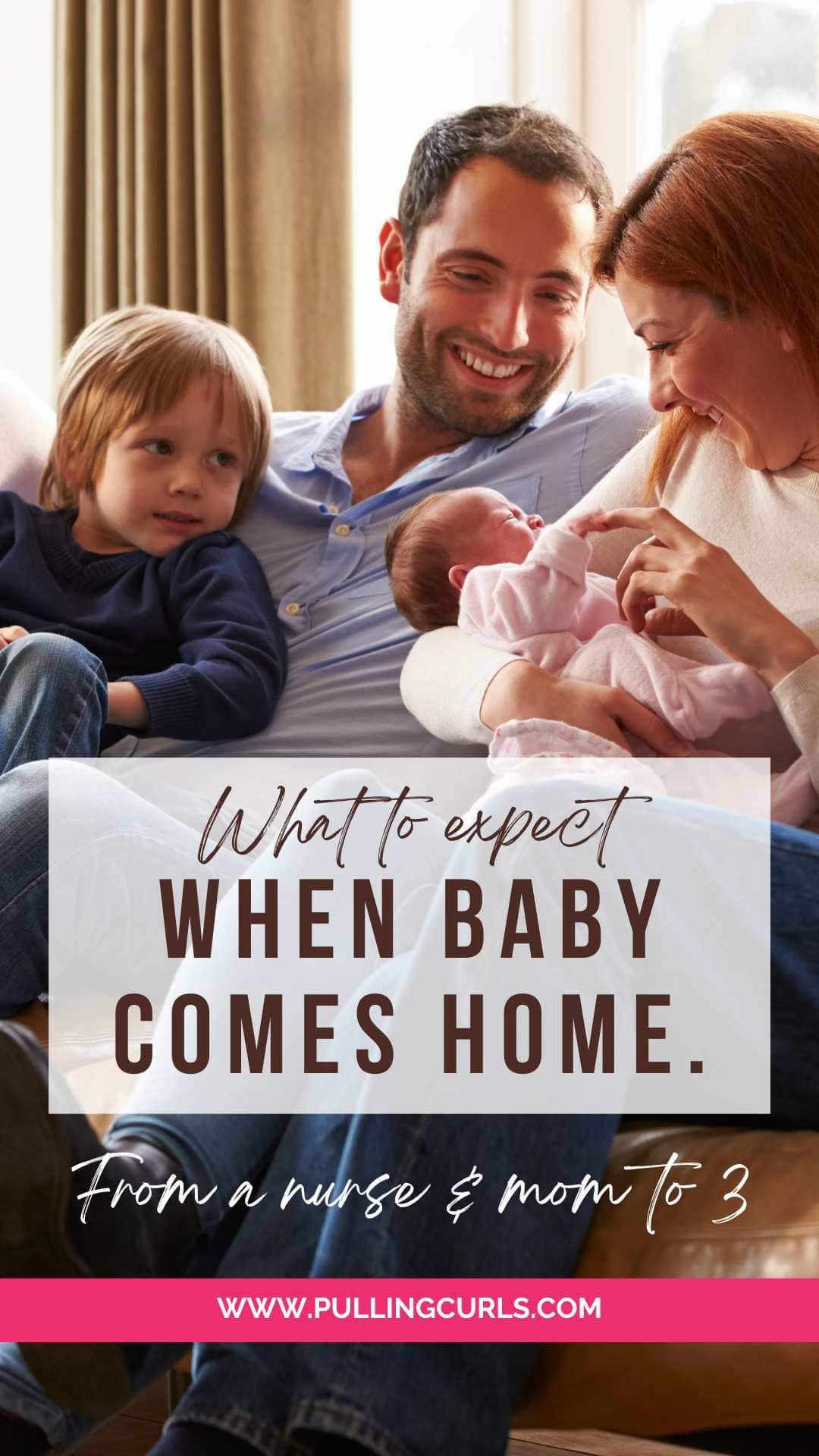 What should you expect life to look like when you go home with a new baby? Hilary shares her personal experience of being surprised by how different it was.
Big thanks to our sponsor The Online Prenatal Class for Couples — if you're looking to get prepared from bump to bassinet it is the class for you!
In this episode
How miserable the first night can be.
Dealing with other kids after you have a baby
How to take care of your bottom after baby (check out this post for more tips)
Breastfeeding often falls apart (check out my favorite classes here)
Chairs will hurt more than you think they will
Other things that might interest you
Producer: Drew Erickson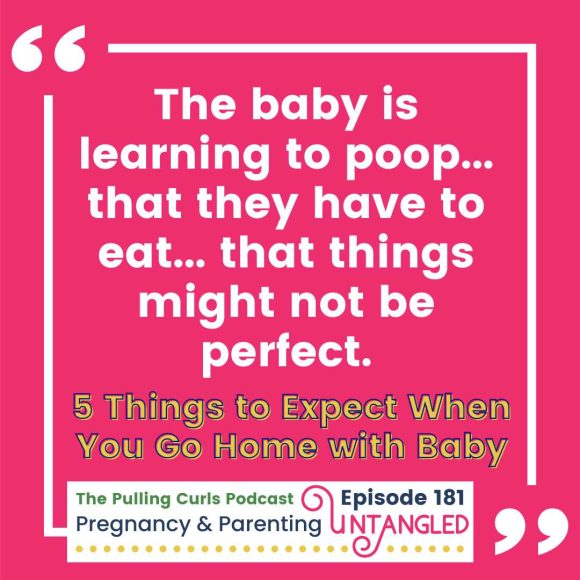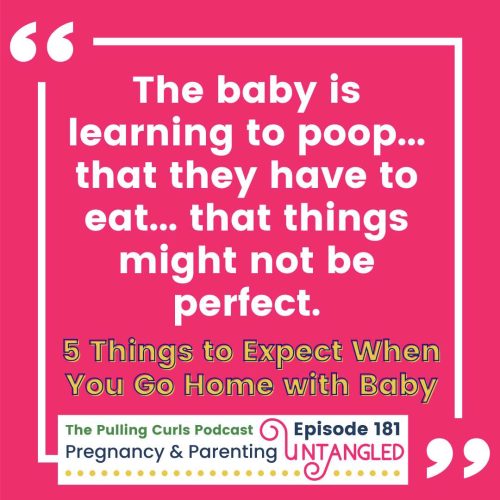 Transcript
[00:00:00.170] – Hilary Erickson
Hey, guys. Welcome back to the Pulling Curls Podcast. Today on episode 151, we are talking about five things to expect when you go home after you have a baby. Let's untangle it.
[00:00:20.050] – Hilary Erickson
Hi, I'm Hilary Erickson, the curly head behind the Pulling Curls Podcast: Pregnancy and Parenting Untangled. There's no right answer for every family, but on this show, we hope to give you some ideas to make life simpler at your house. Life's tangled, just like my hair.
[00:00:42.590] – Hilary Erickson
I am taking this entirely from my own experience today. I've had three babies. My first one, I had a ginormous tear in the lady parts. And so I'm just telling you what good information I can give you for what to expect when you go home and you have a baby, because I think I just thought I would go home and life would pretty much be the same as it was before. I would just have a baby with me, like when you get a new handbag. It's not the same as that.
[00:01:12.150] – Hilary Erickson
Do you feel prepared for your delivery? In just three short hours, you can be prepared for the confident, collaborative delivery you want. You'll know what to expect and how to talk with your healthcare team. And there are no boring lessons in this class. I'll use humor, stories from my 20 years in the delivery room to engage both of you. I love how Alyssa told me that she found herself laughing at things that used to sound scary. Most of all, you guys are going to be on the same page from bump to bassinet. Join the online prenatal class for couples today. You can save 15% with coupon code UNTANGLED. You can find the link in the show notes.
[00:01:47.570] – Hilary Erickson
All right, first thing to expect when you go home that night. Three. The first night, usually after you go home, unless you've had a C section, if you go home after 48 hours, that next night after you go home, it's usually just horrible. The baby is learning to poop. They're learning to have gas bubbles, and that might be not as comfortable as they were hoping.
[00:02:06.050] – Hilary Erickson
They are learning that they have to eat in order to live. They are learning that the temperature might not always be perfect for them. You have to remember that this baby lived in a womb that was absolutely perfect. And so when they go home and life hits them in the face, they are unhappy. And so my best advice is just to expect that that first night home is not going to be a winner and that hopefully you are 100% surprised.
[00:02:28.310] – Hilary Erickson
But for me, I think on every single baby, it has been absolutely miserable. And when I had my second and third, I used to be able to go to the Kaiser Newborn Clinic because that's how Kaiser did it. And you would have these amazing newborn nurses who did nothing but newborns, and they were just like, oh, yeah, that's the night three slump, it's going to get better from here. And I was like, because I had been a labor nurse by the time I had my second, I had been a labor nurse for like three or four years. I was like, I have literally never heard this.
[00:02:55.290] – Hilary Erickson
I didn't work postpartum. I didn't work with newborns all that much. But there you go. Don't let anybody never tell you that one because night three can be spicy. Okay, tip number two, and this is or after you've already had babies, your other kids are insane, right?
[00:03:09.280] – Hilary Erickson
You've been gone. They have the new baby. Usually schedules are all out of whack. Food is all out of whack. I just remember thinking I was maybe going to have to go to a hotel or lose it with one of them.
[00:03:21.470] – Hilary Erickson
And that is so normal. Some of the best advice I got from a friend when I had my second baby is you are going to feel like you want to scream at your oldest constantly, right? Because the baby, you don't really feel the urge to yell at them all that much. Because when you've already had a newborn, a three year old is a little bit more annoying. So that's some of the best advice I ever got because it's so easy to just be like, sit down, be quiet.
[00:03:43.420] – Hilary Erickson
Why are you yelling like that? Stop running around the house, right? So it's super normal for those other kids to be driving you crazy. And so make a game plan with your partner, with your parents, with anyone that can help about how they are going to give you and your postpartum sleep deprived, hormone crazy brain some breaks from those kids. Obviously you still need to have time with those kids.
[00:04:03.490] – Hilary Erickson
I think I said it in a podcast episode before. When I had my third, the pediatrician was more interested about my second and how I was going to deal with him. And they just really emphasized to me about how important it was to make sure that he still had special time with me. And I think that is super important. And it can cool down the craziness, but they may drive you crazy.
[00:04:22.210] – Hilary Erickson
I mean, it's pretty likely. So just something to be aware of. I just saw somebody on TikTok talking about their other kids when they brought the baby home, and I was like, yes, that's so normal. I swear the comment I make on TikTok most frequently is so normal. Maybe I'm sorry.
[00:04:36.520] – Hilary Erickson
So normal. Okay, number three. And I think I learned this most on my first with that big tear, I only had a second degree tear. With my other two. I had a fourth degree on my first.
[00:04:45.400] – Hilary Erickson
Is that chairs are going to hurt more than you think they will. I think I almost just like plopped down on our very bad couch. We did not have a good couch at the time. It was like from Goodwill and I wanted to die. Chairs were that was very difficult for me because you're going to get in your car and it's pretty cushy and you kind of sit down ginger anyway.
[00:05:02.320] – Hilary Erickson
But then you get home and you might just go plop into a chair. That is a big mistake. Something you can use to help is a hemorrhoid pillow or a tailbone pillow. See if any of those help. But usually what helped me the most was to try and do a kago before I sat down so that things didn't spread apart and just be gentle again.
[00:05:19.940] – Hilary Erickson
It's not like coming home with a new handbag. You have a new baby and your downtown is just a lot to deal with. Speaking of a lot to deal with, number four is that bathroom time seems extra complicated. So you're going to be in the hospital. I have a YouTube video on how you're going to take care of your bottom, but in the hospital it's kind of easy because they make sure that you're restocked, you don't have other kids around you.
[00:05:41.340] – Hilary Erickson
The hospital bathrooms tend to have shelves in appropriate spots, but when you go home, you might have a postpartum kit kind of ready, but it might not have all the stuff, and you're might run out of stuff and you forget to restock. It all those different kinds of things. Your bottom time just tends to be a little bit more complicated and you need to give yourself the grace to take that time in the restroom to take care of your bottom in the way that it needs to be taken care of. So even if the baby is crying, let the baby cry. Make sure that you get those tucks on.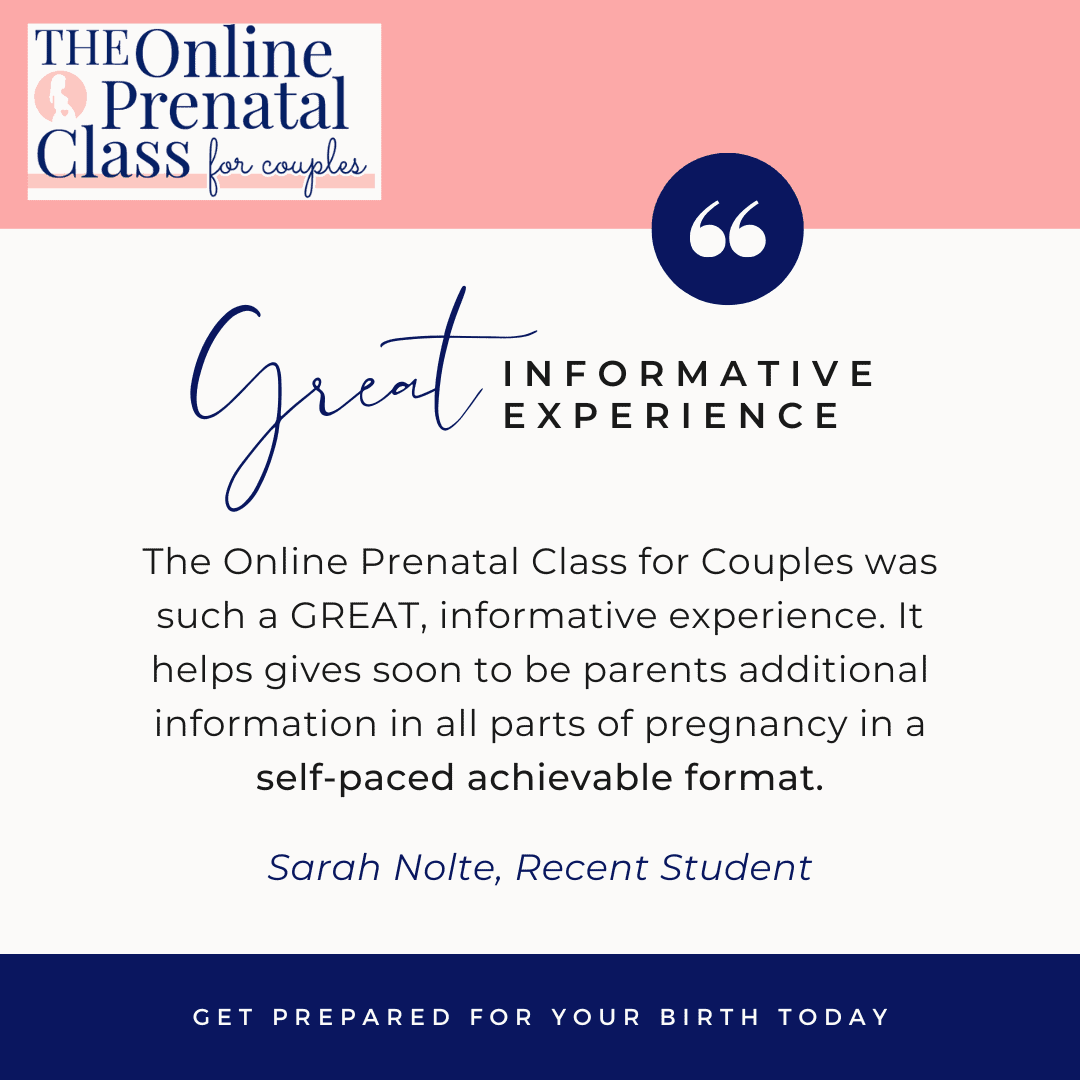 [00:06:07.740] – Hilary Erickson
Make sure that you're changing your pad, all those different kinds of things. Take care of yourself and your bottom so that it can heal, because that's going to be one of your biggest priorities at that point in time. So just be aware that the bottom situation can seem like a lot in the restroom. A lot of people say to prepare like a postpartum basket, and I really love that idea. So think about what you want.
[00:06:28.650] – Hilary Erickson
If I had a postpartum basket, I would make sure that it could sit on the back of my toilet. I might have one in every bathroom that I use in the house. I would have good size pads in it, tucks, Dermaplast, and usually those are enough, although my sister in law told me that I could keep my tucks in the fridge and that was a game changer so early on. Sometimes you want those like padsicles, which is like a menstrual pad soaked in witch hazel and a few other things that will just help it feel good downtown. So the bathroom routine is going to get better, but try and be prepared for it as much as you can and give yourself that grace to take care of your bottom.
[00:07:03.290] – Hilary Erickson
All right, number five is that breastfeeding, a lot of times just falls apart. Something in the hospital is magical. Those lactation consultants come in, they're like, magical about getting babies latched on. By the way, I have latched babies on in the hospital and cannot latch my own. It is so much easier to latch a baby on from outside a human's body than it is to do it from up above with your own two hands and your own baby.
[00:07:23.860] – Hilary Erickson
So just everyone thinks it's kind of magical what the lactation consultants do, but in reality, it's just a lot easier than it is if you're the mom. So it is very normal to just feel like breastfeeding is falling apart. I would encourage you before you leave the hospital to get an appointment with a lactation consultant. Of course, you could cancel it if you need to, but by having one, usually insurances pay for it, and you can make sure that you're establishing breastfeeding well and you can get some encouragement that you're doing things right and your milk is going to start coming in, baby's going to be much happier. Just be prepared for breastfeeding to be more difficult than you had planned.
[00:07:54.770] – Hilary Erickson
And honestly, on each baby, because I've even had friends who have had multiple babies text me and they're like, I don't know what's going on, my milk's not coming in. And things go on with every different delivery. Like, one of my friends, she had had a hemorrhage. So, yes, normally if you lose a lot of blood, it's going to take a little bit longer for your milk to come in and so on. Every baby, it just takes a while to get into that breastfeeding routine.
[00:08:16.090] – Hilary Erickson
So those are my best five tips. I hope you guys don't take this as, like, a downer. I just wish I had an idea more of what to expect when I came home with my baby. And I get the sense on social media that other people could use these kind of tips as well. Just an idea of what things are going to be like when you go home, because it's not going to be like just bringing home a new handbag.
[00:08:36.040] – Hilary Erickson
So if you guys have other tips, come tell me on Instagram or you can tell me in the comments on the blog post at Pullingcurls.com, I would love to know them, and I would love to share them with my followers.
[00:08:45.290] – Hilary Erickson
Okay, guys, stay tuned. Next week we are talking about buying a mattress for your kids. This is more of like just things to think about when you're buying things, especially long term things like a mattress for your kids. It's stuff I never thought about. So basically this is a therapy session for me, but I think it's helpful and important information. I would recommend it for all parents and people who are having babies and then the week after that, we're going to talk about the length of your labor. Great episodes. Stay tuned.
[00:09:10.690] – Hilary Erickson
Thanks so much for joining us on today's episode. The Pulling Curls Podcast grows when you share us on social media or leave a review. If you do, please tag us so that we can share and send you a virtual hug, which, frankly, is my favorite kind of hugging. Until next time, we hope you have a tangle free day.