This checklist of what to do before you come to the hospital is straight from an L&D RN — it's going to get you prepared!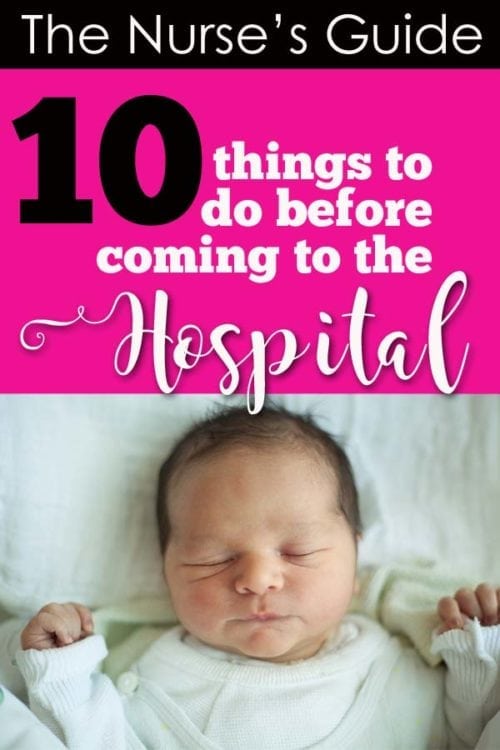 Originally done in March 2014, was updated in May 2017
My hospital checklist might be different from other people's, because I am also thinking on the hospital end.  I'm a labor nurse of 16 years so I know what REALLY needs to be done before you head in.

Hospital Checklist
1.  Pre-register.
Although the law states that we can't badger you about payment info while you're in the heat of labor.  That doesn't mean we can't bother your husband, and I'm talking for payment.  This isn't free folks — and pre-registering takes a least SOME of that headache away.  I recommend it.
2.  Do your disability paperwork.
It's a doozy.  At least it was in California.  Worth it though.  I do love staying home with my little dears.  You don't want to do it after, if you can help it!
Usually (depending on your state) you can't finish it ENTIRELY until the baby is out.  But, do as much as you can NOW! 🙂
3.  Pack your bag.
See this blog.  It lays it all out black and white.  Exactly what I've seen delivering mammas want at the hospital.

Or, just tell me where to send it — and I'll send my packing list straight to your inbox:
Know just what to bring
Totally free & Printable: Hospital Packing List
Straight to your inbox from a labor & delivery nurse.
In case you're in desperate need of the big 3 — my favorite chapstick, hair ties and cell charger for use in the hospital. 🙂  I think this toiletry bag is a great way to keep everything organized when you're shifting rooms.
4. Call Your Insurance or your HR.
You'll want to know your co-pay, because as annoying as it is to fill out paperwork as your cervix is dilating, it's even more painful to hear your copayment is 1,000 bucks when you thought it was free.
 5.  Drink water
Drink water like you are watering your lawn in the heat of summer.  Unless you're having a c-section I REALLY want my patients well hydrated before they come in.
I don't care if you pee six times, but if your veins are tiny and sad we may not be friends for long.  Labor nurses are good IV starters, but you need to do your part by gulpin' down the fluids (water is best, and we don't want to smell alcohol on your breath…;)
If water isn't your favorite, try an infusion water bottle to keep it naturally tasty. 🙂
Plus, water can keep you from having false labor — so it's a huge benefit to YOU too!
6. Eat.
I have heard some doctors say NOT to eat before you get an induction.  I'm not sure what their concern is, as most doctors will tell you to EAT beforehand.  We don't feed you.  Inductions are long, and you will want to eat in advance.
Note: Planned C-section patients are not to eat a certain period before the surgery, ask your MD.
7.  Have a date night.
Sure, you feel as ugly as you've felt since Jr high but this is a good time to bond with your spouse.  If you think you look ugly now, imagine how great will be when you haven't slept for weeks and your nipples are cracked!
But, I digress.  Have a date night.  Have several.  Remember, a happy marriage is a happy family.  If you're not married, think about when you'll tie the knot.  Dream.
8.  Consider a birth plan
Now, I'm not a huge fan of large, explicit birth plans.  BUT, I think considering what you'd prefer in labor can be pretty smart!
I have a whole post about normal birth plan requests and how they can affect delivery outcomes.  You can also get my birth plan worksheet right here:
Free Birth Plan Template
                         From Pulling Curls
Get informed today on all your options in the delivery room
Includes a special bonus -- so be sure to check your email right after!
9.  Take a prenatal class.
Nope, you don't need to know how to deliver your own baby (although, if they're coming fast, it's not usually hard).
BUT, I do think having some information will make you SO much less nervous.
Benefits to taking a prenatal class (also called childbirth classes or pregnancy classes)
You'll know what's going to happen each step of the way
You will understand more why your doctor recommends certain things
You'll have some basic baby care knowledge when it comes out
You will know what to expect once you go home with the baby
You'll understand more about pain management and your options
You'll be much more comfortable in the new hospital environment — and you'll understand the language those nurses speak
You'll know more about testing they might require as you get closer to delivery
You'll know when to head into the hospital (and that one is a big one)
I have created my own online prenatal class that you can do at any time.  Hundreds of pregnant women have taken and have been thrilled with the relief they feel when facing the hospital.
I also offer a free beginning class: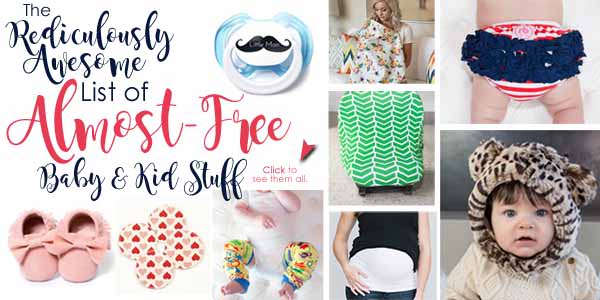 Get my free beginning childbirth class!
Straight to your inbox, this class will teach you:
Common third trimester testing
Common fears (and how to get over them)
Answer common questions
Tell you what should bring you into the hospital (or at least a call to your doctor)
For a limited time you can also get the free online coursehere!
Powered by pullingcurls.teachable.com
OR, I will send you a reminder to sign up via email:
10.  Write about it.
Write about your hopes and dreams as a mom.  Sure, they'll be mushy and gooey, and a lot of those dreams may be stomped on like crystal at a Jewish wedding, but you'll want to remember those times when you thought motherhood would be magical.
Motherhood truly is magical.  You just have to search for it and treasure each bit of the magic.  Just like pregnancy.  I think this Kate Spade journal just screams to have awesome pregnancy dreams written in it!  This Belly Book looks SO fun, and Dating Divas has their own printable book.  Check them out!
BONUS ITEM:
11.  Shopping Date!
There's plenty to buy for the little one, but CERTAINLY not what the baby stores would make you think.  I have my very own post about the actual necessities to having a baby.  After that, I'd splurge on a few things you think will be extra nice like the Owlet Baby Monitor.
Don't forget to register so your friends and family don't end up getting you something you don't want (or 12 of them):
But, in case your time is limited, my 3 favorite "needs" for a new baby is this, this and this. — the last one is a total need, they won't let you out of the hospital without it!  Of course, don't miss this post with a few of my favorite wants.
Don't forget about making a registry so friends and family can help out (registering on Amazon is SO convenient — for everyone!) — don't miss my list of things to sign up before you have your baby.
AND Don't forget to use Ebates to save EVEN MORE on your online shopping!
---
** You'll notice I didn't say "primp" — unless you haven't showered in days we've seen it all and most times we don't care.  Sure, a quick shower is probably thoughtful for everyone, but I want you to be comfortable.  As long as you feel good about how you look, I'm fine with it too. 🙂
If you liked this post, be sure to check out my other pregnancy posts (see below) and sign up for my pregnancy newsletter!
Have an Experienced Nurse Help you during your pregnancy!
Emails come straight to your inbox and can be tailored to your # of weeks, completely free of charge!
Advice for

JUST where you are

in your pregnnacy
Hilary has been a

l

abor

nurse

since 2001
Join

thousands

of pregnant women who love her emails in their inbox!
Tips you can trust from an experienced labor nurse!
You'll be able to pick exactly where you are in your pregnancy -- and I'll follow you with helpful tips, tricks insider info from the labor room!
Happy to have you as a subscriber! Be sure to check out all my pregnancy posts for more info!