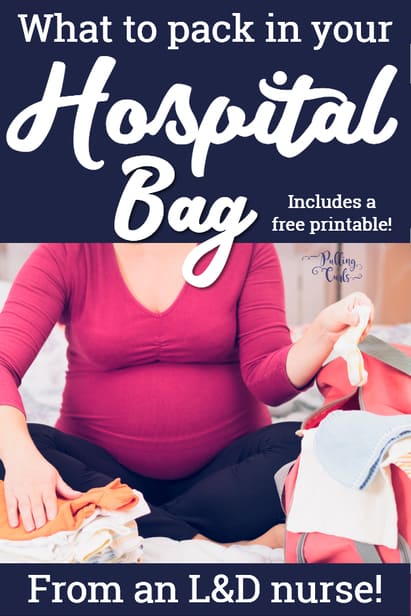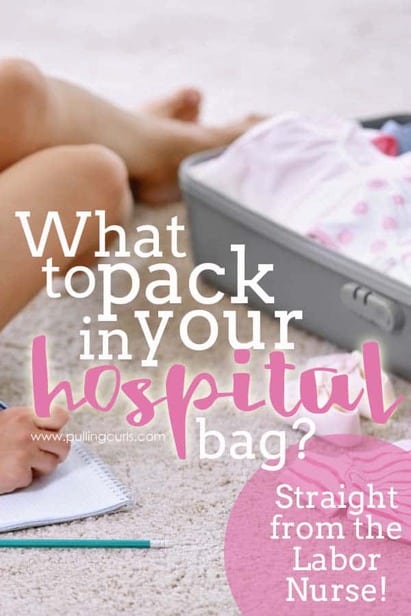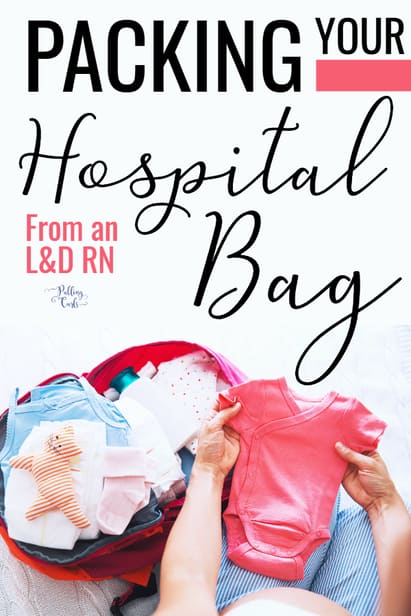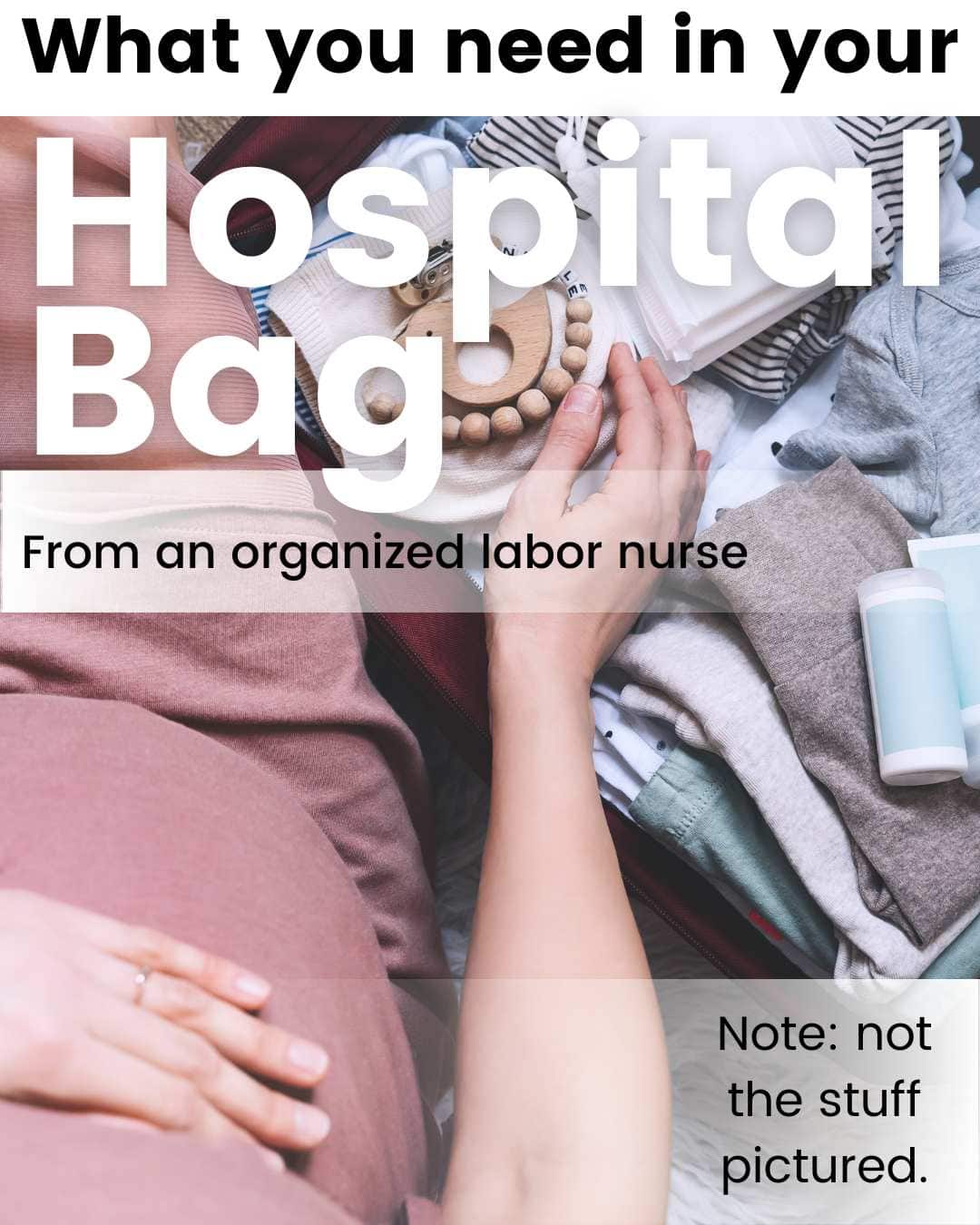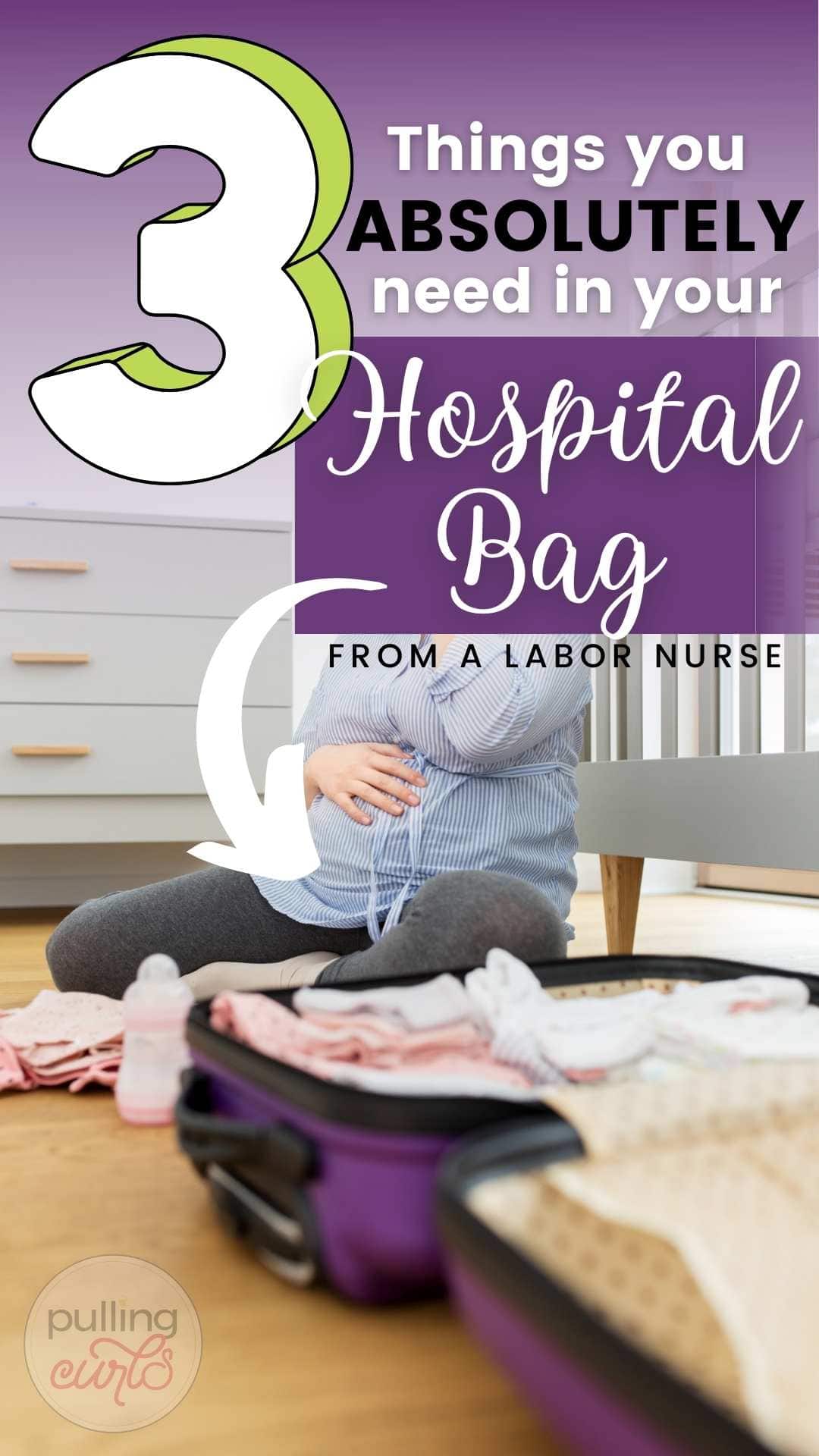 Have you wondered what to pack in your hospital bag — WHEN to pack it and maybe even what NOT to pack for labor and delivery? This hospital bag checklist will give you a free, printable PDF that you can customize for just what YOU need so you just bring the essentials. And, it's a good idea to listen to an expert like me!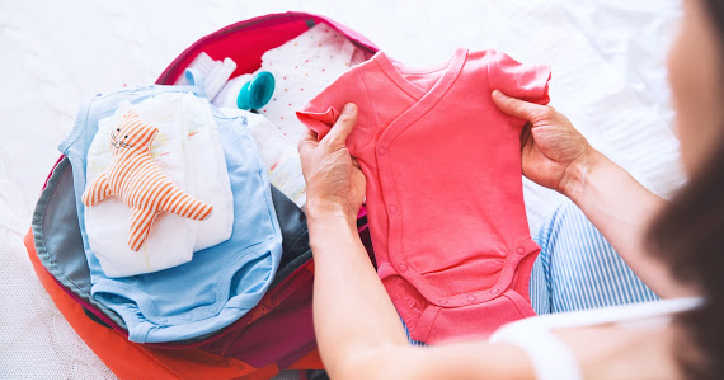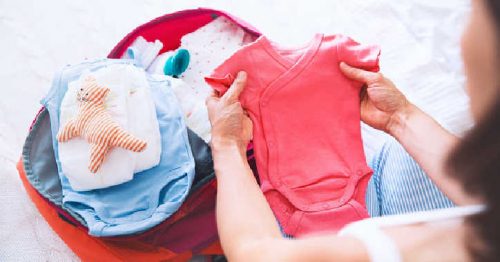 How do I know so much about the hospital bag?
Hi, I'm Hilary — many people know me as The Pregnancy Nurse 👩‍⚕️. I have been a nurse since 1997 and I have 20 years of OB nursing experience, I am also the curly head behind this website Pulling Curls and The Online Prenatal Class for Couples. 🩺​ I have seen literally (and I am using that word right) THOUSANDS of hospital bags in all that time (including packing 3 of my own and helping countless friends) — so I really AM an expert on what you need.
I think you're going to love my TOP three MUST HAVE things for the labor room, so keep reading!
Don't worry, you can grab my hospital packing list right here (so you don't have to write anything down):
Before we get going, it can be REAL tempting to pack a BAG to prepare but not actually GET prepared. >>This is the easiest way to get prepared. It takes just a few hours, and is fun to do with your partner! Don't ignore it, get prepared today!
Ok, back to what to put in your bag.
Your hospital bag has a lot of options. While every family's circumstances are different — this hospital bag list will be very helpful for both vaginal deliveries or a c section — but I also have one specifically for a cesarean section hospital bag.
I also talk about this in episode 001 of my Podcast – Pregnancy & Parenting Untangled — episode two:
What to pack in your hospital bag
This post is the cornerstone for my entire what to pack in your hospital bag series. Your Bag includes all of these (and click on the other posts for more info).
With all of those, it's the ultimate hospital bag checklist!
And don't miss my other post with a before baby checklist.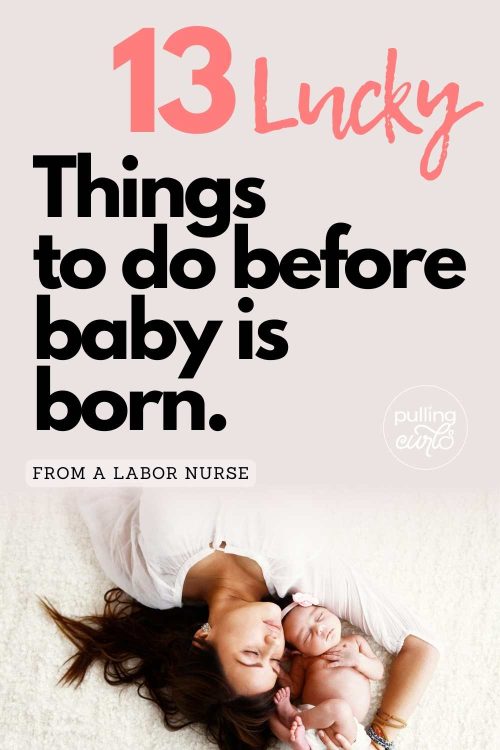 What to pack in hospital bag for labor:
Here's what I do recommend to put in your bag for LABOR.
Note: I do recommend separate bags for LABOR and postpartum, as they require different things, and it will keep you from having to paw through your WHOLE bag to find these things. The things in the labor bag will also travel to postpartum as they are super helpful there as well.
Pro tip: Make sure to leave that infant car seat in the car as well. You can bring it up when it's time to take baby home (it takes up a lot of valuable space in your hospital room).
Hospital bag checklist
These first three you can NOT do without. You need to know where these are and have them ready!
1. Lip Balm Have it, tell your husband where it is. You breathe a lot when you are contracting. you need it (this one is my favorite when you're re-applying it frequently during the day — I also love the smell of EOS – and the balm is pretty decent too).
2. Hair Ties. Have it, tell your husband where it is. Unless you're sportin' the pixie cut, you'll want it (these are great when you end up taking them in and out or just letting it stay on your arm or what not — since you'll likely be laying on it, get one that's comfortable). True labor is like a sport. 🙂 If your hair is short like mine, grab a clip or a headband to keep it out of your face. If you have long hair bring many hair ties, just in case. 🙂
3. Phone Charger. Whether it's a great external battery or just a wall plug, you will WANT your cell phone charged. Most hospitals have loosened up about plugging stuff into the walls (when I started, you coudln't) but you may want to ask your nurse what plugs you can use. Personally, I'd for SURE keep an external battery charged and on hand as I love mine.
I love this one from My Charge as you can plug it into the wall and then charge your phone when needed.
Pro Tip: Those first three things, are SUPER important, be sure that your partner knows where they are so he can grab them when you have a need for one of them. I'd put them in an outside pocket.
4. A robe. I wore a hospital gown the whole time, if you want to slip into your own clothes (prepare to get some blood on your pants). There's nothing wrong with bringing an old robe — but this robe looks so great, the price is right and the reviews are awesome. It's a great time to stay cozy! Some women really enjoy wearing their own gown in the hospital — these are cute (but we totally provide you a gown, and we wash it too!).
5. Slippers, or something to put on your feet. Hospital floors gross me out. I don't want to go barefoot. These slippers look like they'll be super comfortable but you won't cry if you end up getting blood on them and you have to throw them away (total bonus). I would NOT recommend bringing your favorite pair of slippers to the hospital! Unless they're wipeable, if you know what I mean…. Crocs aren't a bad idea….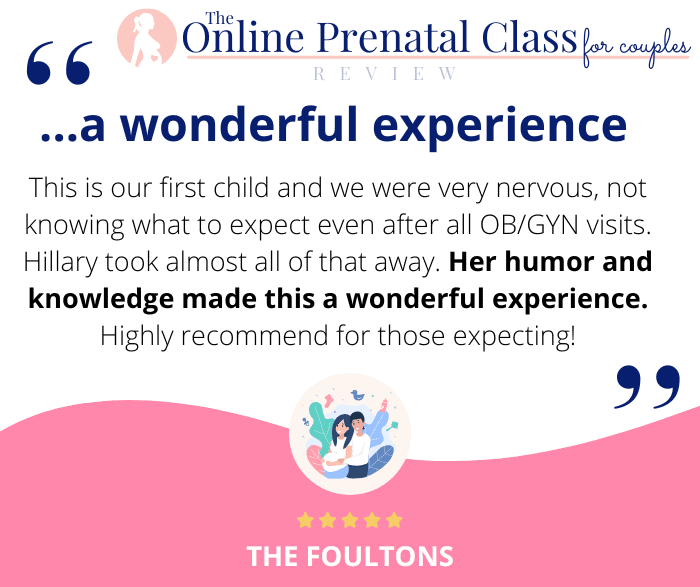 6. Toiletries: Shower gel, shampoo, conditioner, lotion, extra chapstick. just bring a tiny bag to store in the bathroom (if you have a private bathroom, which you may not). And make sure you have a good bag to hold them all in — like this one. That's easy to just hang on your towel rod and grab what you need. I would recommend having the VERY basics in your labor bag. I'd save makeup and more serious toiletries in your postpartum bag.
7. Bra — This one is optional…. but a lot of women want a bra in labor as their boobs are wanting support. These nursing bras from Amazon get great reviews! A bra is optional in labor. We prefer wire-free if there was an emergency. I would NOT wear your MOST favorite bra, as there is always a chance we might have to cut it off. I have a whole post on if you should wear a bra in labor on my sister site.
9. Anything you're planning to use to get you through the pain. We have yoga balls, but if you need a focal point or specific music — bring it. You may even get super bored if you have a long induction, no shame to load some movies into your tablet (we love loading up our Fire from videos from Amazon on demand — and it's WAY cheaper than an ipad).
10. A camera – your good one. Don't go with the phone here. Get something better. I LOVE my Cannon camera (this one does movies too!). The lens it comes with it fine for hospital shooting (love this lens too — it's great for low light shooting) and be sure to check out this book if you want to learn how to use your SLR first. But, you can also grab just an awesome point and shoot like this one). I have tons of delivery shooting tips here (guess who used to have a photography business!) 🙂 The pink one pictured is SO cute, but not great for indoor shots, although there's something about a polaroid…. #socute
11. Your insurance card. I'd send my husband home with my wallet at the first chance, but you'll need this to register. Most often, they want a copy each time you come. Check out this post for more info on health insurance!
12. Your Photo ID. The need to know that you're who your insurance card says you are (usually a driver's license).
Bonus Items for longer inductions:
Healthy snacks might be good if you're going to be induced and labor might take a while (or just put extra's in dad's bag (snacks are a priority for dad) — think nuts, granola bars, etc. Most hospitals have a 24-hour vending machine, but you never know.
Baby book to share any feelings you have going into the hospital (my pregnancy planner has a birth memories section perfect for this).
Pillows from home — people love their own pillow, but I always worry about getting them dirty. If you don't mind tossing them in a "worst case scenario" than bring them! Hospital pillows aren't great!
Gifts for the nurses or the hospital staff is a kind gesture (but not necessary)
One last thing, bring a flexible attitude towards birth. You're in for an amazing roller coaster of a day! That's one of the 4 tips I have a whole chapter on in here.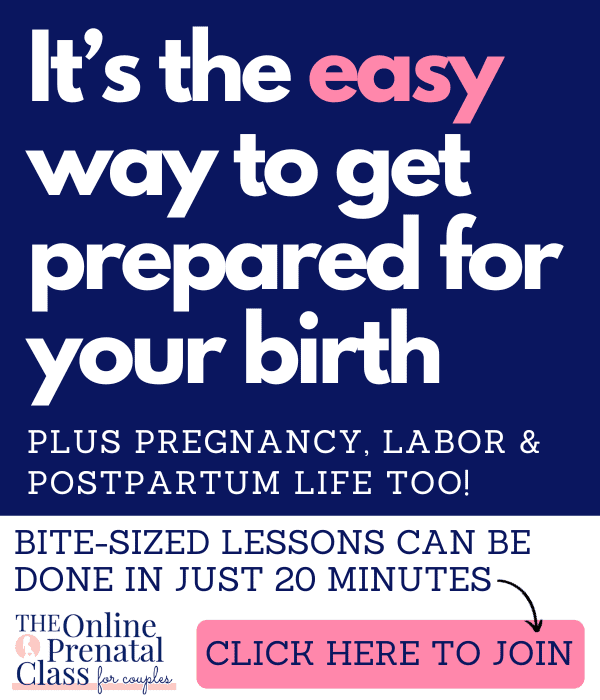 When to start packing a hospital bag for labor
I always feel like if I pack my bag, I'll stop any labor…
Although, I'm guessing that's not particularly rational…. (of course, neither is castor oil).
I recommend you pack your bag around 36 weeks. At least throw in those top things I mention above — you can round out the bag as you get closer to your due date.
But, if you're like me — at least pack it once you think you're in labor (and this podcast gives some tips to know when that is), or maybe even when you lose your mucus plug.
I initially saw a pin about saving money by using the hospital toiletries. I will tell you that we have to give you hospital-grade toiletries. DO not, I repeat, DO NOT come to the hospital expecting to get your toiletries from us, unless you're talking toilet paper. They are just not good. Not good at all. You're welcome (please note the sarcasm font there).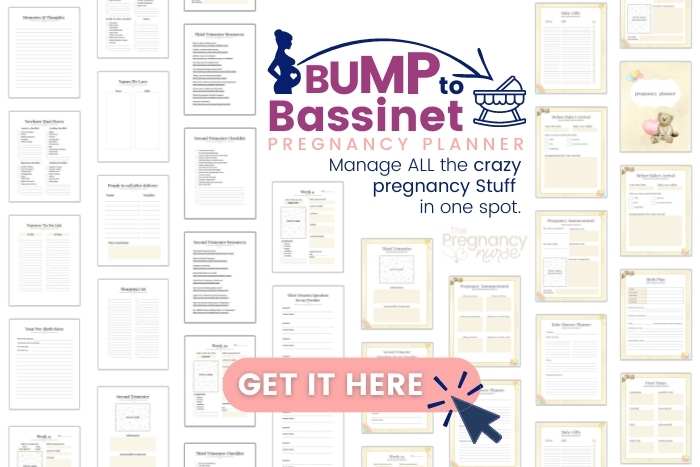 A good rule of thumb is that we will provide everything the baby needs (formula, diapers, wipes, shirts, etc).
We DO provide very little of what you need. I DO agree with her in that you don't need a full luggage set to come to the hospital. Most people bring way too much.
What to pack in hospital bag for induction?
Because inductions tend to be longer than natural labor — I would recommend some amusement activities. Things like:
Cards
iPads to watch videos
I've even had couples bring a gaming device like a nintendo Switch
For inductions, it's extra important to have an external battery or a really long charging cable so you can stay in touch with the outside world while you're in labor.
What NOT to bring in your hospital bag:
While I am a big believer that you can bring whatever you want…. a few things I recommend you keep at home.
Weapons. True story — I've seen this become a problem.
Excessive makeup. Unless you're a diehard makeup wearer you are not likely to want to do a lot of makeup. Throw in some mascara and lip gloss — for sure, but a full face doesn't usually get done.
The other thing is to not pack your fear in the bag. Many people just ignore the fact that the hospital is TERRIFYING you and I am here to testify that is NOT a good idea. The Online Prenatal Class for Couples has been proven to reduce fear by about 60% in couples and I think that will not only make your birth great, but help you sleep better for those last few weeks of pregnancy too!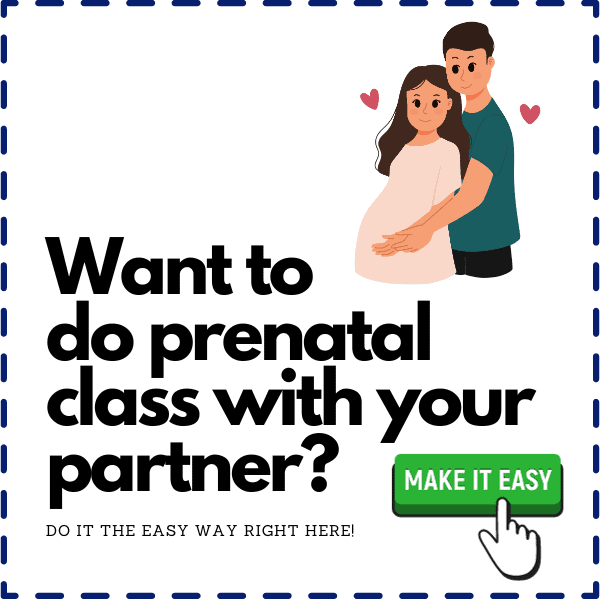 What to Pack in Your Hospital Bag FAQ's
What should I bring for clothes to wear home?
I recommend for comfortable clothes that fit you at about 5-6 months pregnant. You're still going to have a pretty large belly, sadly. That uterus needs some time to shrink back down!
Do first time moms need to bring more?
I'd say no. You're usually more overwhelmed than moms who have already had a baby (I was more bored on my 2nd and 3rd baby, personally).
How long of a hospital stay should I prepare for?
Most people stay less than 48 hours for a vaginal delivery (some people leave as soon as 24 hours after birth), and cesarean moms stay 3-4 days. However, we do have everything we need to take care of you, beyond special toiletries you should be fine even if your stay is extended.
Will I want a bra?
Some people are uncomfortable without a bra on as their chest grows during pregnancy. You may even want to consider a nursing bra so you can easily breastfeed baby after birth.
Should mom pack dad's bag?
It is a great way to prepare for birth together by packing your bags, together.
What about a nursing pillow?
If you want to bring a nursing pillow, I recommend bringing it with your postpartum bag after baby is born (leave that bag in the car until you have the baby).
What size for baby's going-home outfit?
This is tough, but I'd recommend newborn sizing. Unless your doctor thinks you have a VERY large baby…. either way, it's not going to fit great. Those newborns are tricky!
Can I use dry shampoo in the hospital?
Yup, that should be fine. Any questions definitely call the unit before bringing items. But, a lot of moms want to look great (and feel great) after baby is born and I love that! I want to support you however you feel best.
Do I have to wear the hospital gown?
Nope, the hospital gown makes things easy (and we wash it for you), but comfy clothes are fine too. Just remember pants can be annoying to get in and out of (an possibly soil).
Do I need to keep this bag by my front door?
Personally, unless you had a good spot there, no. Very rarely are people RUNNING out of their house to have the baby (and if they did, they might not grab the bag). I recommend having it in a spot where both of you know where it is.
Does this change if I'm giving birth in a birth center?
I'd ask the birth center about what they have. They'd be less-required to have EVERYTHING for you (like shampoo, soap etc), so be mindful of what they do and don't provide (even after-pads).
What about a heating pad?
Your nurse isn't going to love the idea of a heating pad just due to the possibility of overheating you or electrical issues. We have warm blankets, and warm IV bags we can use in a similar way if you'd like. Just ask.
What about my birth plan?
Yes! If you want to use your birth plan to communicate your wishes to your health care team, bring copies! I'd say one for the chart, and one for your nurse's clipboard should be plenty.
Do I need to pack diapers for the hospital?
No, all of the hospitals I've been to have their own diapers they will give you for the baby.
Don't forget my checklists for the other bags to bring:
And now that we're done talking bags…. get the printable PDF checklist:
This post was originally written in 2014 and has been updated.