Dia & Co. serves women sizes 14-32, I tried it.  Dia and Co. Vs Stitch Fix — which is better?  Let's find out.

Dia Review
How does DIA work?
Dia is a clothing subscription service for ladies sizes 14-32 — so it serves a wide range of sizes.
Which I found very exciting.
You fill out a survey (takes about 15-20 minutes) including questions like:
Sizes (both tops and bottoms)
What types of items you'd like to get
Colors you like
Colors you don't like
Your style
Your social media handles/links
What type of items you want (I only want clothes, no scarves or jewlery, and likely no shoes)
#toomanyshoes
You figure it out, and then you schedule your fix and boom — it arrives at your door.
There is a $20 styling fee that you pay before your box ships (that $20 is applied to any item in your box).
Then, you have 5 days to figure out which items you want to keep or send back.
The pricing for the items are in the box, and you pay for any items you keep.
If you keep ALL the items, you save 25% on the whole box.
They send an addressed shipping label to do the returns with.  Shipping and returns are all included in that $20 styling fee.
It's very similar to other styled subscription boxes.  In fact, I have a whole post about plus-size clothing subscription services.

Dia and Co Unboxing 2018
Here is my unboxing video — first look, didn't peek at it before this video (that's my favorite kind)
Let's look at each item a bit more:
(keep in mind, if you order the whole box (which I would) you save 25% off the cost of each item (I'll list that cost to the side of the regular price)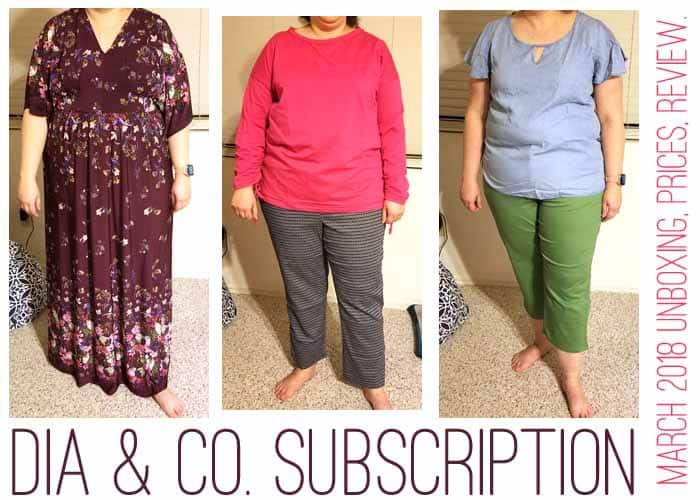 Purple Dress — $69 ($52)
O. My. GOSH –guys, this dress is SO comfortable — and SO modest.  I absolutely love it.
They send it to me in a 1x and the top is just a BIT big — so I'm seeing if I can exchange it (stay tuned for more info on the exchange process).  BUT, this is 100% me.  Great colors, I love the floral.  It's not some cheap knit.  Great quality.  Great comfort.  Looks pretty good (full disclosure, I did order some "Spanx" on Amazon to try to get the faux baby bump to disappear on my upper abdomen if I'm going somewhere fancy).
Huge fan of this one
Pink Shirt — $55 ($41)
While this isn't dressy by any standard.
I feel like the ruched sleeves give it some fun details.
The fabric is SUPER soft.  It's an easy wear.  I like it.  I probably would'nt pay $55 for it — but after the discount, I think it's fairly reasonable (and already at my house).  Also, I have a hard time finding stuff in the right pink shade for me, so I was really happy to find it.
Navy Print Pants — $69 ($52)
Guys.  Pants are really my daemon.
And I must admit, I'm kind of tired of jeggings – but on the other hand, I don't love boot cut.  I just want some COMFORTABLE PANTS.  DANG IT.
Enter these guys.
No zipper — elastic waistband, but they can easily be jazzed up or down.  Huge fan.
Also, this is a great example of stepping out of my box.  I don't know that I would have ever tried them on in the store — but at home, I was able to take a little time to think they might work. 🙂
Blue (Chambray) Shirt $55 ($41)
This shirt is SO light.  I actually got one that was similar from Stitch Fix a few boxes ago and didn't love it.  But this one, with the flouncy sleeves — and not being button-down — I just like it more
BTW, button down for big girls — doesn't seem to be a winner… just sayin'… (and Dia knew that).
Again, for $55 — pretty expensive for me, but for $41 it's doable.
Green Capris $75 ($56)
Guys — these are SO fun.  I asked for bright colors (I found a lot of that with Dressing Your Truth) and they showed-up with bright colors (I sort of feel like Stitch Fix shy'd away from bright colors because I'm a bigger girl).  I think these will be great in the summer.  They look good, they're easy to wear and will go with a fair amount of stuff.
Buuut…. 75?  Kind of a lot.  I'll admit.  I did mention on my after-shop that was kind of expensive for capris.
Buuut (real talk) — part of me is doing this to just find clothes that LOOK and WEAR better — and I think I'm going to have to shell out some cash to find that.
So, I kept the whole box (full disclosure, they sent this box to me at no cost — but I loved the majority so much it would save me money to keep them all anyway).

Dia.com prices
Let's talk what the whole thing costs:
Total Box Cost $327
Total box cost with Discount: $245.25
Cost of DIA
That box price seems to be a bit more than what I've seen around on the internet….  most seem to be under $300.  They say the average price cost is $55 and mine were clearly over that (and I did say I had a special event coming up).  If they're $55 — that makes the cost $275 and if you use the discount it makes it just over $200.
Dia and co free trial
At this time, they don't offer to waive styling fees.  BUT, I was SO happy with my first box — I find it to be much less of a gamble than Stitch fix (my record there is 3 boxes with 2 items kept).
Dia and Co vs Stitch Fix
If you're trying to decide between the two, it can be a hard choice.
Honestly, I am SO much happier with my DIA items.  And pricing is VERY similar.  I don't see a problem with trying them both, but if I HAD to pick between the two — for now, I'd go with DIA.
Especially if you're a plus size girl.  I just think they've found their niche. 🙂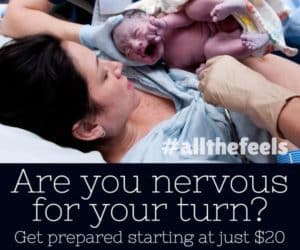 I think Dia may be a bit more expensive, but good plus size garments often are pricier.  You just might need to be aware of it going in.

Dia Exchanges
On the pages where you say if you liked it — you can ask for an exchange.
What you do, is ask for the exchange — and then in a couple of business days, they'll email you back to let you know if they have that item in stock to ship to you.
Then, you can decide.
If you'd like to keep both items until you decide, just let them know that.  At the time of this writing, I have 2 set to exchange, so I'll try to let you know how that goes. 🙂
Dia and Co Tips
Like all subscription boxes I recommend taking a LOT of time to fill out your first survey.  Be VERY specific (I sent them a picture of my Dressing Your Truth Card — so they knew what colors I liked, and that seemed to help a lot with them — even though I sent it to Stitch fix, it didn't really change anything there).  I think they are VERY thoughtful of that survey.  So be as SPECIFIC as you can.
Also, when you get your clothes, even if you keep them — fill out that post-box survey super specific as well.  It just helps them for the next time.
And honestly, if you 100% hate all the clothes — I'd email them to see if they can help you with your next box.  Customer service has been top notch, and I think they really do want to earn your business.
So, now it's your turn.  Give Dia.com a try — I'm going to be doing it again soon.  I think bi-monthly would be great.  If you do it — tell me in the comments how often you get a box.

If you liked this post — be sure to sign up to see my next box and check out my other fashion posts below that:
Don't miss out on seeing my next fashion subscription fix -- subscribe and you'll be one of the first to know!