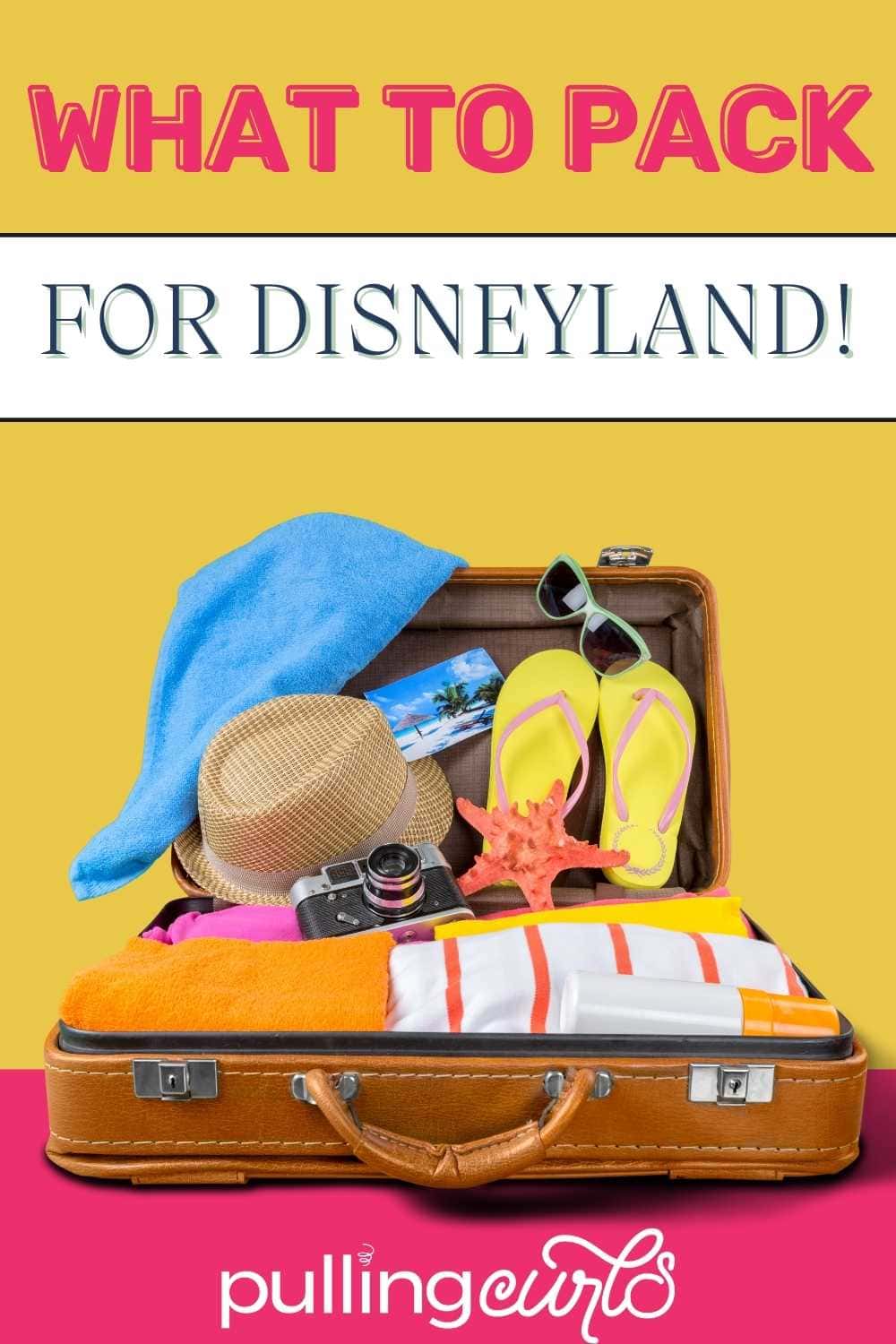 Let's talk about what to pack in your luggage for Disneyland Resort. I have a REALLY hard time learning to pack lightly for the Disney parks. but this printable ultimate Disney Packing list will help you keep excess to a minimum (with some effort on your part). Let's pack your Disneyland park bag!
Because I'm big into categorizing I have split this post into two spots. THIS post is about what to put in your luggage/car to bring to Disneyland.
I also have a post on specifically what I bring to Disneyland (as in my Disneyland backpack).
Both of these are part of my Disneyland tips series that talks about budgets, food, even feet.

You've come to the right place for Disneyland tips! Ok — on to your luggage!
What to pack for Disneyland
My previous thinking: You just never know if there's going to be a snowstorm, a monsoon or maybe snakes will drop from the sky. I'll need snow gear army-grade ponchos and obviously anti-venom kits with me. Right?
Sure, the snakes might be a bit of an exaggeration, but I sometimes feel like I am packing for ANYTHING when we head out on vacation. As if there isn't a store within a mile where I can buy anything my heart desires.
Packing for Disney theme parks can be tough. You don't want to waste walking time by having to head to the store for something, and you're out in the elements all the time, so you do need a good amount of preparation, but I am REALLY working to slow my flow on all the stuff I bring.
Before we start, if packing your family for a trip stresses you out — I have a WHOLE chapter on organizing your packing in my course Family Routines.
I give you the list, and I talk about what I use to pack, how each family member gets get their own lists and how I really push the responsibility to THEM rather than feeling like it is ALL. ON. ME. Anyone else feel that way?
Join the course for a month or a year, you can cancel at any time — and you can save 10% with code PC10.
Printable Ultimate Disneyland Packing List
Everything I talk about is right here — sent directly to your inbox:
Keep in mind this is in an effort to pack a bit lighter than I have. You'll notice that I am still prepared for quite a lot of situations, I just minimized a bit. Some of the packing lists online are TONS and TONS of items. I am hoping to save you from that fate!
Pro tip: That list is pretty good for any amusement parks — like Knotts Berry or Universal Studios. 🙂
---
Packing for Disneyland
Clothes for Disneyland
Our rule is one shirt/day plus one pair of pants for every 2 days. This is a good idea to help you keep to essential items so you don't use too much space. I just feel SO dirty when I am done with Disney. Also, remember to include the pants that you wore there in that count.
Add One pair of undies (two if you're new to potty training, and put extra pants and pull-ups in your bag, I once had a kid wet his pants 4 times in one day) and a pair of socks/day and you're done.
Tips on what clothes to bring to Disneyland
Try to pick clothes that hide dirt well. You'll be sitting on a lot of surfaces and eating sticky foods. This isn't a time for white pants or shirts.
Minimize on Pajamas — One pair of pajamas should be sufficient (unless you have a longer trip or have a bed wetter)
Always include a light rain jacket and a sweatshirt. Sometimes I just pack those in a separate "just in case" bag — but have come in handy many times. Chilly mornings/nights and rain that just comes up happens even in Southern California.
Remind kids that unless clothes are VISIBLY dirty or smelly, you don't have to wash them. Yes, at home we do because it's convenient, but when you're on vacation there is no reason not to re-wear.
If you're going during the summer months, I would throw in a bathing suit (although we are always way too tired to swim — I would feel badly if a kid wanted to swim at the hotel pool and it was my fault they couldn't). Also remember to check the weather before your Disney trip, you can have warm weather even if it isn't summer season.
---
My best packing tip is to get the right trip for YOUR family — get tips from Get Away Today and save $10 with code CURLS10!
I review all of the hotels I've stayed at near Disneyland here.
---
Shoes for Disneyland
Everyone should bring at least 2 pairs of sturdy, comfortable walking shoes, in case there is a catastrophic shoe failure. The best way to enjoy Disney resorts is good, comfortable shoes, you'll just hate yourself if you don't. This isn't a time for fashion.
I absolutely love these shoes for long days walking around Disneyland. I'd had my last pair about 7 years and I think they've finally died. They're actually on my wish list right now! Somehow the rolling action really helps my arches!
If you're a fan of wearing flip flops, I found a good option by a great brand called Wiiv's that makes custom flip flops with tons of support and quality. I love mine (and I hate all other flip flop brands) — so, they might be worth checking-out!
BTW, if you are a bit overweight — I have a post just for you that gives some tips. 🙂 I also have one for my pregnant friends.
Packing light tip for shoes — most often you won't see your shoes in any family photos. Consider packing shoes that "go" with every outfit.
I tend to go straight for sneakers for a Disneyland vacation. The important thing is, if a shoe isn't comfortable, just don't bring it. The end.
I have a whole post on Disney feet – -because you NEED happy Disney feet!
Special Notes for Winter Months Packing
Winter (Dec-Feb'ish) CAN be super rainy, and cold — but I always recommend bringing rain jackets and sweatshirts almost any time of the year. However, it's SUPER important you plan for rain.
Add some umbrellas and actual rain jackets (vs ponchos for wet rides).
Toiletries for your Disneyland Trip!
Try to bring things that work for the whole family. We can all use the same body wash and shampoo. Don't go wild on makeup. Just the bare essentials that make you feel alright about how you look.
Be sure to bring sunscreen (that one's my favorite, I don't put anything else on my face) and chapstick with sunscreen (I have found that brand to be the best to work and not wear off after an hour). Be sure those land in your Disney bag too!
I don't find makeup to be all that important, but I usually throw on some mascara and lip balm for fun. 🙂
The Miscellaneous Things.
This is the one that's a killer. All the misc.
Each of my kids pack their own entertainment bag. I try to make sure 3 or 4 books go in there. But, either way, I'm not putting that away so I don't care.
Our road trip is about a 6 hour drive, so not crazy long – but long enough that they get fairly bored.
We have finally created a "car bin" that has the basic necessities. A flashlight, extension cord, rope. It's a fairly small Rubbermaid tote and since it's limited on space I only put necessities in there. It did come in handy last time when we were somehow low on transmission fluid. The headlamps were super helpful. My husband also takes this on scout trips.
In general — my misc. stuff is all included in my "what to bring to Disneyland" post and then the stuff that I'm using to refill it.
Related post: Best time of year to go to Disneyland
What to pack for Disneyland with Toddlers
Toddlers can be a wild card.
My #1 is to bring extra pants/pull-ups if they are recently potty trained (as I previously mentioned, I once had a kid go through 4 pairs at Disneyland –just off schedule).
I would also recommend stocking up on a few souvenirs ahead of time so they aren't lusting after every item with their favorite character in the gift shop. That's one of my favorite ways to save at Disneyland.
Check your local big-box store, the dollar store or Amazon has awesome options (but SURE to grab an autograph book for character autographs from Disney characters — that will cost you almost triple in the park):
Of course, if you have a baby you're going to need a whole lot more. But that's beyond the scope of this post.
BTW, toddlers and preschoolers in general test my #1 Rule for Family Fun pretty hard.
Tips on what to bring into the park:
Since you spend the vast majority of waking hours at the park, that seems to be what you need. This post tells you just what to bring in your backpack to the parks (these are my favorite Disneyland Backpacks).
Why Pack Lightly?
Packing lightly is my new mantra. I know from personal experience that while you can feel "secure" knowing you're set for any situation — it can get excessive, and I have found some perks!
It is SO much easier when we get home. When I plan for every eventuality it leaves me putting away a TON of stuff when we get home. Whereas, if it's just mainly dirty clothes and stuff we actually used, I don't get so bogged down in the clean-up.
I also don't get as "down" on myself if we don't have something we need. We just drop by a store, or learn to live without it. Life goes on.
Learning to pack lightly has been a goal of mine — because I found that coming home was SO overwhelming to put it ALL away.
Hopefully, this gives you some ideas in how to simplify your packing.
What to pack for Disneyland FAQ's:
Packing light is my new holy grail. My natural tendency is to put our entire home into the car and that's just not necessary. We can make do with a lot of things.
Disneyland Packing List for Adults
Don't forget to grab the packing list:
FYI, This post was originally written in 2016, and has been updated.
Don't miss my list of Best Affordable Disneyland hotels — a list of 30+ of my favorite hotels (plus my own current top 10 hotel list).